Winter freeze led to 31,000 extra deaths last year - against a backdrop of soaring energy prices
Needless fatalities pile pressure on Cameron and Big Six over energy price rises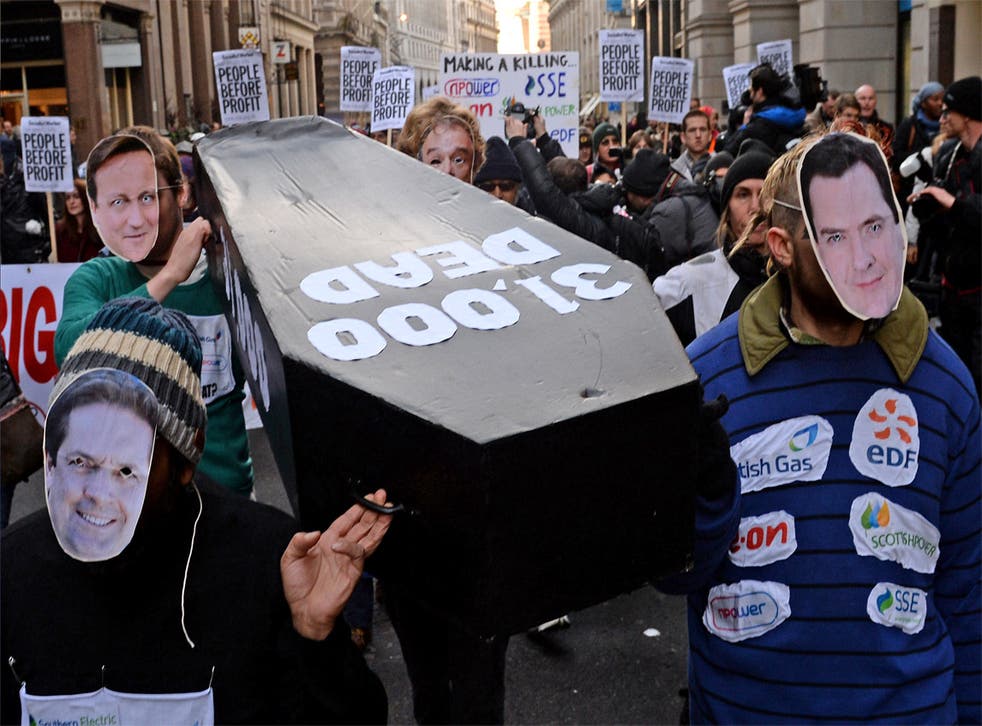 The Big Six energy firms and the Government came under fresh criticism today as new figures showed that more than 31,000 people died needlessly during last winter's freezing weather.
About 10,000 of the deaths are estimated to be the result of cold houses, as people struggled to heat their homes in the coldest winter for nearly 50 years, against a backdrop of soaring energy prices.
The vast majority of those who perished were over 75. The number of "excess" deaths was up 29 per cent on the previous year. Britain's biggest pensioners' organisation, the National Pensioners Convention, said the figures were a "national scandal".
Referring to the dismissive language reportedly used by David Cameron to describe the bill levies used to fund home insulation, the NPC's national secretary Dot Gibson said: "Making sure older people have got a well-insulated warm home and the income to pay the fuel bills isn't 'green crap'. It's what a decent society should do."
The shadow Public Health minister Luciana Berger called for urgent action to ease pressure on A&E wards and to help people pay their energy bills. She said: "A third of these excess deaths are caused by people living in homes that are too cold. This winter, David Cameron's failure to stand up to the energy companies will leave too many people forced to choose between heating and eating."
Age UK's charity director, Caroline Abrahams, said: "It should be a cause of national shame that last year's cold weather claimed so many lives unnecessarily. Excess winter deaths are preventable and today's figures are a damning indictment of our failure to address the scandal of cold homes in this country."
The jump in winter deaths intensifies the spotlight on the Big Six energy providers, whom many accuse of profiteering at the expense of their cash-strapped customers after imposing a series of inflation-busting price hikes in recent years.
Andrew Wright, head of the Ofgem energy regulator, told politicians yesterday there was a "deep mistrust of anything the energy companies do or say". He said: "It's not surprising consumers jump to the conclusion that prices are being driven by profiteering. Customers are not convinced that the price increases are either fair or justified."
Mr Wright was speaking a day after Ofgem revealed that the combined profit the Big Six make from selling gas and electricity to UK households has increased more than tenfold in the past four years, from £8 a year to £105.
Join our new commenting forum
Join thought-provoking conversations, follow other Independent readers and see their replies