Women's march: Activists protest against Conservative deal with DUP
Demonstrators descend on Downing Street, chanting, 'Racist, sexist, anti-gay, no DUP, no way'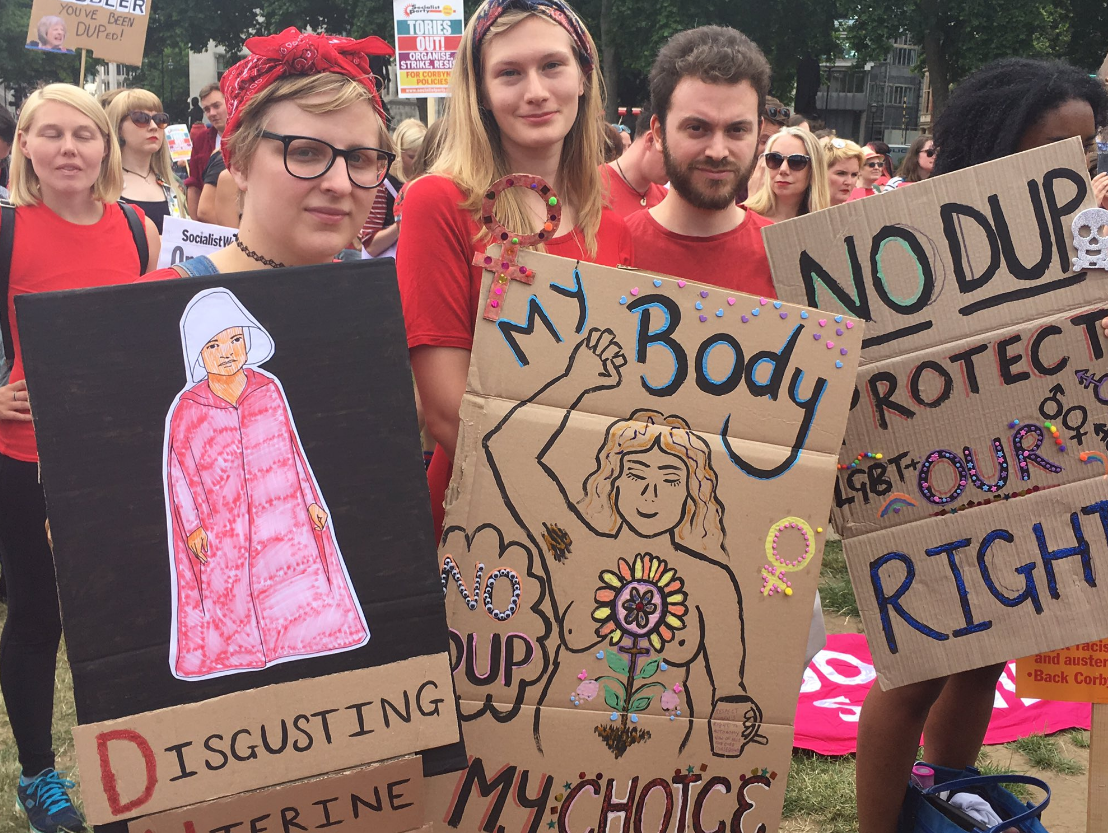 Hundreds of women marched to Downing Street to protest Theresa May's planned alliance with Northern Ireland's Democratic Unionist Party (DUP).
Protesters, including a number of men, descended on Whitehall on Saturday to campaign against a Tory deal with the DUP, which has drawn criticism for its right-wing stance on gay rights and abortion.
They chanted: "Racist, sexist, anti-gay, no DUP, no way" as they marched through the streets of London, carrying placards reading anti-DUP messages suggesting that such an alliance would put the rights of women in jeopardy.
One woman carried a sign that read: "My body, my choice". Another had a placard featuring a character from the Handmaid's Tale TV series.
Ms May is currently seeking a "confidence and supply" arrangement with the DUP after her loss of seats in the general election left the Conservatives needing the support of the Northern Irish party's 10 MPs in order to pass legislation.
A statement on the Facebook event page for the march said it was taking place "in support of the right to access abortion in Northern Ireland" and "against a Tory working agreement [...] with a political group known to promote policy which restricts the rights of women and LGBT people."
It added that the Conservative Party had "no democratic mandate" to form an alliance with a party that is "known for links to far right politics," and encouraged protesters to wear red in protest at "all the blood which has been shed under austerity".
A previous demo was held in Whitehall to protest against Mrs May's alliance with the DUP the weekend after the election.
The DUP has made it clear it will only cut a deal if it delivers tangible benefits for Northern Ireland in terms of jobs and investment in health and education.
Join our commenting forum
Join thought-provoking conversations, follow other Independent readers and see their replies