York floods: Tourists line city's bridges to photograph the swollen waters
'People have lost their homes and businesses - they are heartbroken'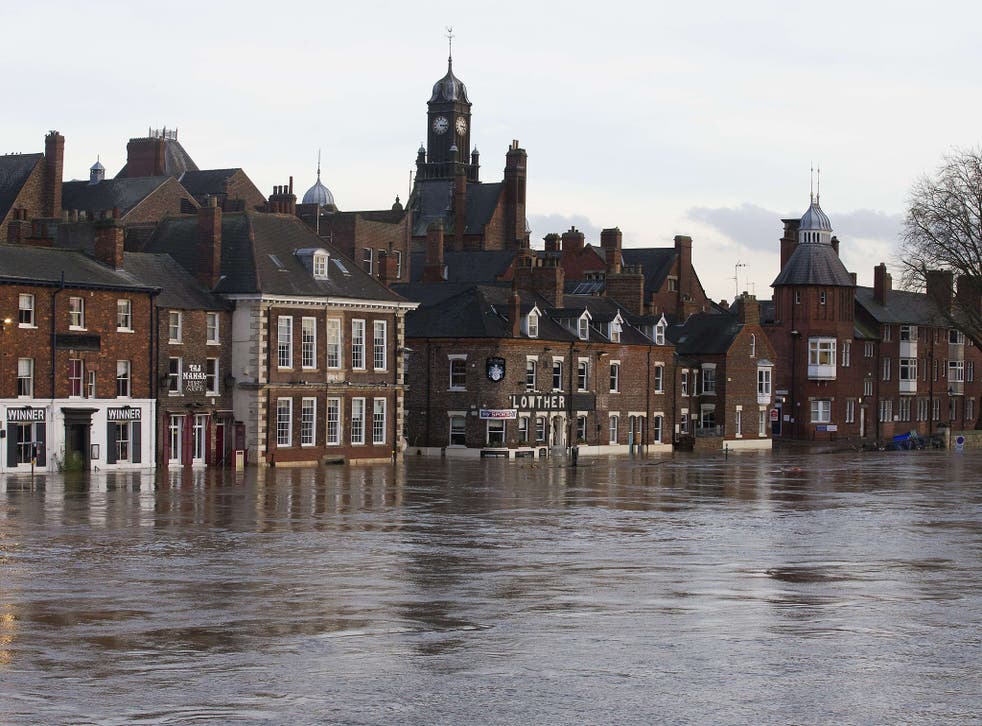 Sparkling sunshine lit the scene for the tourists lining York's bridges, hoping to capture a photographic keepsake of the Great Flood of 2015. Although the moment of crisis may have passed, the swollen waters of the Ouse were still proving a spectacle – sweeping down off the Yorkshire Dales in a vast, muddy torrent.
For the residents and business owners of the historic city the let-up in the weather brought only the briefest of respite after the Christmas deluge left 650 shops and homes ruined. On Fossgate, an olde worlde street lined with high-end delicatessens, smart restaurants and independent retailers, traders were banding together to assist in a community clear-up. "It's just stuff. What doesn't kill you makes you stronger," said Phil O'Dea, 43, owner of Mor Music.
He and his wife, Lynne, 41, moved to the site next to the Foss – a tributary of the Ouse – 18 months ago. Now they were surveying £100,000 of damage to stock and an enforced shutdown at the busiest time of the year. Floodwaters had destroyed scores of guitars and amplifiers and laid waste to their rehearsal studio.
Further downstream at The Olive Tree restaurant on Tower Street, close to the now notorious Foss Barrier, which was lowered on 26 December at the height of the flood, owner Haren Zaman, 45, had a team of 20 at work. They were putting right £30,000 worth of damage in a race to reopen to honour 200 New Year's Eve bookings.
In the meantime, there was the small matter of Storm Frank to negotiate first. "If it doesn't hit tomorrow maybe we can do it," he said. Yorkshire is likely to be spared the worst of the rain due to bring further misery on the other side of the Pennine watershed. But even though the people of York are no strangers to flooding there is a sense that this time things are different.
The scale of the inundation almost rivals that of 2000 or even 1982 – before multimillion-pound flood defences thought to be capable of dealing with nature's worst were installed. Now many businesses, like the Jorvik Viking Centre, face periods of closure. Paula Pidd, 40, a business woman from Heworth, was one of 20 volunteers running a distribution centre for donations at a church hall in Melrosegate. "People have come from Yarm and Grimsby with van loads of clothes, food and cleaning products. Everyone is very emotional and upset. People have lost their homes and businesses. They are heartbroken," she said.
Join our new commenting forum
Join thought-provoking conversations, follow other Independent readers and see their replies