London terror attack: Photograph shows suspect shot by police with 'canisters taped to body' as witnesses tell of horrific night
Man who took photo says two men pictured had been trying to attack people in the street before they were shot to the ground by police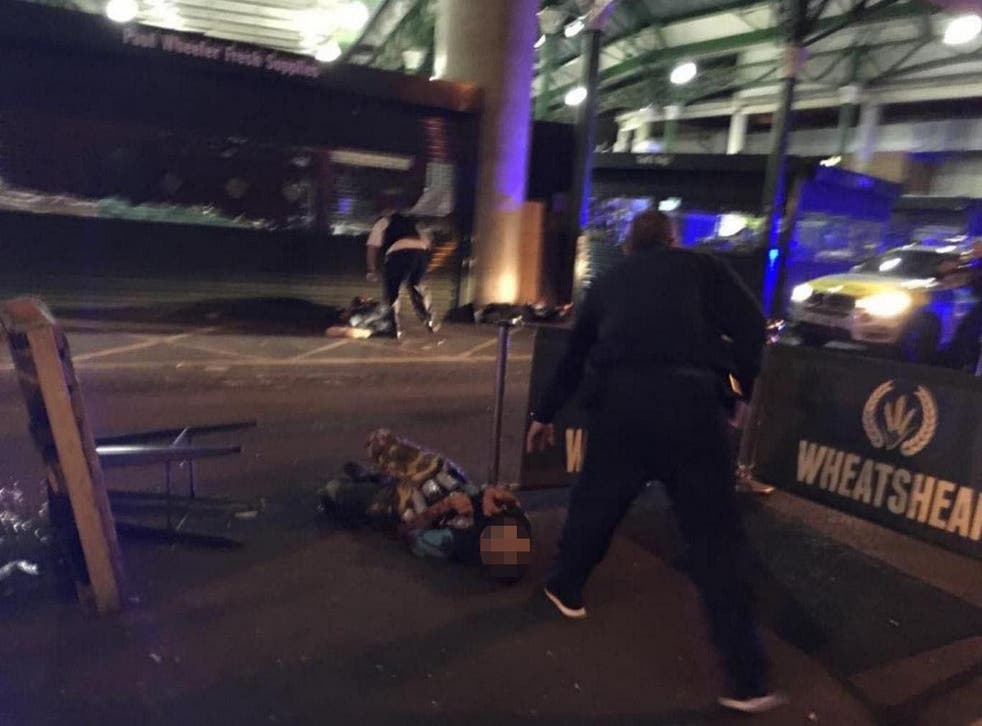 A photograph has emerged of two men lying on the ground after having been shot by the police during the terrorist attacks in London.
The image, taken by a documentary photographer, shows the men on a road near Borough Market — one of whom appears to have canisters taped to his body.
Police later confirmed armed officers had killed three suspects in the area. They said the canisters appeared to be designed to look like suicide bombs, but did not contain a viable explosive.
May: We believe we are experiencing a new trend in the threat we face
Six people were killed and 48 injured after a van drove into pedestrians on London Bridge and the attackers stabbed passers-by in Borough Market just after 10pm on Saturday.
Gabriele Sciotto, who took the photograph, has told The Independent he witnessed three men trying to attack people in the crowds, before officers shot them and they fell to the ground.
"There were three men. Policemen were trying to pull the attackers off the crowd. He managed to pull them off. Then I saw them being shot," said Mr Sciotto.
"I couldn't tell who was dead or who was alive. I'm glad I'm alive."
Amid a flurry of conflicting reports, witnesses spoke of up to half a dozen people being hit by the vehicle and seeing victims bleeding and receiving CPR on the street.
One eyewitness, named only as Gerrard, told the BBC he saw a man with stab wounds on the floor, before then witnessing three men repeatedly stabbing a girl at Borough Market.
"I was walking up to London Bridge, going past the Natwest Bank, and next thing, I saw a geezer on the floor going 'I've been stabbed'. He's got blood all down him. His mate comes past saying some stabbed his mate.
"Next thing, I saw three Muslim guys with knives, they started stabbing this girl. There were three of them. I was defenceless, I could do nothing. They attacked her. […]. She was shouting 'Help me'.
"They stabbed her I don't know how many times. Ten times, maybe 15 times. I tried to throw bottles at them. I tried to throw a bike at them. But I couldn't do nothing."
Alex Shelham, who was in the Mudlark pub situated just off London Bridge with his girlfriend and friends, said they saw a woman who entered the venue "bleeding heavily from the neck".
"A woman, probably in her early twenties, staggered into the pub and she was bleeding heavily from the neck and from her mouth," Mr Shelham told BBC News.
"It appeared to myself and to my friends that her throat had been cut. People went to her aid. The pub was then closed.
"We saw police on the roads nearby. As we were told to leave the area by armed police, and started running from there, to my left was a further individual having CPR performed on them by the emergency services."
Another eye witness, Georgia Grantham, a software consultant, was leaving the theatre on Southwark Street near Borough Market around 10:30pm, and said she and her parents were initially held inside the theatre and then hustled out.
She said she saw a man lying on the floor with his shirt off and "lots of police were near him".
"It was obviously an emergency scene. There were loads of sirens and flashing lights and a lot of confusion. Everyone was very panicked," she said.
Holly Jones, a BBC reporter who was on the bridge at the time, described seeing the white transit van hitting people walking nearby.
London Bridge Terror Attack

Show all 16
"He hit several pedestrians in front of me. Myself and two pedestrians jumped out of the way. One of the casualties on the floor was being treated by a paramedic. She says she doesn't know where her boyfriend is," she said.
Ms Jones said she had seen "probably about six casualties" on the ground. She also said she had seen a man being arrested, but it was unclear what connection to the incident he had if any.
Another witness, Will Heaven, a journalist with the Spectator, told Sky News he had been travelling south on the bridge in an Uber when he saw two people on the floor. One of them was on the pavement, the second in the middle of the road.
"It was about 10.10pm, I was back of an Uber when suddenly I noticed somebody down on the pavement with a small crowd around them. It looked like someone hd collapsed," he said.
"We drove a bit further and there as another person, this time in the road. Then the penny clicked that something serious had happened....The traffic came to a halt. We looked around and we could hear the sirens."
Join our new commenting forum
Join thought-provoking conversations, follow other Independent readers and see their replies