Louise Mensch thinks the real face of British Islam is a man of Sikh heritage
Sunny Hundal is not Muslim.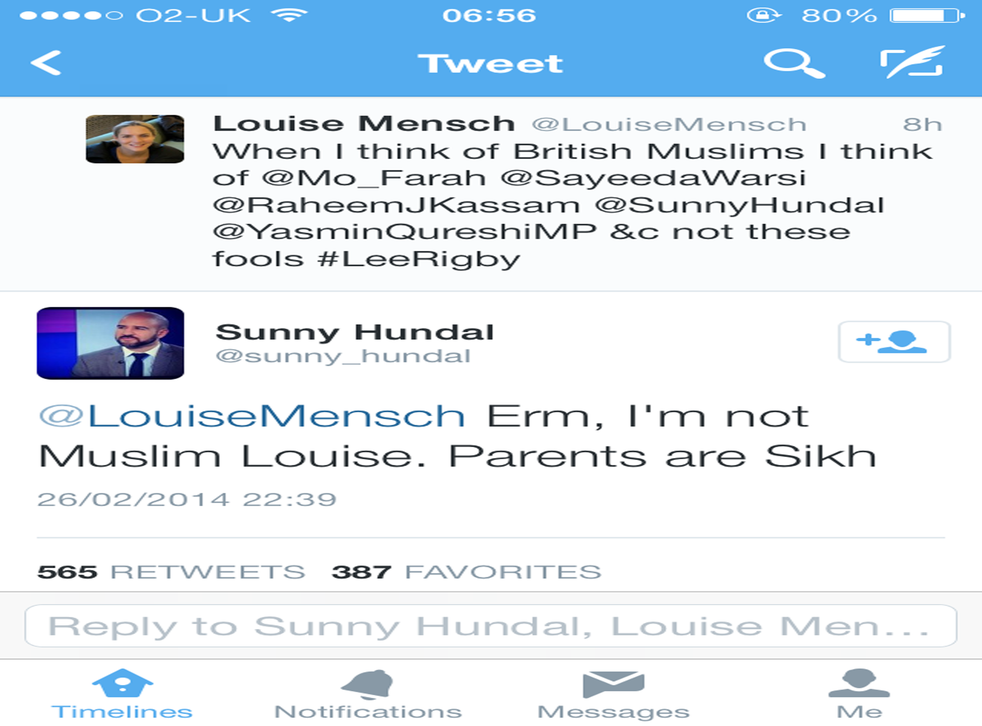 Former Conservative MP Louise Mensch scored a Twitter own goal whilst trying to convince her followers she was in touch with British Muslims, citing a political commentator who was actually of Sikh heritage.
In the wake of the sentencing of Lee Rigby's killers, Mensch tweeted: "One of the aims of #LeeRigby's murderers was to stir up religious hatred and we must not allow them to succeed in their aim. #Islam #Peace"
"When I think of British Muslims I think of @Mo_Farah @SayeedaWarsi @RaheemJKassam @SunnyHundal @YasminQureshiMP &c not these fools #LeeRigby"
Sunny Hundal was born to Sikh parents of Indian origin and despite having a beard, is not Muslim. He tweeted back at her "Erm, I'm not Muslim Louise. Parents are Sikh".
After Twitter users criticised her for her mistake, Mensch argued: "I've thought he was Muslim for ages. Based on his politics, tweets."
However this only served to spawn the hashtag #tweetlikeamuslim with users tweeting things like "Crikey that's a nice minaret", whilst others tweeted "I'm not Muslim Louise."
Sunny Hundal told The Independent that he is not a Muslim. He also said he plans to tweet like a Sikh from now on.
In pictures: politicians do the silliest things

Show all 23
The two religious fanatics who murdered Lee Rigby screamed a final act of defiance in court yesterday as they fought with guards and were dragged from the dock prior to receiving a whole-life and life sentence respectively for their "sickening and pitiless" killing of the 25-year-old soldier.
Join our new commenting forum
Join thought-provoking conversations, follow other Independent readers and see their replies