Mark Lewis: Anti-hacking campaigner says press barons still run the country
'Remember when Ted Heath called an election and asked who governed the country? We need to ask that question again'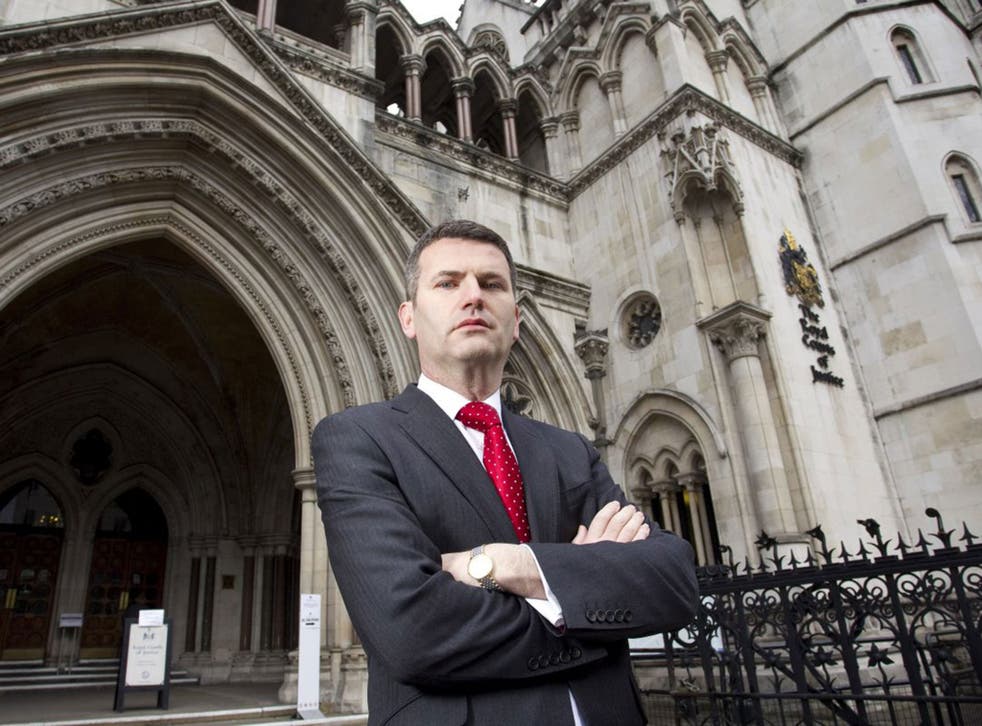 British society is once again "scared stiff" of the press as media barons reassert their control over politicians, according to the lawyer who first lifted the lid on the phone-hacking scandal.
After nearly a decade spent leading hardball negotiations, settlements and legal fights over voicemail hacking and tabloid wrongdoing, Mark Lewis warns: "We are back where we were."
Lewis was speaking to The Independent after Alison Saunders, the Director of Public Prosecutions, effectively announced the end of criminal investigations into Rupert Murdoch's News UK and Mirror Group Newspapers over phone-hacking. Just two weeks after that decision, David Cameron felt able to attend Mr Murdoch's London home for Christmas drinks.
"Remember when Ted Heath called an election and asked who governed the country? We need to ask that question again," Lewis argues. "Is it our elected politicians and the prosecution authorities, or is it the press barons? The reality is that after successful prosecutions, a high-profile judicial inquiry, reforms passed by Parliament, and a mountain of criminal evidence, we, as a country, are once again scared stiff of the press."
Speaking from his office at the London law firm Seddons, appropriately above a shop that specialises in surveillance equipment, Lewis, 51, pointed out that it was now three years since Lord Justice Leveson delivered his report.
Over that period, Mr Murdoch's global company, News Corp, shelled out close to $1bn (£670m) to defend and rehabilitate its image. In Mr Lewis's view, this money did its job.
"Remember the prediction from Lord Justice Leveson – that he was determined not to produce a document which sat on a dusty shelf in a professor's study? Well, part one of Leveson is being ignored. And part two, intended to look at unlawful conduct inside News International and other media organisations? Not going to happen. Our politicians are frightened again."
Film producers are once again interested in journalism's sleuths, with George Clooney announcing plans last year to direct a Hollywood take on the phone-hacking scandal. If his script writers need an opening scene, they could settle on the day Lewis describes as his own starting point.
Hacking trial: The sentences in full

Show all 5
As a young, successful lawyer in Manchester, in a firm with national clients, he was invited to the centenary celebrations of the Professional Footballers' Association in the city's town hall. It was 2006.
The boss of the PFA, Gordon Taylor, gave a speech that quoted the anti-Nazi theologian, Pastor Niemoller. Mr Taylor reworked his famous lines: first they came for the socialists, then the trade unionists, then they came for the Jews, and I did not speak out. Then they came for me.
The message was clear, says Lewis. "Gordon Taylor said trade unionists had a duty to speak out to protect members. Yet within a year or two he had signed a confidentiality agreement with News International. PFA members who had also been hacked? They knew nothing." For many, this remains a major betrayal.
Before the 2006 town hall speech, reporters from the News of the World had door-stepped the PFA boss, accusing him of having an affair with the association's in-house counsel, Joanne Armstrong.
Lewis represented Ms Armstrong. He got in touch with News Group (the Murdoch division which ran the News of the World), and met he company lawyer, Tom Crone. "I told him the story wasn't true. They dropped it, with Crone insisting they got the story through 'proper journalistic enquiries'."
What happened next, Lewis says, still makes him almost laugh. "I asked Crone to meet my legal costs. He refused. Had he paid me that £3,000 there's a good chance that the News of the World would still be coming out this Sunday. It's as daft as that. "
The self-appraisal is not without merit. In Nick Davies' book on the scandal, Hack Attack, there is a line in the opening chapter that reads: "Mark Lewis just loves being a nuisance."
When the News of the World's specialist hacker, Glenn Mulcaire, and the tabloid's royal reporter, Clive Goodman, were both charged in 2006, Lewis noticed what others missed.
Although the charges related mostly to young members of the Royal Family, Lewis was concerned that Mulcaire's wider targets included five others, among them Gordon Taylor. "I saw the news and thought 'They hacked Gordon Taylor to get that story'." He calls it his "light-bulb moment".
Whether it was the police or Lewis who told Mr Taylor he had a potentially lucrative privacy case, the end result remains the same. The former Formula One racing boss, Max Mosley, sued the NOTW in 2008 winning a record £60,000 in damages. Yet the secret payment from NI to Mr Taylor made it look like peanuts. Lewis says: "Gordon got seven Mosleys – £425,000. And no one knew a thing about it."
Fired from his Manchester firm for pursuing other hacking claims, Lewis sold classic cars for a while, then moved to London joining a small, low-profile law firm, Taylor Hampton, that had just two rooms in a building opposite the Royal Courts of Justice.
What comes next resembles a John Grisham script, but one that doesn't have a particularly happy ending.
Lewis remains one of the critical figures who helped expose the full scale of criminality inside the NOTW and then later inside Mirror Group Newspapers.
He represented scores of victims, among them the family of the murdered schoolgirl, Milly Dowler, arguably the pivotal case that led to the closure of the NOTW and the jailing of Andy Coulson. Payments to the Dowler family totalled £3m.
Through the legal fees for those cases, Lewis should be a fairly rich lawyer. But he isn't. His reputation brought work to Taylor Hampton, which was founded by Daniel Taylor. Lewis is now suing his former boss for non-payment of fees. He says: "I started the Mirror cases, and although Trinity Mirror has set aside £41m to deal with the full fallout, I haven't been paid a penny."
A court will now decide if Lewis's claim for £1.5m is justified. Mr Taylor, in turn, asserts that Lewis owes him over £1m. He said in a statement: "This is an ongoing dispute which this firm is confident will be successful."
Whatever the outcome of his action, Lewis fears that the public is forgetting the extent of the tabloid deceit.
"People realised they had been lied to by their newspapers. There was a lie about a rogue reporter and a few politicians and celebrities caught in the crossfire.
"But the police knew, and the lies kept coming. That's why it all cost millions and was bigger than it ought to have been," he says. "Even now, when we're being told it's finished, we shouldn't lose sight of the lies."
Join our new commenting forum
Join thought-provoking conversations, follow other Independent readers and see their replies