MDMA used in world's first trials to treat alcohol addiction
The drug, also known as ecstasy, has been trialled in treatment of post-traumatic stress disorder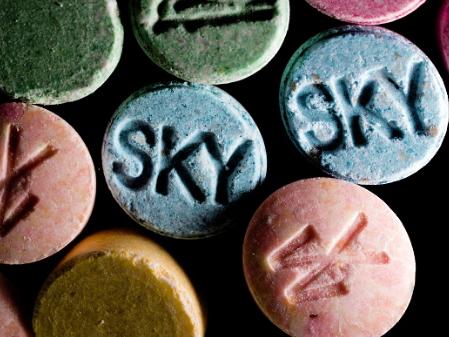 In a world first, scientists in Bristol are using the psychoactive drug MDMA as part of a treatment programme for addicts and alcoholics.
The study was created by a research team at Imperial College London, and involves giving doses of MDMA – known by the street names Molly or ecstasy – to help patients battling addiction. They claim this could be more effective than conventional methods. Those on the trial will also be put on a course of psychotherapy.
"We know that MDMA works really well in helping people who have suffered trauma and it helps to build empathy," said Ben Sessa, a clinical psychiatrist on the trial and senior research fellow at Imperial College London.
On his website, Sessa stated: "3,4-methylenedioxymethamphetamine is a remarkable substance. Forget what you know about the popular use of this compound in the context of the recreational drug ecstasy.
"MDMA is a medical drug that started its life in the clinical setting. It has a unique receptor profile that makes this drug, when combined in a supervised clinical setting with experienced psychotherapists, the perfect tool to enhance trauma-focused psychotherapy."
Participants on the trial are all heavy consumers of alcohol, typically drinking about five bottles of wine per day. They were chosen through the alcohol services in Bristol and have undergone repeated treatments for alcoholism.
After going through a detox period, those on the trial receive two therapy sessions, followed by a day where they receive a capsule of high-dose MDMA.
The drug has shown promise in treating those with post-traumatic stress disorder (PTSD). At the Psychedelic Science 2017 conference in Oakland, researchers showed that after more than one year after two or three sessions of MDMA-assisted therapy, about 67 per cent of participants no longer had the condition.
However, experts warn that recreational use of the drug can cause harm. "I've seen people in my practice who took MDMA at a party and weren't prepared for the memories that came up, and it was really harmful for them," Michael Mithoefer, a psychiatrist and a principle investigator in the MDMA trials said in a Nature report.
Alcohol-related deaths have increased by 13 per cent over ten years, according to the report Statistics on Alcohol: England, 2016.
Join our commenting forum
Join thought-provoking conversations, follow other Independent readers and see their replies