Unionist parties in censorship row after demanding removal of painting showing 'Orangemen in KKK clothing'
The Royal Ulster Academy has refused to bow to demands from two political parties to remove the work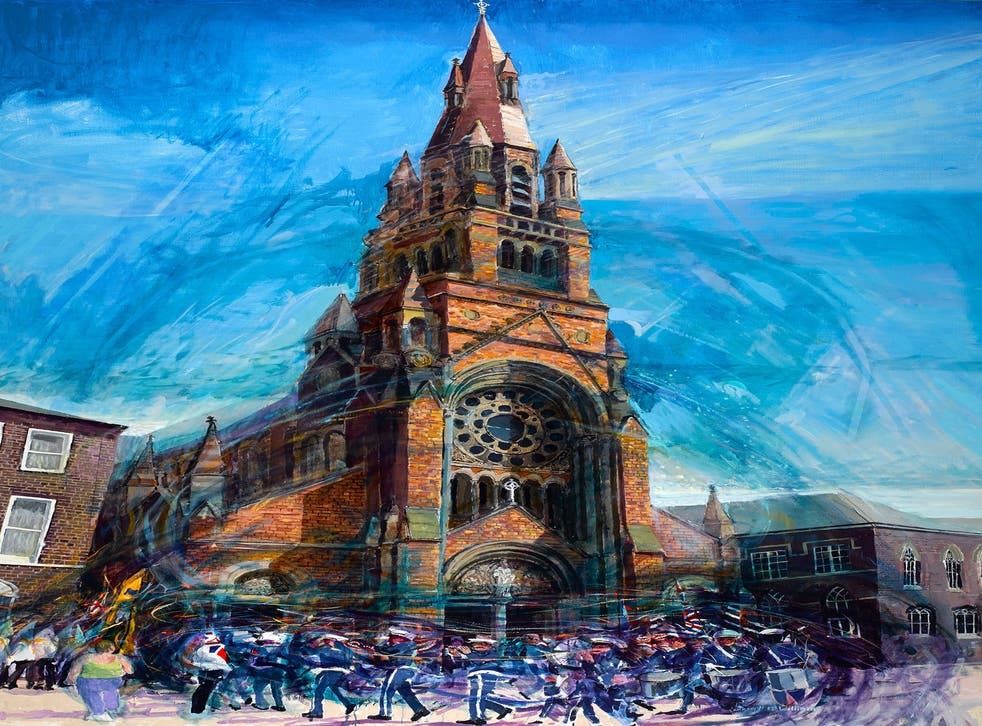 More than 300 works are on display in Northern Ireland's biggest visual arts show, but a controversy erupted this week over a square inch of canvas.
The Royal Ulster Academy has refused to bow to demands from two political parties to remove an award-winning painting from the 134th Annual Exhibition at the Ulster Museum, which followed complaints from the Orange Order who said it depicts members wearing Ku Klux Klan clothing.
Christian Flautists Outside St Patrick's was the last painting by acclaimed Irish artist Joseph McWilliams, who died last month. He was posthumously awarded The Irish News Prize for the work.
On Wednesday, the Orange Order complained that a small blurred section "depicts a number of Orangemen wearing Ku Klux Klan clothing". They deny it ever happened calling it "deliberate demonization". It has prompted calls from unionist political party Traditional Unionist Voice to remove the painting from display. The Democratic Unionist Party also criticised the work.
Academy president Denise Ferran said the work would not be removed over the disputed square inch of a canvas that is seven foot by five foot as it would be an attack on artistic freedom.
"I never noticed this tiny little corner of the picture. I saw swirls of flags and bystanders. You really need a huge magnifying glass to spot it," she told The Independent. "It could well be what they say they see in it. They could also be catholic penitents or a group of cardinals, it's splodges of paint."
The subject matter relates to the Young Conway Volunteers on a Twelfth march in 2012, who had permission to pass the Catholic church but not play any music. Instead they marched in a circle playing the sectarian Famine Song.
Dr Ferran said. "It was seen as tremendous provocation. It has recently been going through the courts so you can see why the Orange Order is sensitive to a painting depicting imagery like that."
The Academy has subsequently put up notices saying some people may be offended by the exhibition. Dr Ferran said: "What we will not do is take the picture down. Once you go down that road, the problems will never cease."
She added: "I'm delighted we're not a moribund crowd of old stooges. We are causing provocation, which is what an academy of artists should be doing."
A spokesman for the Orange Order said putting up the disclaimers was a "necessary step and at least some acknowledgement of the genuine concerns of the institution and many in the wider community to the inaccurate and misleading nature of the painting in question".
He added that the group had not called for the painting to be removed from display saying "the Orange Order does not actively support censorship".
A spokesman for the Order said its members were entitled to feel outraged that "a major publicly funded facility should display such artwork which is deeply offensive to their traditions."
It added the organisation had "no hesitation in condemning the extremist views of the KKK and to imply any comparison is as mischievous as it is insulting." The KKK is a US-based racist organisation opposed to desegregation laws.
The Academy was last embroiled in a similar controversy in 2011 when artist Ross Wilson submitted a portrait of Mary Traverse, who was killed by the IRA prompting complaints from Sinn Fein.
"We listened to their complaints, but we did not take the picture down," Dr Ferran said. "We are listening to the Orange Order's complaint. I respect that but I also respect the right of the artist to have his picture up."
Join our new commenting forum
Join thought-provoking conversations, follow other Independent readers and see their replies