2 charts that show George Osborne is losing the race to be PM
George Osborne would be a less popular Tory Party leader than both Boris Johnson and Theresa May, new polling finds.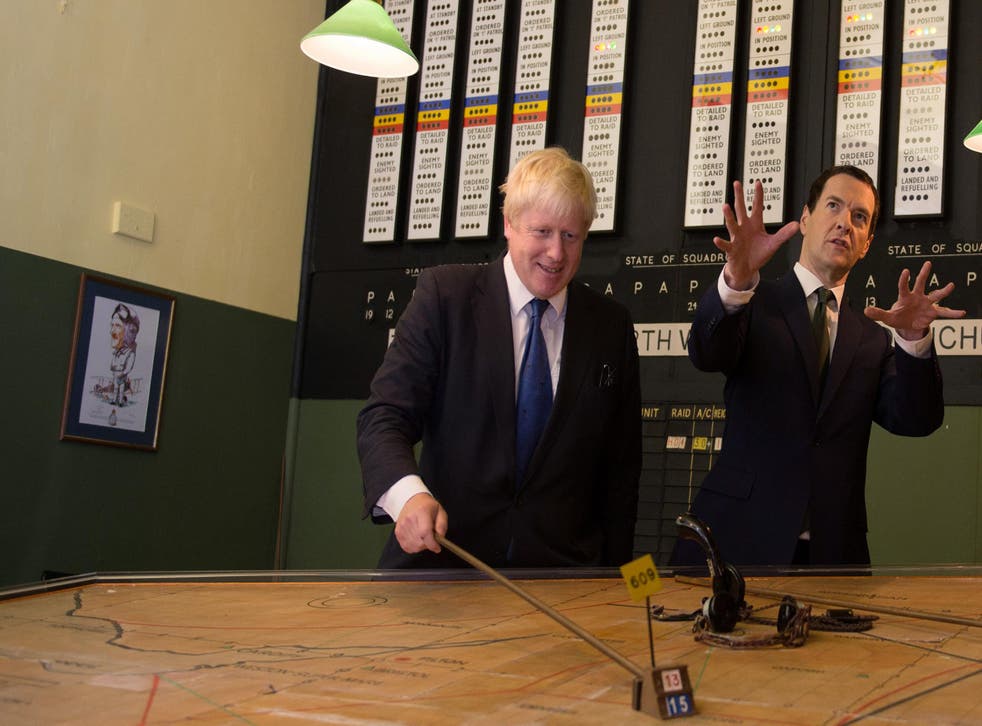 Fewer than one in five Brits would be encouraged to vote for the Conservative party in 2020 if George Osborne led the party instead of Boris Johnson or Theresa May, according to an exclusive poll for the Independent.
Osborne is the bookies' favourite to take over the party, yet voters would be nearly three times as likely to vote Tory if Johnson, the Mayor of London and now also a backbench MP, was to replace David Cameron. Theresa May is also a significantly more popular choice than the Chancellor.
When asked to choose between the three candidates, 50 per cent chose Mr Johnson, 31 per cent chose Ms May and only 18 per cent chose Mr Osborne.
Party members have traditionally chosen between two candidates, but figures in the party are now pushing for a three-way contest after David Cameron resigns, the Times reported.
David Cameron said on the eve of last year's election that "the Conservative Party has got some great people coming up - the Theresa Mays, and the George Osbornes, and the Boris Johnsons."
But this poll, conducted by pollsters BMG Research, suggests there are only two major candidates - and Mr Osborne isn't one of them.
In the past year Mr Osborne has been widely lauded by political commentators and favourably portrayed in interviews, whether in the Daily Mail or the New Statesman. He helped lead the Conservatives to an unprecedented election victory in May and used an unexpected budget windfall to "end austerity" in December.
He was also seen to get the better of Mr Johnson in his post-election budget when he made a joke at his expense.
But while Mr Osborne has added First Secretary of State to his list of titles since the election, and Mr Johnson is only a lowly member of Cameron's 'political cabinet', the Chancellor has little support outside of Westminster.
Mr Osborne fares slightly better among Tory voters than voters in general, with 31 per cent of Tories favouring him as opposed to 18 per cent of all voters. He leapfrogs May when the poll is narrowed to Tories, but is still significantly less popular in his party than Mr Johnson, who wins the support of 48 per cent of Conservatives.
The poll contrasts with the latest betting odds. They suggest a two-man race between Mr Osborne and Mr Johnson, with Mr Osborne a clear favourite at 6/4 compared to Mr Johnson at 7/2.
Ms May, the UK's longest-running Home Secretary in a century, is considered an outsider along with Sajid Javid, the Business Secretary; both are priced at 8/1.
The poll also contrasts with the monthly surveys conducted by Conservative Home, a leading website for Tory members. They suggest five candidates – Mr Osborne, Mr Johnson, Ms May, Mr Javid and former Defence Secretary Liam Fox – all have the support of 15-20 per cent of the party, but their polls are not weighted.
The new findings are largely in line with polling conducted by the Evening Standard. When they asked a similar question in November, 25 per cent of voters chose Mr Johnson, while 19 per cent chose Ms May, 11 per cent chose Mr Osborne, and a pair of other candidates won single-digit support.
Our new poll, which narrows the field to three candidates, shows a far higher level of support for Mr Johnson, and suggests he may be the candidate who can best unite the party.
Mr Johnson also has wide appeal. Most Tory voters are likely to vote for whichever of these candidates wins their leadership election, but just 12 per cent of Labour voters are encouraged by the idea of Mr Osborne as leader. May fares far better among Labour voters – 42 per cent choose her – but Mr Johnson is again the most popular, with 45 per cent.
Aside from faring better with Labour and centre-left voters, Ms May wins more support from women (36 per cent) than men (27 per cent). If Ms May wins, she would be the Tories' second female leader. Labour has never been led by a woman.
Intriguingly, Mr Osborne is far more popular among those who have a high level of trust in government (30 per cent) than those who have little trust in it (10 per cent).
Yet the wider picture is clear. Mr Osborne may be the most powerful man in Westminster, and increasingly liked within it, but he could imperil his party's hopes of governing for a second straight decade if he becomes their leader.
BMG Research conducted an online poll of a nationally representative sample of 1,586 people.
Join our new commenting forum
Join thought-provoking conversations, follow other Independent readers and see their replies