Andrea Leadsom apologises to Theresa May over motherhood comments row
The junior energy minister 'deeply regrets' her remarks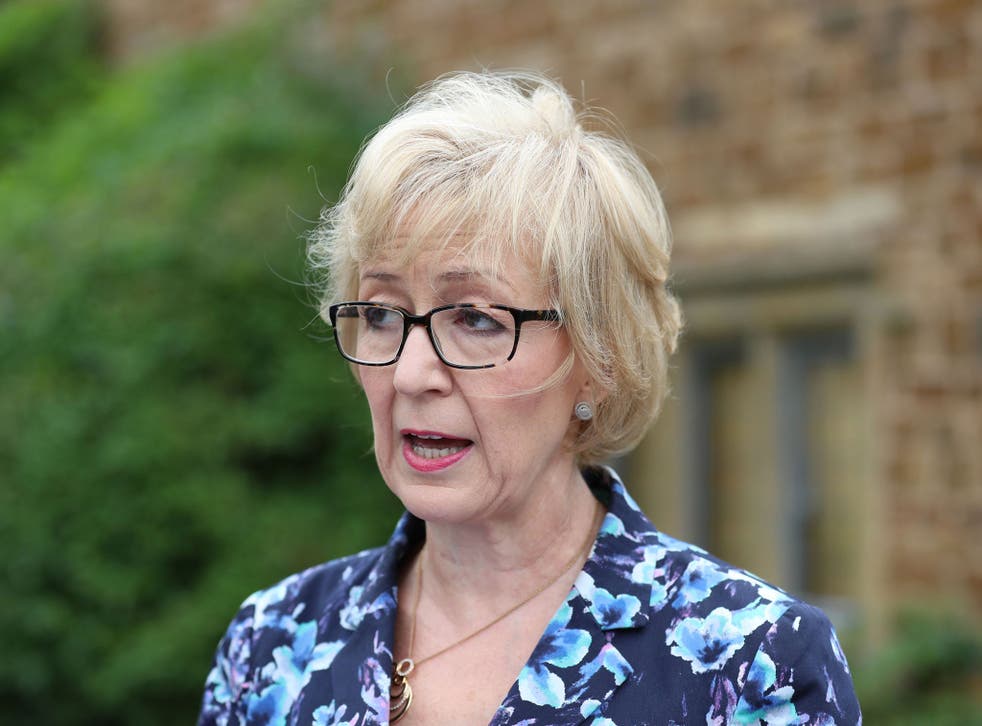 Andrea Leadsom has apologised to Theresa May "for any hurt I have caused" after a row over her incendiary comments which appeared to suggest being a mother gave her an advantage as a potential prime minister.
The junior energy minister, who was criticised by senior Conservative politicians for her "vile" and "insulting" comments, insisted that she did not want motherhood to play a role in the leadership campaign and "deeply regret that anyone has got the impress that I think otherwise".
Ms Leadsom added that she felt "under attack" since the row, which fellow minister Anna Soubry said showed she was unsuitable for Downing Street. The interview was published just hours after the Home Secretary had pledged to fight a "clean campaign" and urged her rival to "do the same".
The Tory leadership candidate reportedly sent her apology to Ms May by text. "Theresa was very grateful for the message and thanked Andrea for it," a spokesperson added.
The mother of three was asked in an interview with The Times whether she felt "like a mum in politics".
"Yes. I am sure Theresa will be really sad she doesn't have children so I don't want this to be 'Andrea has children, Theresa hasn't' because I think that would be really horrible, but genuinely I feel that being a mum means you have a very real stake in the future of our country, a tangible stake," she responded.
"She possibly has nieces, nephews, lots of people, but I have children who are going to have children who will directly be a part of what happens next.
Just last week Ms May had spoken about how her and her husband, Philip, were affected by being unable to have children. Ms May told said she likes to keep her "personal life personal" but says that she and her husband "dealt with" the fact they couldn't have children and "moved on".
Conservative MP Sir Alan Duncan, responding to the comments, said: "I'm gay and in a civil partnership. No children, but 10 nieces and nephews. Do I not have a stake in the future of the country? Vile."
And Sam Gyimah, another Tory MP, added: "Wrong and insulting for Leadsom to say those who are childless care less about the future. Being a parent doesn't qualify you to be PM."
But Ms Leadsom, following the row, told the Daily Telegraph that she believed that having children has "no bearing on the ability to be PM"."I absolutely said, what I specifically said, is that motherhood should not play a part in the campaign," she said.
"I was pressed to say how my children had formed my views. I didn't want it to be used as an issue. Having children has no bearing on the ability to be PM. I deeply regret that anyone has got the impression that I think otherwise."
Asked if she would apologise to Mrs May she said: "I've already said to Theresa how very sorry I am for any hurt I have caused and how that article said completely the opposite of what I said and believe."
Mrs Leadsom said she felt "under attack, under enormous pressure. It has been shattering".
But Mrs Leadsom's key supporter Iain Duncan Smith, the former Tory leader, claimed she is facing a "black-ops" campaign by MPs who want to "denigrate her reputation".
Join our new commenting forum
Join thought-provoking conversations, follow other Independent readers and see their replies