Andy Burnham joins Labour MPs criticising Jeremy Corbyn's refusal to accept EU immigration restrictions
Departing Shadow Home Secretary warns Labour will be abandoning its own supporters if it 'argues for the status quo'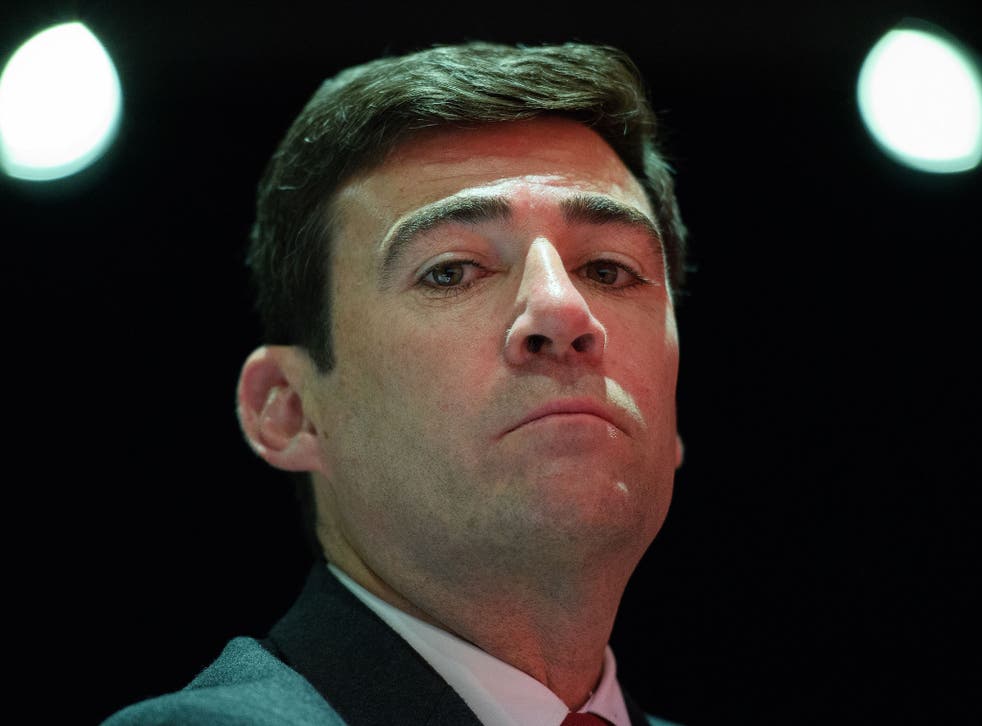 Andy Burnham delivered a parting shot to Jeremy Corbyn over his refusal to accept EU immigration curbs, in his final frontbench conference speech.
The Shadow Home Secretary criticised his party for failing to acknowledge the brutal fact that millions of Labour supporters "voted for change on immigration" in backing Brexit.
Mr Burnham said such voters were not "narrow-minded, nor xenophobic", because they welcomed refugees and "have no problem with people coming here to work".
But he added: "They do have a problem with people taking them for granted and with unlimited, unfunded, unskilled migration which damages their own living standards.
"And they have an even bigger problem with an out-of-touch elite who don't seem to care about it.
"If Labour now argues for the status quo, it will look like we have abandoned them too."
The comments came just hours before the Labour leader is due to deliver a speech rejecting controls on EU immigration, claiming demands for them "fan the flames of fear".
Yesterday, Mr Corbyn's spokesman said: "We are not concerned about numbers. It is not our objective to reduce the numbers, to reduce immigration."
The speech puts Mr Burnham alongside other big Labour figures, including Yvette Cooper, Chuka Umunna, Rachel Reeves and Stephen Kinnock, who have previously urged an immigration rethink
The Shadow Home Secretary – who confirmed he will stand down to focus on his bid to become Greater Manchester's mayor – also warned of the harsh consequences of a 'hard Brexit' on poorer communities.
He warned Theresa May against diluting promises to create a 'Northern Powerhouse', saying: "It will be as big a betrayal of the North as Margaret Thatcher's in the 1980s."
And he criticised the Blair and Brown Governments in which he served for failing, just as the Tories had, to narrow the widening North-South divide.
Mr Burnham told delegates: "My 15 years in Westminster has told me that there isn't a real will in the British Establishment to close it, to listen to people here.
"Westminster over decades has failed the North of England. It has created a very unequal country, unequal access to truth and justice, an unfair distribution of wealth, health and life chances. Two countries."
The Liverpool-born Mr Burnham pointed to the South's luxury trains, adding: "Try and catch a train from Lime Street later today to Manchester, Leeds or on to the North East."
On Brexit, he criticised Labour figures calling for a second vote, saying: "I don't want to hear this Party make the patronising argument that people didn't understand their referendum vote. They understood it very well.
"The truth is the EU was working better for some parts of our country than it was for others. For some of our country's least affluent areas, it wasn't working well at all."
And he warned: "A hard Brexit will hurt our economy, hit the poorest areas hardest and turn Britain into a place it has never been: divided, hostile, narrow-minded."
Join our new commenting forum
Join thought-provoking conversations, follow other Independent readers and see their replies