Andy McSmith's Diary: Ed Balls and Jack Straw off the Labour peerage list
Straw would have been in line before being embarrassed by a sting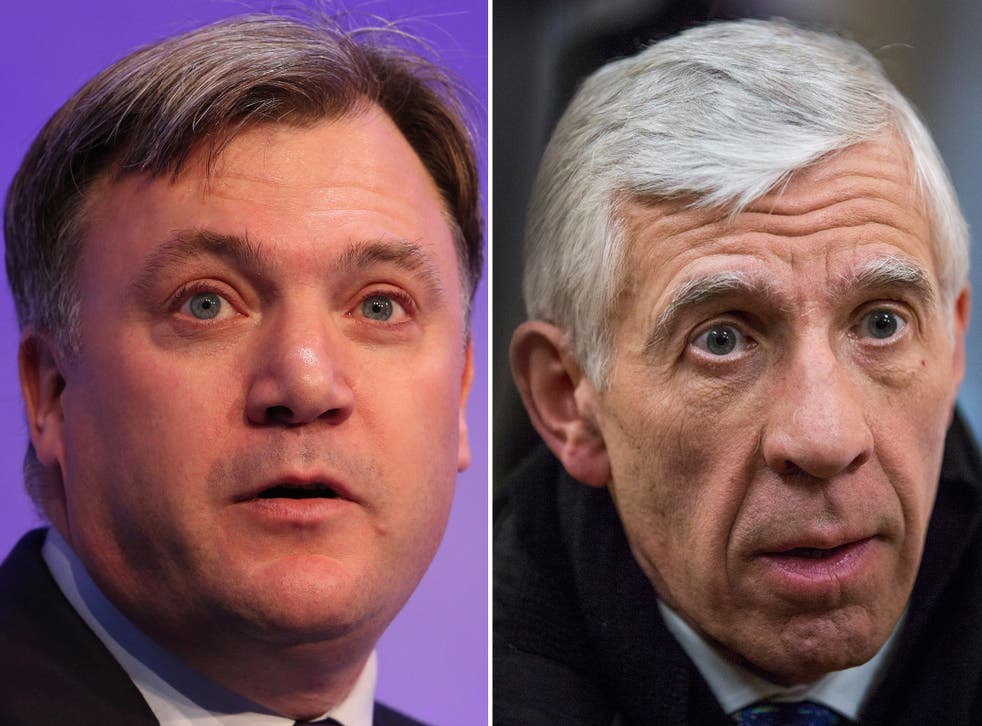 An argument has erupted behind the scenes over whom Labour proposes to nominate for membership of the House of Lords. Spencer Livermore, Ed Miliband's former campaign director, was on a promise of a peerage as a "thank you" for accepting the job. He was a veteran of three elections, having worked as Gordon Brown's special adviser from 1997 to 2008, but had been out of politics for five years, and needed to be coaxed back.
That promise was, of course, based on the assumption that Miliband would be there to deliver on it, but it is Harriet Harman who now runs the show, and she is saying that if Livermore gets a peerage, so should Ayesha Hazarika, who left Miliband's private office in 2011 to be Harman's loyal adviser.
Two former Secretaries of State for Wales, Peter Hain and Paul Murphy, are expected to become lords. Jack Straw would also have been in line for a peerage, had he not been embarrassed in a sting operation by Channel 4 and the Daily Telegraph.
There were also peerages on offer for Ed Balls and Douglas Alexander, the two most prominent Labour casualties of the election, but they have both turned them down.
G7 activity options
Included in the Downing Street's agenda for the G7 summit in Germany was this item: "Meet at hotel reception for Mount Wank cable car – optional."
Shapps Wiki leak latest
Grant Shapps may be a wronged man. Before the election, the Conservative Party chairman – as he then was – was the subject of some very damaging publicity after The Guardian revealed that an anonymous contributor to Wikipedia had been barred after adding several favourable mentions to Shapps' online biography, and a few unflattering additions to those of other Cabinet ministers. The inference was that the mystery contributor was Shapps, on a mission to glorify himself and belittle others. He flatly denied it.
The volunteer administrator who caused Shapps' embarrassment, a former Lib Dem activist named Richard Symonds, has since been investigated by Wikipedia. Their arbitration committee says that he should not have been so quick to leak the story, which breached Wikipedia's policy of administrators being "neutral and unbiased". They have recommended revoking his privileged access to the site.
Forgetting Gordon
"If there were two words I could ban in the Labour Party it would be the words Blairite and Brownite," Tom Watson, a front-runner in Labour's deputy leadership election, told Radio 5 Live. He was central to the alleged conspiracy in 2007 to force Tony Blair out and get Gordon Brown in. I conclude that he does not want to be labelled a "Brownite".
Seeking Sol for mayor
Labour's organisers in London will be silently praying for Sol Campbell to succeed in his bid to be adopted as Conservative candidate in next year's election for London Mayor. Among the many hostile reactions on Twitter was one which said: "Spurs fans won't vote for Sol Campbell because he joined Arsenal, and no one else will because he's a massive…" There was another word after "massive". As a matter of taste, I think the row of full stops will do.
Historic Labour defeats
I do not want to depress anyone in the Labour Party, but 9 June is the 32nd anniversary of the party's worst post-war defeat, when they returned with just 209 MPs on 27.6 per cent of the vote. Last month's result was 232 seats on 30.5 per cent. Better, but not by very much.
Join our new commenting forum
Join thought-provoking conversations, follow other Independent readers and see their replies