Andy McSmith's Diary: Jeremy Corbyn's stand on Trident puts him in the unions' sights
There are thousands of people, union members all, whose jobs depend on the decision to renew Trident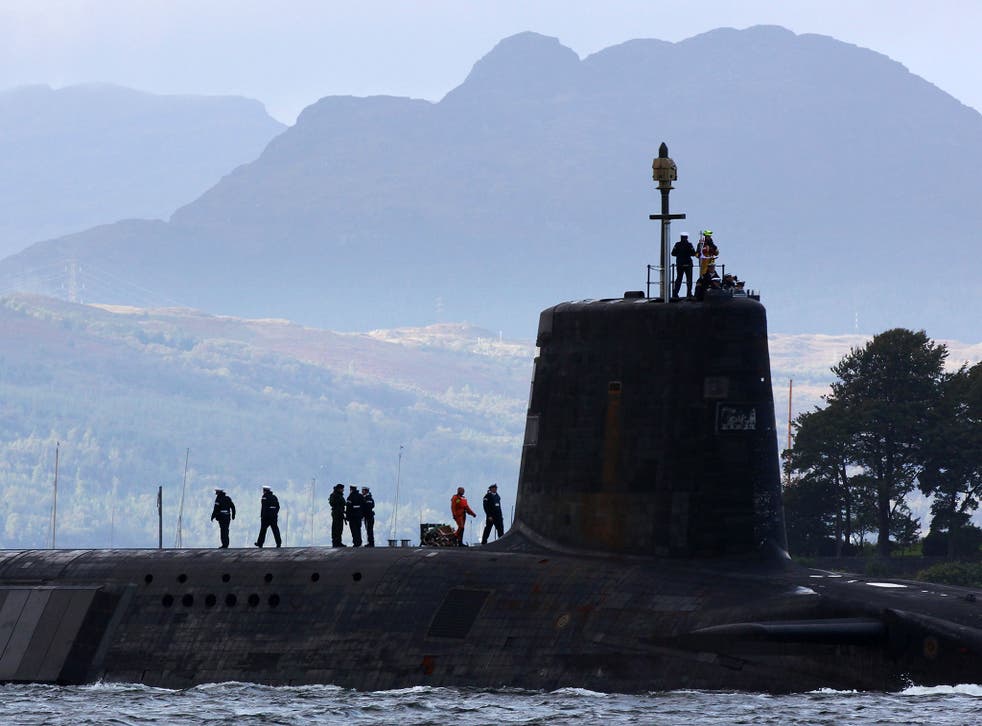 Assuming that Jeremy Corbyn wants to make it Labour policy to scrap Trident, the UK's nuclear weapons system, it's a surprise that he initially appointed shadow Foreign and Defence Secretaries – Hilary Benn and Maria Eagle – who support its retention. But that's the least of his problems. The greater insoluble is that there are thousands of people, union members all, whose jobs depend on the decision to renew Trident.
Just as Corbyn was rearranging the names on his front bench, the GMB fired a missile that was supposedly aimed at an SNP MP named Brendan O'Hara, but whose real target was obviously Corbyn.
O'Hara had called for the work on a successor to the Trident fleet to be abandoned. Gary Smith, head of the GMB in Scotland, retorted: "Thousands of Scottish jobs are dependent on the successor programme… These elected politicians agitating to sack our members are no longer bothering to promise pie-in-the-sky alternative jobs for workers who are vital to our national security. It makes no sense to abandon our longstanding overall defence strategy unilaterally for solely political reasons. GMB Scotland will not play politics on this and will stand up for our defence workers and their communities right across the UK."
That promise to take the fight "right across the UK" is supported by the GMB's UK boss, Sir Paul Kenny. Whatever Unite's general secretary Len McCluskey thinks privately, he is not going to say anything different outloud, lest thousands of Unite member in the defence industries decide they would be better protected if they were in the GMB. But for Corbyn, ridding the country of nuclear weapons is a moral issue. He may think that taking on the big unions and sacrificing a clutch of potential Labour seats where the arms industries are based is worth the price.
Fighting talk
When Hilary Benn directly contradicted the Labour leader by arguing the case for bombing Isis in Syria, wonks wondered whether there were any precedents for a party leader to be opposed so publicly on something of such importance by so senior a colleague. Actually, there is. A century ago, on 5 January 1916, the Liberal Prime Minister Herbert Asquith presented a Bill to Parliament to introduce conscription. The very next speaker was the Liberal Home Secretary, Sir John Simon, who protested that it was against Liberal principles to compel men to join the forces. Next up was John Hodge, the pro-war chairman of the Labour Party, who commented that in his 10 years as an MP, "I cannot call to mind any more destructive criticism of a Bill".
Not the Second Coming
You do not need to be young to think that Corbyn's elevation is an event comparable with the Second Coming, apparently. The musician Richard Hawley, a former member of Pulp, will be 48 this month. Answering a reader's question in Q magazine, he opined that Corbyn is "John the Baptist to the Jesus who will follow". He gushed on: "I love Jeremy Corbyn, his bravery and his honesty – but I pity him dealing with the press onslaught. The thing to remember, though, is that they wouldn't expend that much energy taking someone apart unless they really feared him."
Join our new commenting forum
Join thought-provoking conversations, follow other Independent readers and see their replies