Andy McSmith's Diary: The paranormal past of Nicky Morgan's publisher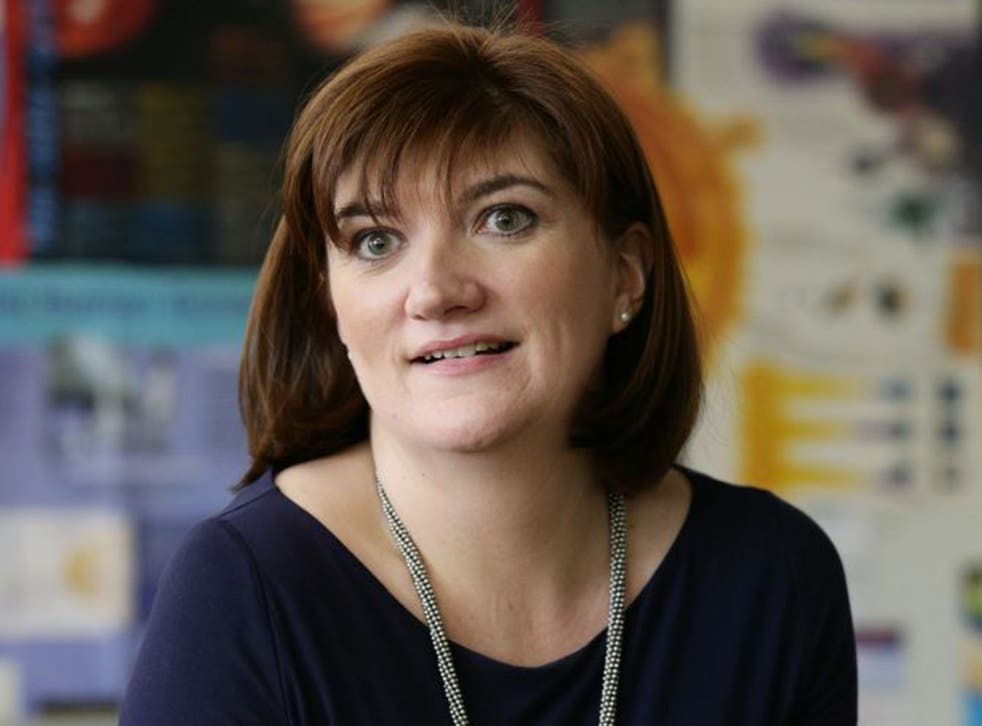 Nicky Morgan, the Education Secretary, has had a good idea: she has written a children's activity book about the civil war in Loughborough, where she is the local MP.
But what caught the eye of the Lib Dem blogger Jonathan Calder about the project was her choice of publisher. It is being brought out by little firm called Bretwalda Books, whose editorial director, Rupert Matthews, is described in the Loughborough Echo as "an old friend of Mrs Morgan".
Matthews is also a veteran Conservative activist who was standing in line in 2011 waiting to take over as MEP for East Midlands when Roger Helmer carried out his declared intention to stand down, until the party machine stepped in to block him, whereupon a furious Helmer defected to Ukip and refused to step down.
The party managers' objection to Matthews apparently had nothing to do with his 30-year service to the party, his work as a councillor, his interest in history, nor his publishing activities. It arose from his interest in the paranormal. He once ran a course at the International Metaphysical University of West Virginia, about ghosts, UFOs, aliens and the Loch Ness monster, not to mention putting the frighteners on the good people of Odell, in Bedfordshire, by warning them that the ghost of Sir Rowland Alston, a former proprietor of Odell Castle who sold his soul to the devil, was liable to return from the dead and "bring hell to earth".
Whatever its effect in Odell, this certainly spooked Conservative campaign headquarters who decided Matthews was not going to become a Conservative MEP.
We've been beer before
It was very witty of the Wychwood Brewery in Witney, to think of creating a beer called Co-ale-ition – bottles of which were handed out by the Prime Minister at the last pre-election meeting of the Coalition Cabinet. It was flavoured with oak, to represent the Conservatives, and lemon, for the Lib Dems. The Communities Secretary Eric Pickles tweeted a photo of it. Witty, but not original: the Official Monster Raving Loony Party launched a Co-ale-ition beer in 2013.
If you can't stand the heat...
Yesterday's top Twitter spat was between Sarah Vine, Daily Mail columnist and wife of Michael Gove, and the food critic Jay Rayner. Last week, Rayner criticised Vine on Twitter for writing a bilious attack on Ed Miliband's and Justine Thornton's austere kitchenette, when her husband once claimed thousands of pounds off the taxpayer for kitchen equipment. Vine unwisely replied, chiding Rayner for his comments "when you used to be a colleague on the Mail on Sunday". Rayner responded wanting to know why their being former colleagues was a defence of her conduct in "slagging off one man's kitchen as a mark of character while filling your own on public funds". There was much more, and lots of other Twitter users joined in. Nobody seemed to take Vine's side.
Unbiased? Not quite
Since the end of his long stint on BBC's Newsnight programme, Jeremy Paxman has been free to express political opinions, which he did at an Advertising Week conference this week. He confirmed that he had been approached by the Conservatives to run as their candidate in the London mayoral election, adding that they also sounded him out about the vacant parliamentary seat of Kensington and Chelsea. Asked to name politicians he admired as TV performers, he listed three Tories – Philip Hammond, William Hague and David Cameron. None of this would matter except that when Cameron and Ed Miliband appear on live television tomorrow, one of the presenters will be Jeremy Paxman.
Join our new commenting forum
Join thought-provoking conversations, follow other Independent readers and see their replies