Andy McSmith's Diary: Pity the pauper George Galloway locking horns with Graham Norton
The BBC presenter and comic who once confessed to being a former drug user, lives close to Galloway's old constituency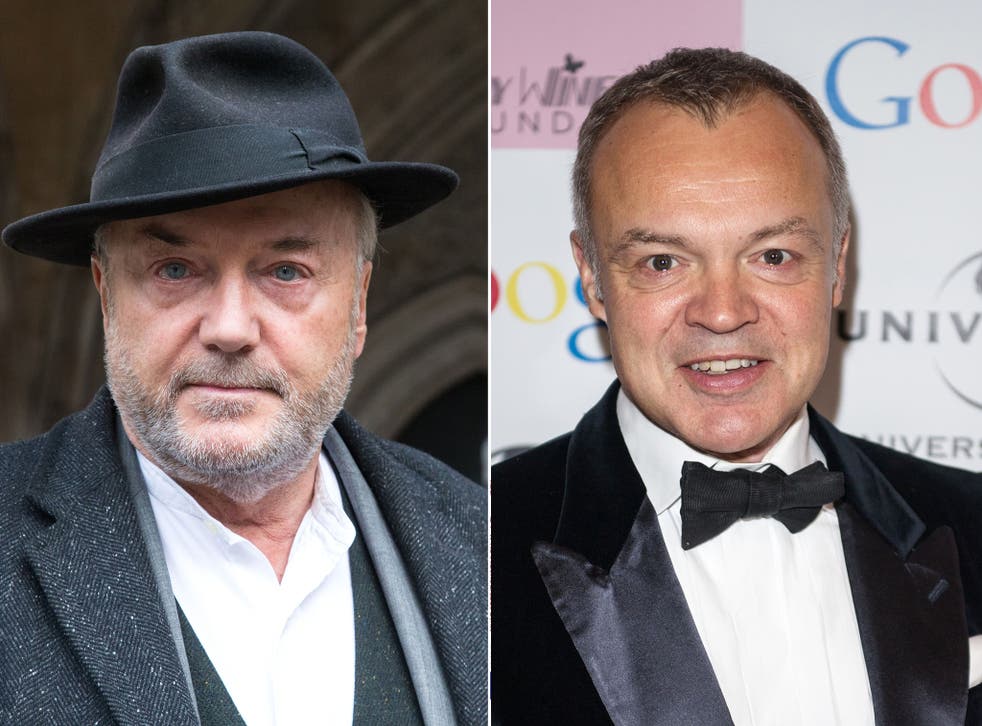 George Galloway, the ever-angry Respect MP for Bradford West, is not one to let an insult go by without retaliating.
The BBC presenter and comic, Graham Norton, who once confessed to being a former drug user, lives close to Galloway's old constituency of Bow and Poplar. He is not a fan.
"I wouldn't piss on George Galloway if he was on fire," he told the Daily Record. "I fundamentally disagreed with more or less everything he stood for."
That set off a Twitter riposte from Galloway: "How much money is the public forced to pay sordid snorter Graham Norton through the licence fee poll tax?"
For the record, Norton received £2.3m in fees and salary in the year ending July 2013, whereas poor old Gorgeous George had to get by in the year to October 2013 on £79,200 in fees from Iranian-owned Press TV, plus £66,000 from Al-Mayadeen TV in Beirut, plus £75,200 for his appearances on Russia Today, plus a £5,400 lecture fee, plus £900 for his appearances at the Edinburgh Festival, plus his £67,060 MP's salary, making just £293,760 in all.
Who could fault him for feeling envious?
Cut it out with Miliband
Peter McDonald, leader of the Labour group on Worcestershire County Council, tells me there is still no sign of the life-sized cardboard cut-out of Ed Miliband that was hijacked last month from a secure room in county hall.
"Yes, we're still waiting for the return of Ed," he wailed. "Someone has obviously fallen in love with him but we want him back.
"He's needed to lead the country later this year. This has gone beyond a joke: it's a security issue."
Father of all protests
It is not every day I feel a twinge of sympathy for David Cameron, but while he was in his Witney constituency home over Christmas, he was plagued by demonstrators from New Fathers4Justice, an organisation for whingeing exhibitionists who think they have been hard done to by family courts.
After the protesters were told to move from outside the Cameron family home, they reassembled at another site in the village.
One of them, Bobby Smith, boasted to the Witney Gazette that Cameron had said to him: "Not you again. You're spoiling my Christmas."
Warsi! What is it good for?
Any pleasure that the former Foreign Office minister Baroness Warsi may have felt on seeing a smiling picture of herself at the top of the front page of the current issue of the Jewish Chronicle will have been diminished when she read inside.
She has been named as the JC's "villain of the year" for resigning from the Government because of the Israeli bombardment of Gaza, and using Twitter to condemn an Israeli demonstration outside al-Aqsa mosque in Jerusalem.
One satisfied customer
The Tory MP Nadine Dorries is considered by the Tory whips' office to be a pest; David Cameron and George Osborne have yet to thank her for calling the pair of them "arrogant posh boys", and some of her Mid-Bedfordshire constituents complain that she is too busy appearing on television and writing books to be an effective member of Parliament.
But one local man who has received help from her has written to Bedfordshire on Sunday claiming: "I am the envy of people throughout the land because I am fortunate enough to have such a determined and supportive MP who is not afraid to speak her mind instead of ignoring certain issues. God bless you Nadine!"
That is at least one satisfied customer.
Join our new commenting forum
Join thought-provoking conversations, follow other Independent readers and see their replies