Andy McSmith's Diary: Should Vince Cable have declared £20,000 opinion poll 'gift' from Lord Oakeshott?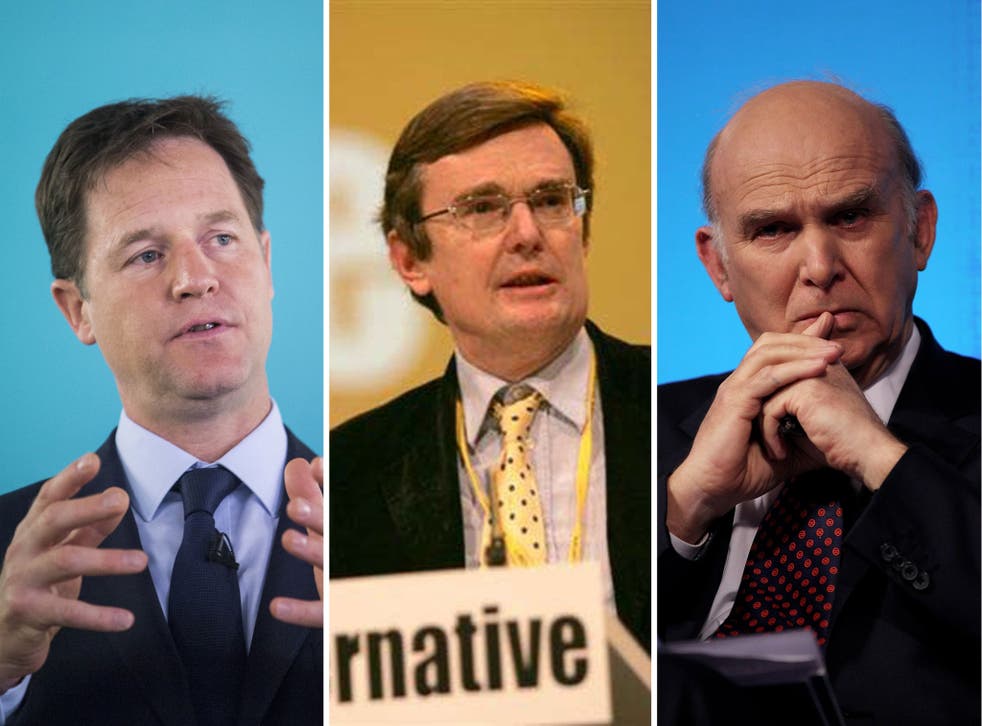 Vince Cable's dangerous friendship with the erratic peer Matthew Oakeshott might cause him more trouble today.
While the wealthy Lord Oakeshott was plotting to oust Nick Clegg from the Lib Dem leadership, for which he has now resigned from the party, in April he paid for an opinion poll in Cable's Twickenham constituency on his election prospects.
This will have cost him thousands of pounds. Questions may now be asked about whether it constitutes a gift, because if it does, surely Cable ought to have declared it in the Register of Member's Interests?
The updated register has just been published, containing any new entries declared up until Monday of this week. Vince Cable's entry has just one item, a publisher's advance of up to £20,000 for a forthcoming book. Not a word about his old friend's largesse.
It will take the fine legal mind a parliamentary clerk to decide whether the Business Secretary has observed the rules of the House of Commons.
Nick's number is up
There used to be two classes in this nation: the few who know Nick Robinson's private mobile phone number, and the many who do not – until lunchtime today, when our bespectacled hero had a DM disaster and broadcast his private number on Twitter. Now the select few who had Nick Robinson's phone number are no better off than the rest of the population, because he is not answering it any more. It is a classic example of that old maxim that what's everybody's is nobody's.
National Hunt Service
"I've taken blood pressures in Guildford," Jeremy Hunt, the Health Secretary, has told the NHS Confederation annual conference in Liverpool. "I've dressed wounds in Leeds, I cleaned commodes in Harrogate. It's funny what tasks nurses think of to give you when they know the Health Secretary is working.
"A couple of weeks ago I shaved a man in Lincoln Hospital. A very brave man indeed. If you see a man in Lincoln with half a moustache that's probably [the work of] the Health Secretary."
If there was ever an incentive to keep well and stay out of hospital that is surely it.
Curious and curiouser
The day of the Queen's Speech ended with a curious exchange that hinted at more than it actually said.
It began with Sir Peter Bottomley, a long-serving and mildly eccentric Tory MP, reading out an apology published last month in a specialist housing magazine. The magazine had wrongly identified the property tycoon Vincent Tchenguiz as the boss of the vast property group Perevel which went into administration in 2011 amid a welter of allegations about hiked-up maintenance and service charges. Perevel runs 190,000 homes, including 59,000 retirement flats. It was owned by the Tchenguiz family trust, of which Vincent Tchenguiz is a beneficiary, but "Vincent Tchenguiz never had any day-to-day involvement in the management of Perevel".
Sir Peter's speech was interrupted by the Labour MP Stephen Pound, who suggested that MPs "should be made aware of the gigantic sums of money that the Tchenguiz family give to the Conservative party".
"That is true," Sir Peter replied. "I had not intended to make this speech against the Tchenguiz family. I want to spell out what is happening, and if members of the Tchenguiz family say that by getting a newspaper to produce a paragraph their hands are clean, by all means discuss that in public. All I am trying to say is that leaseholders deserve protection."
Very strange.
Join our new commenting forum
Join thought-provoking conversations, follow other Independent readers and see their replies