Angela Merkel has inspired a new German word - so which British politicians could lend themselves to our lexicon?
'Merkeln' - to merkel - is used as a verb meaning to be indecisive or not to have an opinion at all
Sean O'Grady
Thursday 06 August 2015 21:32 Comments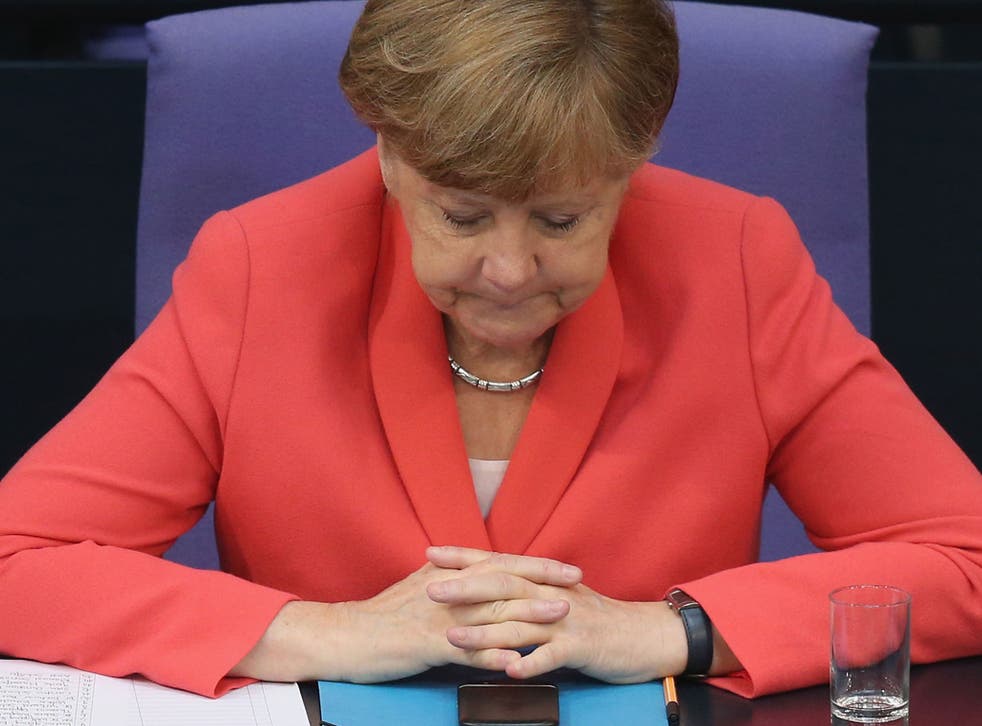 Compilers of the German dictionary Langenscheidt say that "merkeln" is likely to be named the most popular youth word of the year in its national poll. "Merkeln" – to merkel – is used as a verb meaning to be indecisive or not to have an opinion at all, a criticism of Merkel inspired by her procrastination over issues such as Greece and nuclear power. Which British political figures might yet inspire our use of language?
Archer, noun the sum of £2,000. Origins unknown.
Beckett, noun act of political eccentricity bordering on moronic status during a Labour leadership election; died out in the early 1980s but has recently come back into use.
Blair, verb (blaired, blairing) to gloss over awkward questions with apparent ease.
Die Blairite scum, motto of the hard left not in general usage by the public.
Boris, verb (borissed, borissing) 1 being an extremely clever chap pretending to be a bumbling idiot. 2 To be a bumbling idiot pretending to be an extremely clever chap pretending to be a bumbling idiot. 3 to talk Latin a lot.
Brown, verb (browned, browning) 1 to mess up a political party. 2 to mess up an economy. 3 to mess up a country. 4 to present a fresh face to the electorate after years of Blairite lies and restore faith in the Labour Party (now archaic).
Cameron, noun (abstract) 1 to want to do the job of prime minister so minimally you're already looking forward to retirement. 2 to fight a lacklustre, though successful, general election campaign twice in a row. See "chillax".
Clegg (to do a), verb 1 to break a pledge or promise, especially one written on a plastic "pledge card". 2 to wreck a political party but manage, miraculously, to survive personally.
Corbyn, noun a political surprise. As in: "I thought he had no chance of the leadership so I nominated him so I looked fair-minded and I could get a few votes off the lefties for the mayoral nomination. I didn't know Corbyn would do a Corbyn and actually win". (see Moron, noun; Labour MP, peer or MEP who nominated Jeremy Corbyn for the leadership; see also Beckett)
Crouch, verb (crouched, crouching) upsetting the sports establishment with some sensible policies. Extremely new usage.
Currie favour, verb (curried favour, currying favour) obliging behaviour by junior minister at the Department of Health with junior minister in the Treasury during Thatcher government. A leg-over.
Duffy, verb (duffied, duffying) to be recorded inadvertently while making unkind or insulting remarks about a 68-year-old pensioner from Rochdale, destroying any shreds of political credibility you might retain; see also Brown
Farage, noun a charade. "He came down to Rochester and went round all the pubs pretending to be an ordinary bloke, with his fag and pint. In fact he's just another politician on the make. It was a complete Farage." Origin definitely not French.
Farron, verb (farroned, farrroning) grubbing around for protest votes in an excessively opportunistic manner. "When Tim first came to Westmorland it was a solid Tory place, but he soon went Farroning and got enough votes to win. Then he went Farroning for the leadership election and won that. Where will it all end?"
Goved-up, adj the opposite of "loved up"; to be routinely abused, usually as a professional body, by the Pob-lookalike cabinet minister. "The teachers thought they'd got the better of him, but they really got Goved-up when he brought in his Free Schools".
Liam-Byrne, noun 1 unbelievably bad joke, such as a note left on the desk of the incoming Chief Secretary to the Treasury with the message "There Is No Money" 2 a political blunder for which you will never be forgiven 3 an indelible stain on a political reputation.
Looksabitukip, noun an old fart.
Miliband, noun a dud.
Oaten, verb (oatenned, oatenning) committing an act involving a rent boy, a glass-topped coffee table and a pair of underpants that is so foul it cannot be described in a family newspaper.
Osborne, verb (osborned, osborning) 1 to cut public sector budgets incessantly, and take inordinate pleasure in so doing. 2 to shaft former political allies by enticing them into government and destroying their political credibility (esp Lib Dems). See to do a Clegg 3 to smirk or sneer; pejorative.
Thatcher, noun mythical shape-changing political creature, invoked by virtually every politician for any use.
Register for free to continue reading
Registration is a free and easy way to support our truly independent journalism
By registering, you will also enjoy limited access to Premium articles, exclusive newsletters, commenting, and virtual events with our leading journalists
Already have an account? sign in
Join our new commenting forum
Join thought-provoking conversations, follow other Independent readers and see their replies