Angela Merkel supports Tory plan to 'give back' EU powers to member states
German Chancellor is also said to be sympathetic to David Cameron's demand for automatic opt-out right for new laws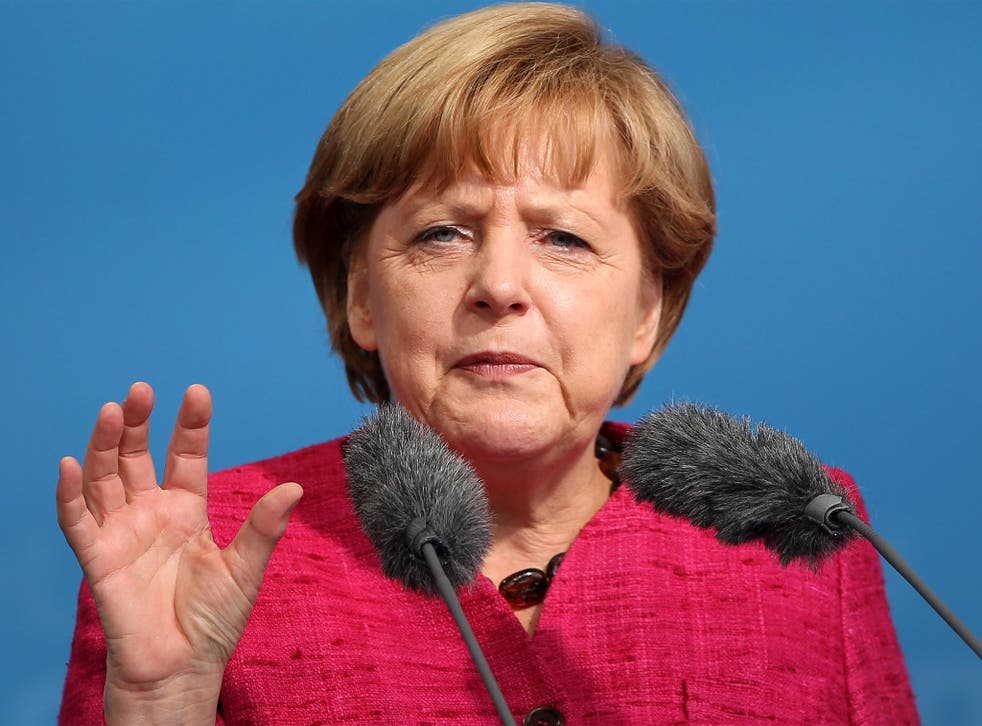 Angela Merkel would be prepared to back David Cameron's demands for a return of powers from Brussels to Westminster as part of negotiations on the future of the European Union.
In comments ahead of the German elections next month, Mr Merkel has suggested that discussions on whether Brussels should "give something back" to member states could begin in the autumn.
Privately, close colleagues of the German Chancellor have told Tory MPs that she would support proposals to significantly scale back the EU's role in regional development. This currently consumes 30 per cent of the total EU budget and has cost Britain £21bn over the last five years.
Ms Merkel is also said to be sympathetic to Mr Cameron's demand for automatic opt-out right for new EU laws which do not directly affect the running of the single market.
While Germany does not support re-opening negotiations over the controversial Working Time Directive, Britain might still be able to secure either a partial or complete opt-out as the price for supporting further harmonisation of the Eurozone economies.
Ms Merkel's tacit support will bolster hopes in the Government that Mr Cameron will be able to negotiate a deal he can sell to his own party ahead of any referendum of Britain's membership of the EU after the next election.
Over the last few months, with the backing of the Foreign Secretary William Hague, a group of more moderate Tory Eurosceptic MPs have begun a tour of European capitals to try and explain the Conservative position – and begin unofficial attempts to build a consensus for reform.
The group, called Fresh Start, has already visited Germany, Poland and the Czech Republic and is planning trips further trips to other European capitals over the next few months.
A source in the group said they had received a sympathetic hearing in Berlin with a key ally in Ms Merkel making clear that the German Chancellor was personally sympathetic to many of their ideas. "We were given the explicit message that Ms Merkel had seen what we were proposing and could support it," a senior member told The Independent.
"We have also received a sympathetic hearing in other countries as well. This is not about Britain saying no to Europe, it is about practical ways in which we can reform the union."
Among the ideas being proposed are an emergency brake on future EU legislation that affects financial services, a legal safeguard to ensure that non-Eurozone companies are not discriminated against in the single market and a scaling back of the EUs powers over employment and social legislation.
The group is supported and run by a number of more moderate Tory backbenchers including George Eustice, Dominic Raab and Andrea Leadsom. The backing of such MPs will be crucial to Mr Cameron if he is to isolate those in his party who want a more radical repatriation of EU powers.
But he will also need strong German support to build a consensus for change among the 27 member states – a number of whom, including France, want Brussels to do more not less.
Ms Merkel suggested that she was in favour of those discussions happening soon. Speaking to the German TV, she said: "I believe that in Europe at the moment we have to take care to coordinate our competiveness more closely. [But] we don't have to do everything in Brussels.
"We can also consider whether we can give something back. And we will also have this discussion after the Bundestag elections."
Fresh Start: Goals
* A new legal safeguard for the single market to ensure that EU institutions and Eurozone members cannot discriminate against non-Eurozone members.
* A limit to awarding of structural development funds to member states with a GDP per head of less than 90 per cent of the average. This would save Britain £4.2bn a year.
* The return of powers over social and employment law to member states. Failing this, it says Britain should either secure a substantial lessening of the regulatory burden in the social chapter for all members or negotiate an opt-out.
Register for free to continue reading
Registration is a free and easy way to support our truly independent journalism
By registering, you will also enjoy limited access to Premium articles, exclusive newsletters, commenting, and virtual events with our leading journalists
Already have an account? sign in
Register for free to continue reading
Registration is a free and easy way to support our truly independent journalism
By registering, you will also enjoy limited access to Premium articles, exclusive newsletters, commenting, and virtual events with our leading journalists
Already have an account? sign in
Join our new commenting forum
Join thought-provoking conversations, follow other Independent readers and see their replies