Anger on the Left: anxious Labour mainstream moves to distance itself from hardliners' celebrations after Margaret Thatcher's death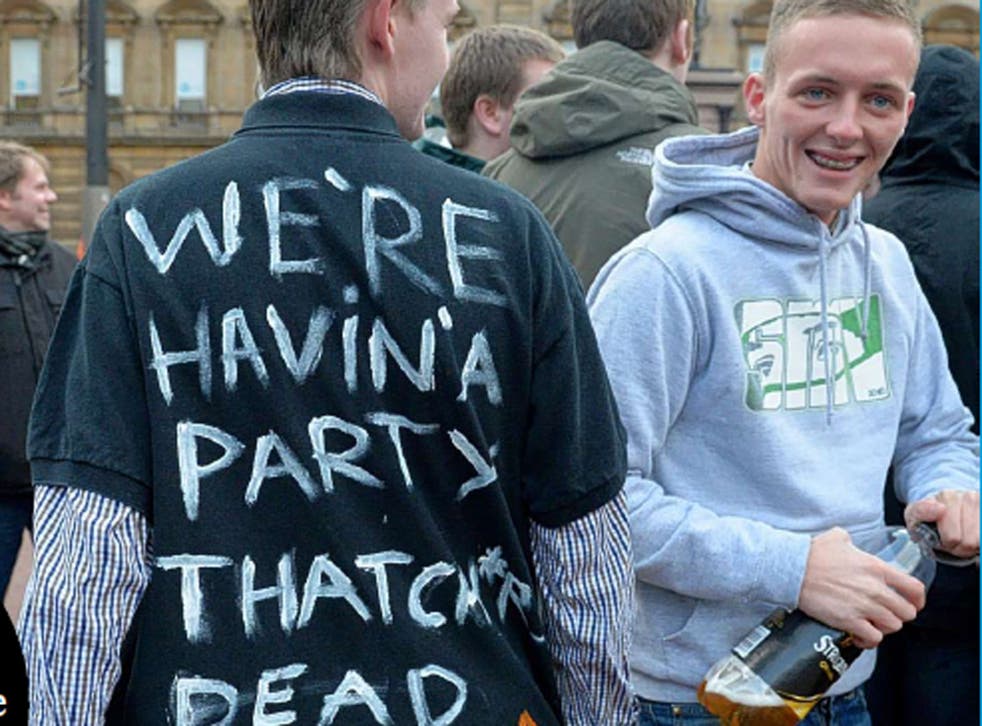 It was the ancient Greek sage Chilon of Sparta who is recorded as first coining the phrase "do not speak evil of the dead", 2,600 years ago.
Yesterday, the sentiment was lost on some of Baroness Thatcher's fiercer critics, as the former Prime Minister continued to polarise opinion in death.
While mainstream Labour politicians issued carefully crafted and calibrated statements to mark her passing, others on the left did little to disguise their jubilation at her death.
On social media sites, street parties were discussed to "celebrate" Lady Thatcher's demise. An analysis by the media-monitoring firm Synthesio suggested that about one in three social-media comments following her death was negative.
George Galloway, the controversial ex-Labour firebrand, took to Twitter to denounce her policies on apartheid and Ireland. "May she burn in the hellfires," he wrote, adding later: "She was a witch." The former Mayor of London Ken Livingstone, the leader of the Greater London Council when it was abolished by Lady Thatcher, was more restrained, but critical. "She created today's housing crisis, she produced the banking crisis, she created the benefits crisis," he said. "Every real problem we face today is the legacy of the fact she was fundamentally wrong."
A Labour councillor in Colchester was forced to apologise after tweeting a picture of a bottle of champagne with the words: "I've had this in the fridge for many years just waiting for this very day." Tina Bourne said her earlier tweet had been crass and insensitive.
The comedian Frankie Boyle had no such qualms. "Finally, I get to wear my black suit and tap shoes together," he wrote.
Perhaps not surprisingly, some of the harshest criticism came from former miners, whose anger remains undimmed nearly 30 years after their attempt to take on the Conservative government over pit closures. While the former leader of the National Union of Mineworkers Arthur Scargill remained silent, David Hopper, the general secretary of the Durham Miners' Association, said it was a "great day". Mr Hopper, a former miner, who was 70 yesterday, said it was "one of the best birthdays I have ever had".
"She destroyed our community, our villages and our people," he said. "For the union this could not come soon enough and I'm pleased that I have outlived her.
"She absolutely hated working people and I have got very bitter memories of what she did. She turned all the nation against us and the violence that was meted out on us was terrible."
Wayne Thomas, area secretary for the National Union of Mineworkers Wales, added: "Of course, you have to sympathise on a human level – she was someone's parent or grandparent.
"But nevertheless, working-class communities across South Wales will never be able to forgive her for her ruthlessness."
The French socialist politician Jean-Luc Mélenchon remarked: "Margaret Thatcher is going to find out in hell what she did to those miners."
In a sign of how Lady Thatcher's divisive legacy continues, it was not just old political foes who appeared to welcome her death. When the news reached the National Union of Students (NUS) conference, it was met with applause and cheering.
Loughborough student Jago Pearson, who was at the conference in Sheffield, said: "There was a significant reaction to it. I'd say it was around 30 or 40 people doing it.
"This didn't come from the NUS leadership, it was the delegates."
Speaking at the conference later in the day, NUS president Liam Burns distanced the Union from the cheering: "I'm the last person to agree with Margaret Thatcher's politics or her policy record as Prime Minister. But we must not forget that an elderly woman has just died. She had family, friends, colleagues and supporters who will want to pay their respects.
"It's not just that this would reflect extremely badly upon us if we were to show disrespect at this time. We are better than that. We believe there is such a thing as humanity."
For one former critic, it was a time to repent. The author and comedian John O'Farrell got into trouble earlier this year during the Eastleigh by-election for comments made in 1998 that he wished Lady Thatcher had died in the Brighton bombing. Yesterday, he tweeted: "Person I once hated more than any other has died. Now I'm just sad so much hatred was stirred up. Making a donation (to charity in her name)."
More than 300 people gathered in Glasgow city centre last night to "celebrate". Anti-capitalist campaigners shouted: "Maggie, Maggie, Maggie" as the crowd replied "dead, dead, dead". There were similar scenes by Liverpool's St George's Hall and more than 200 people gathered in Brixton, south London – the scene of fierce riots in 1981. One banner said: "Rejoice, Thatcher is dead."
Join our new commenting forum
Join thought-provoking conversations, follow other Independent readers and see their replies