Anti-war campaigners prepare for substantial weekend protest over Syria
Stop the War Coalition claim thousands will march, echoing Iraq demonstrations of 2003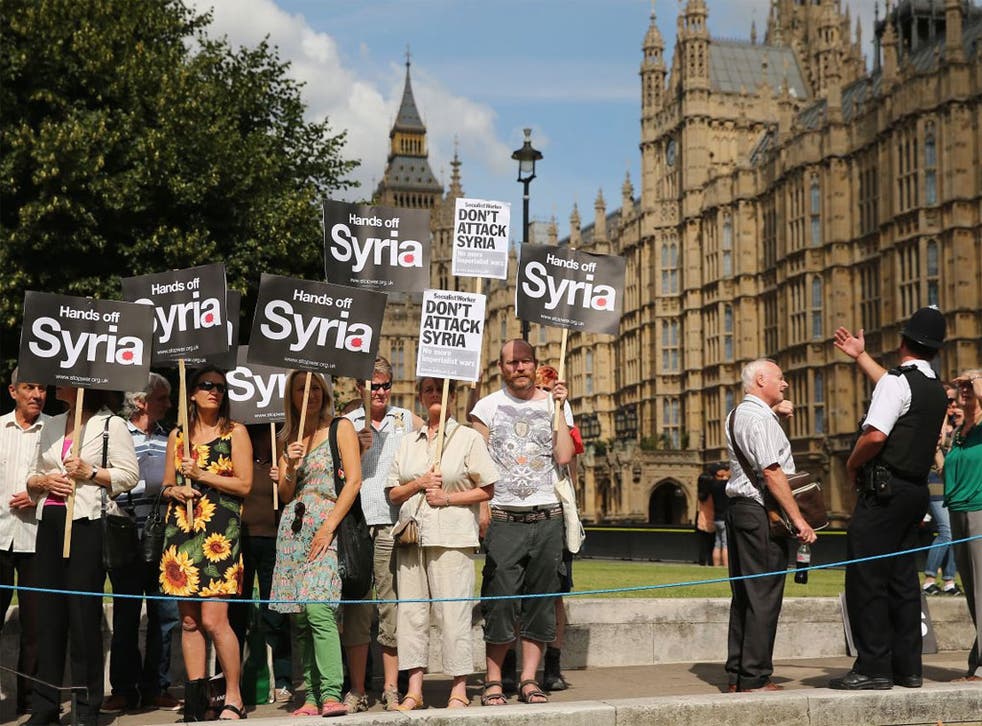 Anti-war campaigners have pledged to bring thousands of protesters on to the streets of London this weekend as they step up demonstrations to stave off military action in Syria.
The Stop the War Coalition said it was experiencing a groundswell of anger reminiscent of the public opposition preceding the 2003 invasion of Iraq, and expected a large turnout for protests planned across the country on Saturday.
The focal point will be a march through central London via the Houses of Parliament and Downing Street, expected to be attended by up to 5,000 marchers. Campaigners said 1,000 protesters had gathered outside No 10 on Wednesday evening, waving placards reading "Hands off Syria" and "Cut war, not welfare".
The prelude to the launch of the Iraq war in 2003 saw one of the largest demonstrations in the capital in recent history when up to two million people marched through London to oppose the invasion.
Lindsey German, Stop the War's convenor, said: "We have always said that we didn't stop the war in 2003 but what we are seeing now is the legacy of that year. Our phones have been ringing off the hook and I'm hearing from people who I haven't heard from in 10 years.
"People were lied to in 2003 and there is a very strong feeling that they are being lied to again. We have had three major interventions in the shape of Iraq, Afghanistan and Libya, and none of them has brought meaningful peace or upheld human rights. We must not go to war against Syria."
Polls have suggested that Britons are far from persuaded of the merits of air strikes against the regime of President Bashar al-Assad. A YouGov poll for The Sun earlier this week found opposition against the use of British missiles stood at two to one.
Polling experts pointed out that public opinion can shift in the light of changing events. Support for the invasion of Iraq doubled to 66 per cent in the three weeks from the beginning of the war to the fall of Baghdad. But campaigners said public scepticism remains strong after the failure of Britain and the US to live up to the justifications offered for the 2003 invasion.
As well as the London march, demonstrations are planned on Saturday in most major cities including Manchester, Edinburgh, Glasgow and Bristol.
Ms German said: "People are very angry about the latest turn of events. There is enormous sympathy for what is happening in Syria but we should be very clear that air strikes would be an act of war with unknown and truly dangerous ramifications.
"David Cameron has misjudged the public mood and is making a very big mistake."
Join our new commenting forum
Join thought-provoking conversations, follow other Independent readers and see their replies