Atos itself not fit for work? Disability benefit test provider may finally have contract terminated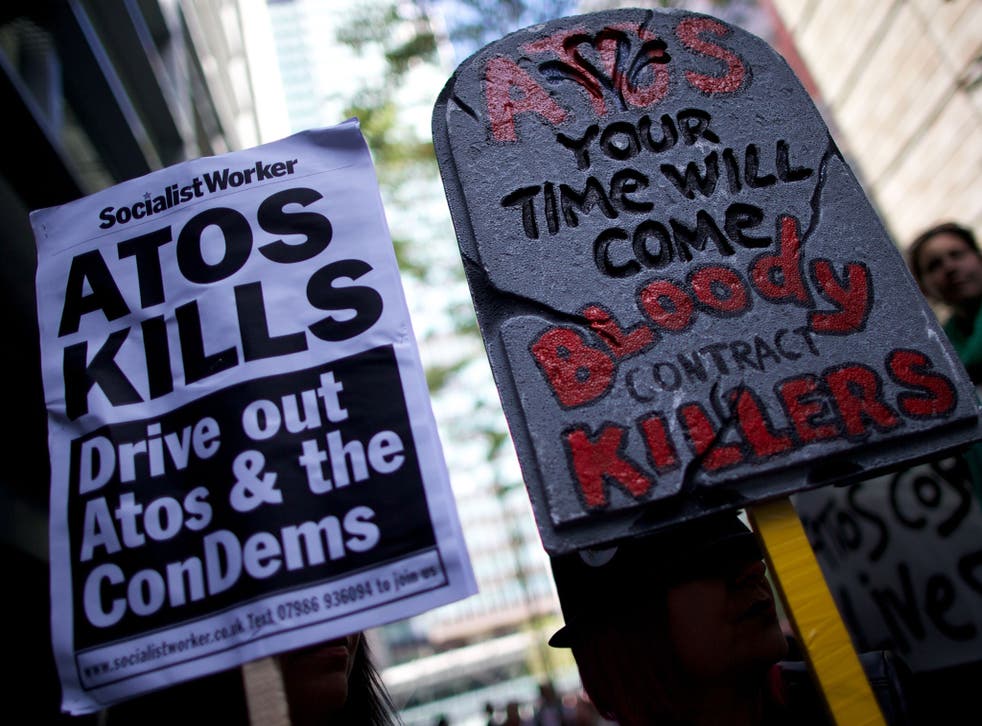 The Government may soon terminate its contract with controversial firm Atos which currently carries out the "fitness for work" tests on disabled benefit claimants.
Atos has come under heavy fire for its handling of work capability assessments, which are used to gauge eligibility for Employment and Support Allowance (ESA) and Incapacity Benefit.
Labour MP Dennis Skinner called for the Prime Minister David Cameron to "get rid" of Atos in October, describing the company as a "cruel heartless monster." There have also been questions over the application of their tests, with claims that people are being wrongly recommended for work, or put through stressful medical interviews.
Ministers are now looking to commission other private firms to add "further capacity" to the assessment system before getting rid of Atos altogether. According to a Department for Work and Pensions (DWP) financial review seen by The Guardian the move will enable "these providers to take over the whole contract" from Atos when its £500 million deal ends in 2015.
The restricted 80-page document states: "The department is working with Her Majesty's Treasury and Cabinet office colleagues to seek additional (health assessment) providers to offer further capacity in the short-term and for these providers to then take over the whole contract."
Civil servants are "involved in ongoing discussions with Atos Healthcare regarding the quality of the service delivered", it adds.
Atos have been heavily criticised over their so-called work capability assessments. Charities have branded the test "farcical" and "hugely flawed" while Labour last year called for the firm to be stripped of its contract, accusing it of making too many mistakes after 42 per cent of appeals were upheld.
An Atos spokeswoman told The Guardian: "The department has made it clear that it is considering bringing additional providers on board. We recognise that many people have strong feelings about work capability assessments. The constant flow of criticism inevitably has an impact on our staff who diligently endeavour to carry out assessments as laid out in DWP guidelines. We are committed to working with the department to help them meet their needs and the needs of claimants."
Disability minister Mike Penning last week told MPs the scale of appeals - around 600,000 since its introduction - meant there was "real concern" about the work being carried out. This is particularly concerning given that new rules means anyone wanted to appeal a decision that they are fit to work first has to have all their paperwork looked at again, while receiving no sickness benefits. The Citizens Advice Bureau believes this will result in thousands of people being wrongly forced to survive on no income at all.
A Freedom of Information request revealed that as many as 158,300 people were wrongly found fit for work by Atos, decisions that were overturned before appeal by the DWP.
A DWP spokeswoman said: "Atos were appointed the sole provider for delivering work capability assessments by the previous government. In July we announced Atos had been instructed to enact a quality improvement plan to remedy the unacceptable reduction in quality identified in the written reports provided to the department.
"We also announced in the summer we will be bringing in additional provision to deliver work capability assessments with the aim of increasing delivery capacity and reducing waiting times. The invitation to tender will set out that the quality of assessments and service delivery is central to how work capability assessments are delivered."
Richard Kramer, Deputy Chief Executive at National deafblind charity Sense, said: "The news that the Department for Work and Pensions is considering other providers for fit to work assessments is only part of the picture. There needs to be a root and branch reform of the system to ensure disabled people are judged fairly on their ability to work. The current points-based test is simply not responsive enough to people's individual circumstances and fails to take into account all of the factors that may limit their ability to work."
The needs of the people that Sense supports are often complex and require specialist input, that in many cases Atos simply hasn't been able to provide. It is vital that whoever replaces them is able to make a marked improvement to the system. However, ending Atos' contract will not fix all the underlying problems that led to so many people appealing their work capability assessment decisions."
Shadow work and pensions minister Kate Green said: "It is becoming increasingly clear that disabled people are being badly let down by Atos, which is why Labour has called on the Government to sack them with immediate effect."
Private providers reported to be in the running include G4S, Serco, A4E and Capita Group. However the appointment of any of these companies may prove controversial, with Atos, G4S, Serco and Capita all being accused of tax avoidance. Atos and G4S paid no corporation tax at all in the UK in 2012, according to the Daily Telegraph. Capita only paid £50-£56 million, while Serco paid £25 million in tax.
Additional reporting by PA
Join our new commenting forum
Join thought-provoking conversations, follow other Independent readers and see their replies