Atos quietly dropped from carrying out repeat reassessments by DWP, internal memo shows
Internal memo says 'as this is an operational decision and not a policy decision, MPs and claimants do not need to be told'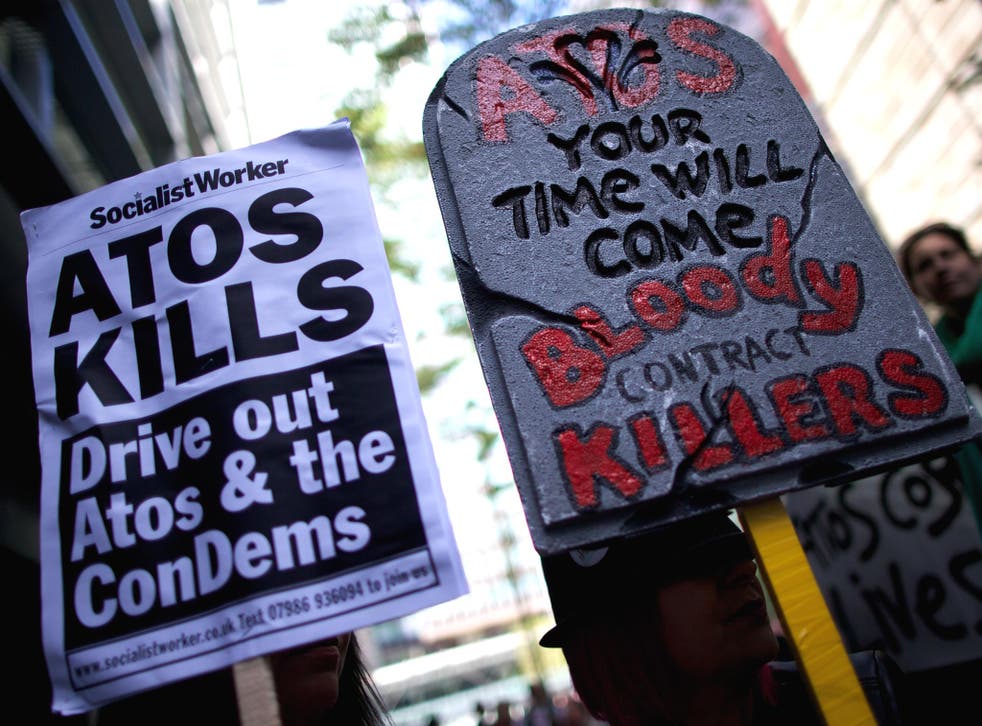 An internal memo has revealed that the Department of Work and Pensions has stopped outsourcing company Atos from carrying out repeat assessments on people currently claiming work-related disability benefits.
The department's staff have been told to leave all current employment and support allowance (ESA) claimants on their benefit, without repeat medical checks, until another company can be found to do work capability assessments (WCAs).
The Benefits and Work website reported that it obtained the memo via a Freedom of Information request. According to their report the memo reads: "The number of cases currently with Atos Healthcare has grown. A decision has therefore been taken to control the referral of repeat work capability assessments. Therefore, with effect from 20 January 2014, further routine repeat assessments referrals to Atos will be deferred until further notice.
"Controlling the volume of repeat Work Capability Assessments should help us to reduce delays for new claimants and those that have already been referred."
It goes on to explain that they are not stopping referrals due to "quality issues" but because of the backlog of cases. People who are receiving ESA will continue to receive it until another company can be found to carry out the work. Claimants who experience a change in condition, for example a worsening illness, should still be referred for reassessment. New claimants being moved onto ESA will still be reassessed. The memo notes that because this is an "operational decision" and not a "policy change" MPs and claimants do not need to be told.
The memo was released as the government's 500m contract with Atos came under increasing scrutiny. Disability Minister Mike Penning described the contract with the benefits testing firm Atos as a "mess" on Monday. The DWP itself has had to disagree with 158,300 decisions made by Atos that people were 'fit for work' when the department ascertained they were not . A further 600,000 people have appealed against decisions made by the government to cut their benefits. Atos itself is now saying that it wants to pull out of the contract early because of the death threats being made against its staff.
Tom Greatrex, Labour MP for Rutherglen and Hamilton West, who has campaigned for an overhaul of the Work Capability Assessment said: for "It is little wonder DWP Minister Mike Penning says his Atos test is "a mess" in the House of Commons when he was aware that since the summer repeat medicals have been scrapped – not because they were a waste of time, but because Atos just can't cope with the backlog they have caused. This chaos is costing taxpayers millions in assessments and tribunals and it is causing distress and anxiety for thousands of disabled people. Having been in denial for more than three years about the consequences of their decision to accelerate the re-testing of people on incapacity benefit, the government must now get a grip of this situation and fundamentally reform the process before re-tendering – so it is designed to help those who can work, not hound those who can't."
Atos will continue to carry out assessments on over three million people receiving Disability Living Allowance, soon to become Personal Independence Payments or PIP. Its capability to carry out this has been questioned with only 30,000 assessments decided on so far. Of that 30,000 only 15,000 people have qualified for the benefit and 10% of that number are people that are terminally ill. It appears therefore that only 40% of people currently receiving DLA, a benefit many disabled people will describe as a lifeline, will continue to receive it.
Labour MP Sheila Gilmore has also been campaigning for more effective reassessments since the first negative reports appeared.
She told The Independent: "For many individuals it will be a relief not to be called back for reassessment every year, or even more often. Some people winning appeals find themselves recalled for reassessment within a few weeks of winning their appeal. But this is not a planned reaction to the problem of too frequent reassessments, but a panic reaction to a crisis causing unacceptable delays for people claiming both ESA and PIP. A panic reaction that Ministers failed to announce to MPs yesterday, despite being asked several questions about the delays from MPs. A panic reaction that claimants wouldn't have 'officially' known about since it wasn't made public and so many people will continue to worry in anticipation of being asked in for a reassessment.
Ms Gilmore raised concerns that Atos would still carry out assessments for PIP in spite of the issues with the Work Capability Assessment. She added "It is clear that ATOS is not coping with all that it has taken on. My question to the Minister yesterday was why when concerns about ATOS capacity and quality were clear last year, hey were awarded a new contract for PIP. It is a different assessment but the organisation clearly hasn't got the capacity. Over frequency of reassessments is something I have raised in previous debates with Ministers, and something which many campaigners have been raising for a long time, not only because of the stress to individuals but the extra costs involved. It would be good to think that the Government had finally accepted this argument - but this sort of panic measure is no substitute for looking properly at the way the test is structured and administered."
A DWP spokesperson said: "We're committed to ensuring that people have their claim assessed as quickly as possible and to a high standard.
"As we announced in the summer we will be bringing in additional provision to deliver Work Capability Assessments with the aim of increasing delivery capacity and reducing waiting times."
Atos Healthcare spokesperson told The Independent: "We continue to provide assessments on behalf of the Department for Work and Pensions. They manage the number of referrals they send us. We give people all the time they need during an assessment and treat people with professionalism and respect during what we know can be a difficult time."
Join our new commenting forum
Join thought-provoking conversations, follow other Independent readers and see their replies