More than two million of the UK's poorest families will be £50 a week worse off by 2020, report finds
'Once expected inflation and private rent growth is factored in, private renters will face average real terms losses of £38.49 per week, with higher losses for larger families'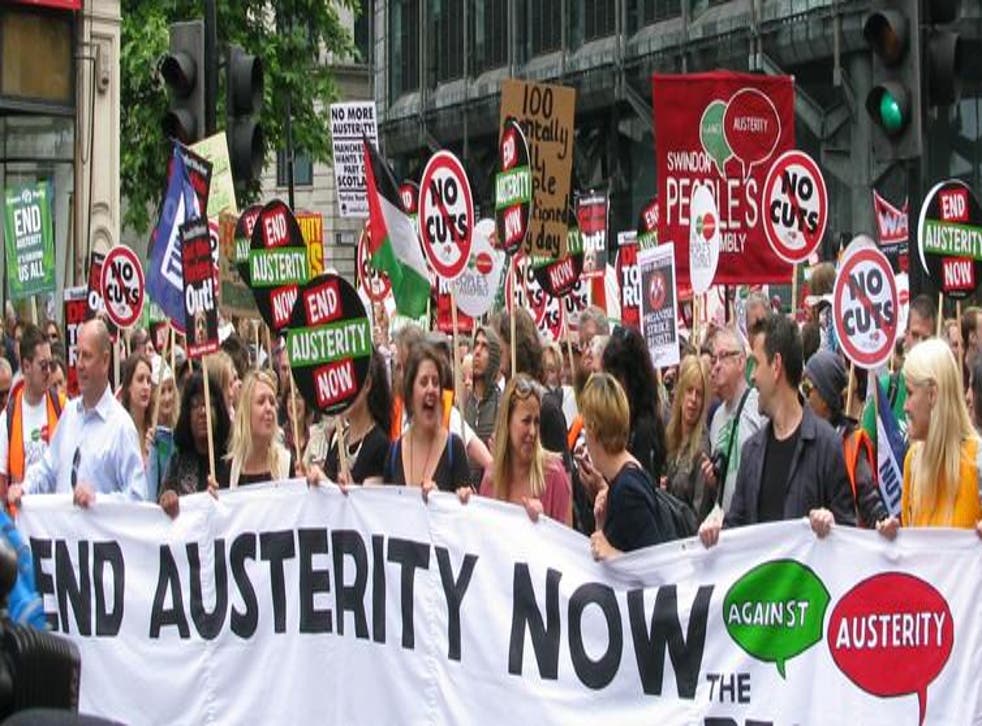 More than two million of the poorest families in the UK will be at least £50 a week worse off by the year 2020, according to new analysis on the impact of austerity coupled with steep rent rises and the likely effects of Brexit.
The findings fly in the face of Prime Minister Theresa May's pledge to do more to help those who she famously described as "just about managing".
The study, commissioned by the Local Government Association and analysed by the consultancy Policy in Practice, found that almost 85 per cent of those set to lose £50 a week or more have children, including single parent families and couples.
Although the Government continues to insist that work is always an effective route out of poverty, the analysis reveals almost two thirds of those who will be worse off are in working households and not claiming any out-of-work benefits, but rather receiving in-work benefits including working-tax credits and housing benefit.
The impact of welfare cuts: Britons on the breadline

Show all 5
Analysis of the study found that while some of the UK's seven million low-income households of working age will be better off by the end of the decade, the group as a whole will lose out by an average of £40.62 a week compared to 2016, once all changes to the tax and benefit system, housing and living costs have been factored in.
Inflation is expected to continue to rise with the Brexit effect, a lack of available social housing and the costs of privately renting escalating ever upwards in comparison with wages, the poorest families and individuals are expected to bear the brunt, the report indicates.
The hardest hit group is low-income parents trapped in the private rent sector with three or more children, who face an average loss of £67.21 a week in real terms. Private renters without children will lose out to the tune of £30.67 a week.
Chancellor Philip Hammond is currently preparing his autumn budget under pressure from many different groups to put an end to years of austerity which has seen benefits slashed for millions as well as a public sector pay cap.
Councils have warned they are dealing with more and more cases of homelessness while having their funding from central government slashed.
The reports highlights how rents in some areas in the south of England are rising out of all proportion with average wages and with housing benefit, which has been reduced across the country and is no longer linked to the actual cost of renting.
Policy in Practice concluded in its analysis that the "broken link" between housing benefit and the real costs of renting is creating a "looming affordability crisis".
"The growing disconnect between rents and Local Housing Allowance rates means that the gap between housing support and housing costs will increase disproportionately for private sector renters.
"Nominally, private renters will be £2.75 per week better off by 2020, as they are more likely to be in work and so benefit from the increase in the National Living Wage and Personal Tax Allowance.
"However, once expected inflation and private rent growth is factored in, private renters will face average real terms losses of £38.49 per week, with higher losses for larger families."
The analysis predicts: "Rising rents, without an increase in housing support, will lead more people to approach local government for help, driving up temporary accommodation and homelessness support costs."
The Government insists it has helped millions of low income people by raising the minimum wage and the threshold for paying income tax, but the study suggests that for many, any gain is cancelled out by the escalating cost of living. It found that 4.8 million low-income families would see no net benefit from the measures.
But the report found that just 2.4 million households would be better off due to government policies – with nearly 900,000 of these gaining from the switchover to universal credit.
A statement from the Department for Work and Pensions said: "This report assumes that people won't make any attempt to change and to improve their lives. But our welfare reforms incentivise work and, for the first time, universal credit helps working people progress and earn more, so they can eventually stop claiming benefits altogether.
"Under universal credit people are finding a job faster and staying in it longer than under the old system, and since the benefit cap was introduced, 34,000 households have moved off the cap and into work."
Join our new commenting forum
Join thought-provoking conversations, follow other Independent readers and see their replies