Baroness Warsi takes aim at George Osborne over Gaza stance: 'He is a good friend of the Israeli Government'
David Cameron is facing more pressure over the situation in Gaza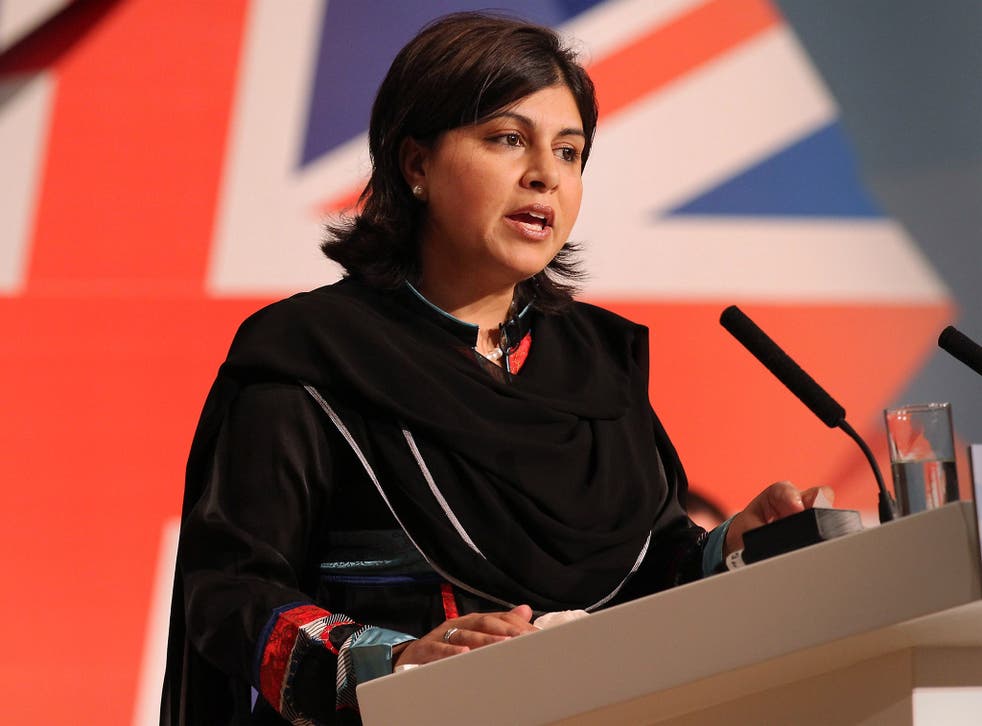 Baroness Warsi has taken aim at the Chancellor George Osborne for failing to address Israel on its bombardment of Gaza, claiming as he is "a very good friend of the Israeli government".
Lady Warsi dramatically resigned on Tuesday over the Government's refusal to take a tougher stance on the Israeli bombardment during which 1,800 Palestinians have died.
Mr Osborne responded by describing her departure as "disappointing and frankly unnecessary" when a tentative 72-hour ceasefire was in place.
In an interview with Channel 4 News, Lasy Warsi branded the UK's policy on Gaza "mealy-mouthed" and "morally indefensible", and said the Government needed to "be bolder in its language", before turning her attention to the Chancellor.
"George is a very good friend of the Israeli government and therefore he more than anybody else should have been saying quite frankly to the Israeli government that what you are doing is not in your interests - this is probably the biggest single act of self-harm that the Israeli government have done over the last few years," she said.
In pictures: Israel-Gaza conflict

Show all 124
"What he should have been saying to the Israeli government is that it is unnecessary for you to kill innocent civilians, it is unnecessary for you to displace a quarter of the population, it is unnecessary for you to flatten schools, hospitals and power supplies and water supplies to achieve your ends.
"And had George done that, then I agree with him, it would not have been necessary for me to resign."
Lady Warsi's resignation - which apparently took the leadership by surprise - won praise from Lib Dems and Labour, but split opinion among Tory backbenchers.
She told Channel 4 News one minister had discussed resigning during a late night conversation, while another was "in tears about material that they had seen and the fact they felt we weren't doing anything about it".
"Without dropping people in it I can say there is unease on the backbenches, there is concern at ministerial level," she said.
"There is real concern among Conservatives about this issue. I hope if there is some good that comes out of it people who feel the same way as I do are prepared to raise these voices within government and are taken seriously."
The Prime Minister David Cameron replied to her resignation letter by describing the situation in Gaza as "intolerable". No10 said the Government's policy of urging "an immediate and unconditional ceasefire" has always been consistently clear.
Ms Warsi also called for an immediate arms embargo against Israel, to which No10 said a review of arms export licences was already taking place.
The Liberal Democrats are now increasing pressure facing David Cameron over Gaza by demanding the suspension of arms export licences to Israel, with Nick Clegg saying he agreed with the departing Foreign Office minister that there were "serious questions" about the licences.
Meanwhile fellow Lib Dem Vince Cable, whose Business Department is responsible for administering the licences, said: "We have been making this case inside Government but have not yet been able to get agreement for this position. I hope and expect that to change shortly."
A No10 spokesman said: "Suspending export licences is not a decision we take lightly and it is right that we examine the facts fully. This is the approach being taken by the vast majority of countries."