Baroness Wilcox: Peer living within walking distance of House of Lords claims £74,400 in two years
More than 100 peers are claiming the tax-free payment for each day they attend Parliament, it has emerged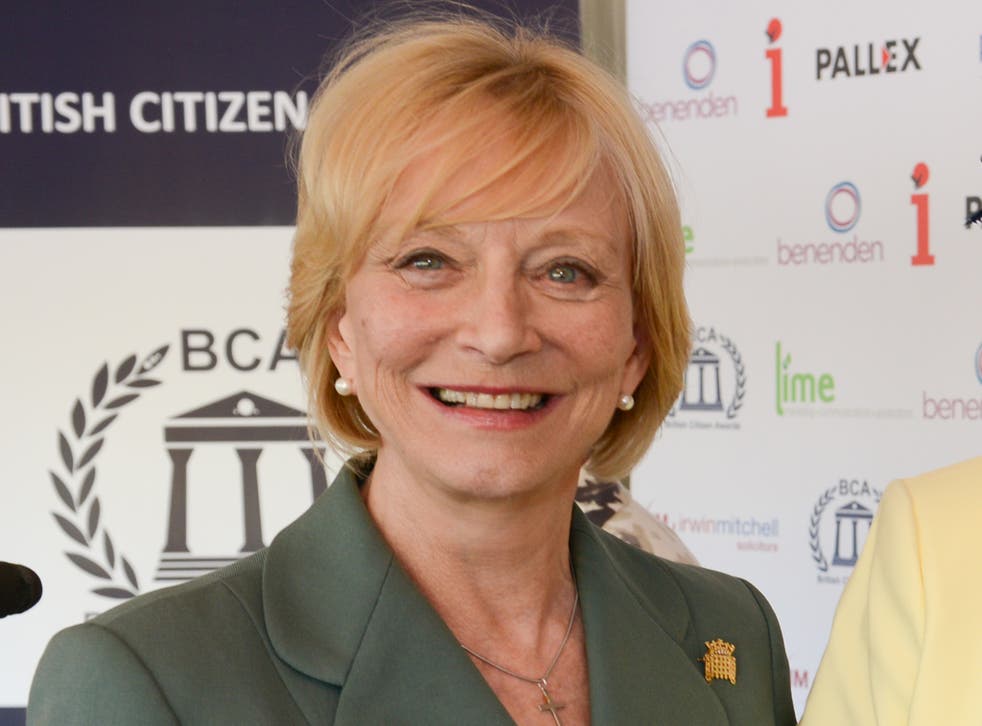 Calls for the House of Lords to be abolished have been reignited after it was revealed that peers living within walking distance of the chamber are able to claim up to £300 a day just to turn up.
More than 100 peers are claiming the tax-free payment for each sitting day they attend Parliament whether they live within London or miles outside of it, the Daily Mail has found.
This means those who live in their own London homes and attend the Lords receive the same amount in expenses as those who do not live in the capital and need accommodation in the city to visit Parliament - because the system is based on "attendance, not residence".
Baroness Wilcox, a former Conservative minister, who lives in a £4.5m house a mere 200 yards away from the Palace of Westminster, is reported to have received £74,400 over two years from the scheme.
The peer has not broken any rules.
But criticism of Westminster-based peers claiming the £300 allowance has renewed calls for significant reform of the largely unelected House of Lords, following allegations of the disgraced Lord Sewel taking drugs with prostitutes.
SNP MP Pete Wishart said the chamber is "a relic that can no longer be afforded in a modern democracy" and "it is now time for it to go".
"It is ridiculous that Westminster has unelected peers claiming up to £300 a day just to clock in," he said.
"With Tory austerity set to continue, Westminster parties need to review the system.
"At a time when there is public concern about the cost of Parliament, the Prime Minister is intending to increase the number of cronies and party donors in this bloated chamber."
Labour MP John Mann said the expenses claims by peers were "a scandal as big as the MPs' expenses scandal".
He said: "There is a lack of transparency, no evidence even whether these people stay around once they have signed in for their money.
"The place is mired in sleaze, people doing business deals, exploiting their position, and the abuse of expenses is just one strand of it," reports the Daily Telegraph.
Graham Allen, a former chair of the House of Commons political and constitutional reform select committee and a Labour MP, said the situation highlighted the need to ensure the Lords properly reflects different regions in the UK.
"We don't have effective representation in the Lords of Scotland, Wales and Northern Ireland but also of England - I'm from Nottingham and we don't have any peers from Nottingham," he said.
"If we were allowed to elect Lords by nation, there would be an expectation, quite rightly, that those people should have proper arrangements for travel to and accommodation near their place of work, rather than just having the house attended by rich people who live handily for Westminster."
Jonathan Isaby, chief executive of pressure group TaxPayers Alliance, which campaigns for lower taxes, said peers "ready for a life out of the public eye" should be encouraged to retire.
He added: "There are clearly times when the £300-a-day 'expenses' system looks odd and there is certainly an argument that we need to look at ways to reform it and introduce better checks and balances to ensure that it isn't being abused."
The current scheme was designed to replace the controversial "overnight subsistence system" in 2010 in the wake of the parliamentary expenses scandal.
Under the old system, peers whose "main home" was outside of London were entitled to claim a £174 payment to stay in London and attend the Lords - but a number abused the scheme as the type of property which constituted a "main home" was not specified.
Peers were found to be claiming expenses for London homes they normally lived in, some of which were mortgage-free.
A House of Lords spokesman told the Independent that criticism of the current system was based on a "misunderstanding" of the rules.
"The allowance introduced in 2010 is based on attendance, not residence," he said.
"Members of the house of Lords are not paid a salary.
"They can claim £300 or £150 for every day they attend the house and undertake parliamentary work.
"From this allowance, members are expected to pay for any costs associated with attending the house such as their London accommodation as well as staff cost.
"The total costs of Lords expenses in 2014-15 was £20.1 million, which equates to less than 6p a month for each UK taxpayer."
Join our new commenting forum
Join thought-provoking conversations, follow other Independent readers and see their replies