Be bold to promote business, Cameron tells Europe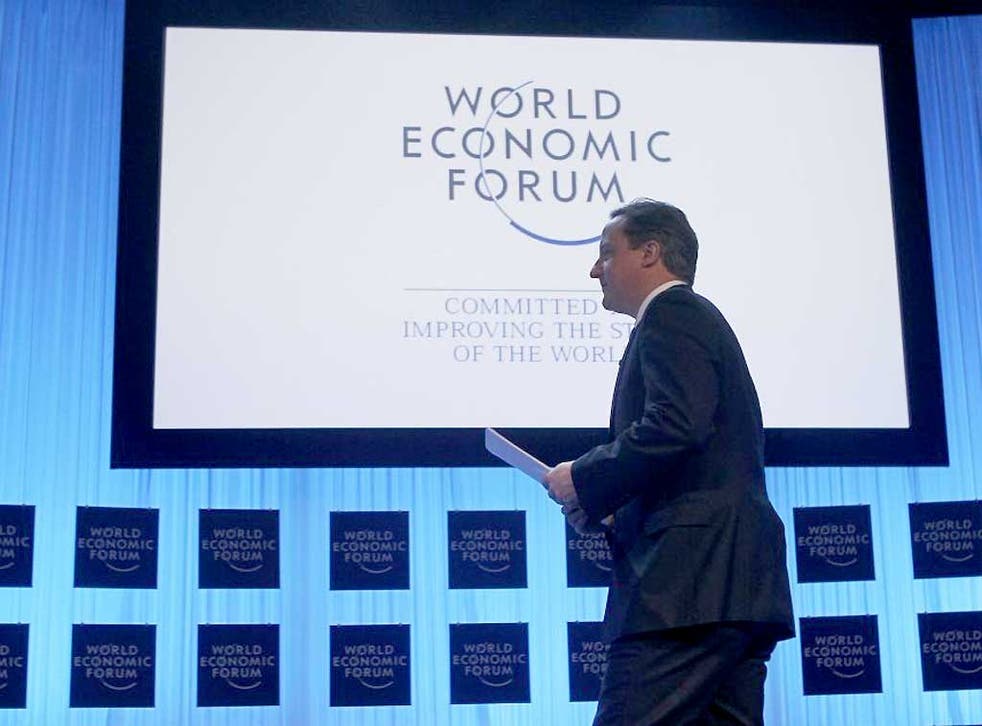 David Cameron delivered a scathing assessment of Europe's failure to promote economic growth today as he urged it to be "bold" to promote business.
The Prime Minister said it was no time for "tinkering" and described European Union plans for a financial transactions tax as "madness".
In a speech to the World Economic Forum in Davos, he was strongly critical of what he said were anti-competitive Brussels regulations and the flawed framework for the euro.
"In Britain we are taking bold steps necessary to get our economy back on track, but my argument today is that the need for bold action at European level is equally great," he said.
"Europe's lack of competitiveness remains its Achilles heel."
The annual gathering comes amid renewed gloom about the economy after the International Monetary Fund this week downgraded its forecasts for global growth. Britain is facing the prospect of a return to recession after the Office of National Statistics yesterday reported a 0.2% contraction in the UK economy in the final quarter of 2011.
Mr Cameron accused the EU, despite the economic challenge, of "doing things to make life even harder".
He attacked the "unnecessary " regulations on business that "can destroy jobs" and said the proposed financial transactions tax could cost hundreds of thousands of jobs.
"Even to be considering this at a time when we are struggling to get our economies growing is quite simply madness," he said.
The Prime Minister suggested the eurozone had none of the features common to successful currency unions like the US dollar and British sterling.
"A central bank that can comprehensively stand behind the currency and financial system, the deepest possible economic integration with the flexibility to deal with economic shocks, and a system of fiscal transfers and collective debt issuance that can deal with the tensions and imbalances between different countries and regions within the union," he cited.
"Currently it's not that the eurozone doesn't have all of these - it's that it doesn't really have any of these."
In a message to his European counterparts, Mr Cameron went on: "This is a time to show the leadership our people are demanding.
"Tinkering here and there and hoping we'll drift to a solution simply won't cut it any more.
"This is a time for boldness, not caution. Boldness in what we do nationally - and together as a continent."
But he sought to reassure his European counterparts that, despite vetoing a new EU treaty to deal with the eurozone crisis in December, he wanted Britain to remain within the EU - contrary to the demands of some Tory backbenchers.
"To those who think that not signing the treaty means Britain is somehow walking away from Europe let me tell you, nothing could be further from the truth," he said.
"Britain is part of the European Union. Not by default but by choice.
"It fundamentally reflects our national interest to be part of the single market on our doorstep and we have no intention of walking away."
In the absence of a conclusion to the Doha free trade round, Mr Cameron proposed that a "coalition of the willing" could "forge ahead with more ambitious deals of their own".
Free trade agreements with India, Canada and Singapore must be completed by the end of 2012, he said.
He will also call for the EU to "look at options for agreement" with the US and even strike a deal with Africa.
"This is a bold agenda on trade which can deliver tangible results this year, and I am proposing that we start work on it immediately.
"All these decisions lie in our own hands. The problems we face are man-made and with bold action and real political will we can fix them."
He said Europe could only recover its "dynamism" if it was "bold" - "only if we fight for our prosperity, get to grips with the debt, take bold decisions on deregulation, on opening up the single market, on innovation and trade and address the fundamental issues at the heart of eurozone crisis..
"All these decisions lie in our own hands. They are the test of Europe's leaders in the months ahead.
"Yes, the stakes are high, incredibly high. But there is nothing about the current crisis that we don't understand.
"The problems we face are man-made and with bold action and real political will we can fix them."
Labour leader Ed Miliband said: "Yesterday we saw the British economy had gone into reverse, what David Cameron should be doing is taking action at home to get our economy moving and working with other world leaders to get the global economy going.
"But he is not doing that. He is standing by his policy of collective austerity all round the world.
"Rather than being so complacent about what is happening in Britain, he needs to wake up and realise that it's not working."
Olli Rehn, the European Commissioner for economic and monetary affairs, told BBC Radio 4's World at One programme: "I trust that the United Kingdom will endorse an increase of IMF resources because that is also one essential element of overcoming this crisis.
"That is something that the UK itself is calling for.
"The UK can take its decision in the context of G20, which means that it can be done in the broader international context and as a general measure of reinforcing the IMF resources to help stabilise the global economy and, of course, as part of that, the European economy."
He said he expected all EU members states, including the UK, to contribute to firewall plans "because it is in their own interest".
David Hillman, spokesman for the Robin Hood Tax campaign for a financial transaction tax, said: "Cameron is guilty of using dodgy statistics and bad economics to justify his opposition to an FTT that would ensure the City pays to repair the damage it has caused.
"Cameron has confused the interests of the Square Mile with the interests of Britain as a whole and is turning down billions that could protect schools, hospitals and jobs."
UK Independence Party leader Nigel Farage said: "The Prime Minister's statement in Davos is an insult to the millions of Britons who want exactly that choice - whether to be in or out of the European Union.
"The only people that have a choice are the political elite of which he is part and to whom he was speaking. The people of Britain have had no choice."
Mr Cameron later restated his message in phone conversations with European Commission President Jose Manuel Barroso and European Council President Herman Van Rompuy to discuss the upcoming January 30 summit of EU leaders in Brussels.
A Downing Street spokesman said: "The Prime Minister emphasised the need for bold action to restore Europe's competitiveness.
"In this context, the meeting should concentrate on ways that the EU can support economic growth across the continent and set specific targets to liberalise EU trade with other markets and to reduce the burden of EU regulation on business."
Mr Cameron also said he hoped the summit would send a clear signal that the EU will continue to maintain pressure on Syria and Iran until they address international concerns.
Speaking to TV news network CNN, Mr Cameron said the UK would be "at the heart of the debate" about boosting EU competitiveness and growth at Monday's summit.
But he acknowledged that the UK had been "out of the room" for discussions on the eurozone ever since the single currency's creation.
"That was the moment at which the dynamic changed and from then on, frankly, countries like Britain that are in the single market but not in the single currency have been basically engaging in Europe in a slightly different way," he said.
Britain was "absolutely committed to the single market but frankly out of the room when the eurozone issues are discussed, because we're not in this currency, we don't want to be in this currency", he said.
But he added: "I think we should take a relaxed view about that. Britain gets a lot of Europe through the single market, through our engagement on foreign affairs and other issues but we don't want to be in the eurozone."
He made clear he was not contemplating reversing his decision to stay out of the inter-government agreement on tougher fiscal rules for the eurozone, after dramatically wielding Britain's veto in December.
"That treaty is going to be about the fiscal union that they want to bring about as members of the eurozone," said Mr Cameron.
"We're not disadvantaged by not being part of that because we're not part of the euro and we're not going to join the euro.
"The reason we didn't join the treaty is the same reason we're not joining the treaty today, which is that we asked for safeguards ... We didn't get those safeguards, we haven't got those safeguards, so we can't have a treaty inside the European Union."
The Prime Minister repeated his warning that easing up on the Government's austerity programme would risk driving up interest rates in the UK.
Asked whether he would be prepared to "take your foot off the pedal" if the eurozone crisis worsened, he said: "We have a big budget deficit, we have a big stock of debt. We need to show the world we're paying down that deficit, dealing with that debt and that's one of the keys to recovery."
The Government's plan to pay down Britain's state deficit has given the UK some of the lowest interest rates in Europe, said Mr Cameron.
"If you took your foot off the pedal and you eased up and spent some more money, borrowed some more money in a discretionary sense, you could lose all the benefit of that by those interest rates going up."
PA
Join our new commenting forum
Join thought-provoking conversations, follow other Independent readers and see their replies