Joe Biden yet to call Boris Johnson after election win, but No 10 denies being worried about delay
Asked if it matters if Mr Johnson is '1st or 50th' in the queue, Downing Street insists 'No, that's not something that we are concerned about'
Rob Merrick
Deputy Political Editor
Monday 09 November 2020 19:38 Comments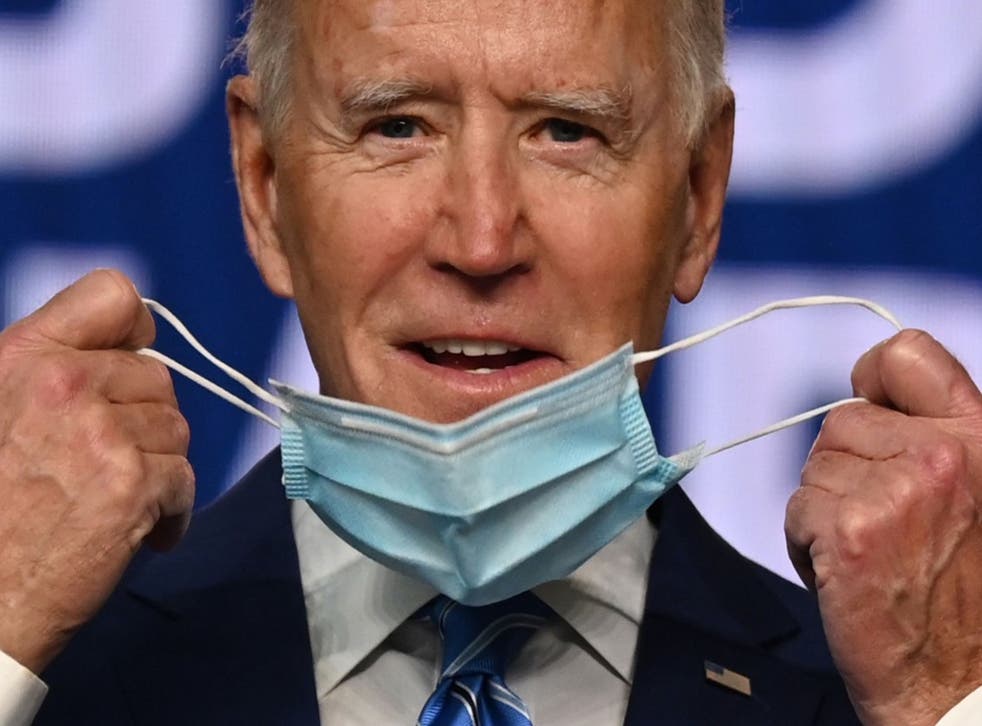 Boris Johnson is "not concerned" if Joe Biden makes him wait for their first conversation, No 10 is insisting – as it confirmed the pair have yet to speak.
Downing Street was unable to say when the ice would be broken, amid tensions over the threat to the Good Friday Agreement and the prime minister's past comments about Barack Obama.
Asked if it mattered if Mr Johnson was at the back of the queue, his spokesperson replied: "No, that's not something that we are concerned about."
Theresa May rushed to the White House to be the first world leader to meet Donald Trump four years ago, but the spokesperson made clear there would be no repeat of that trip.
"I'm not in position to talk about timetables for any meetings," he said – amid a suspicion that Mr Biden will prioritise meeting Angela Merkel and Emmanuel Macron first.
The Biden team is known to harbour resentment that Mr Johnson, in 2016, alleged Mr Obama's "part-Kenyan" heritage had made him anti-British in the row over a post-Brexit trade deal.

Asked if the prime minister would apologise, his spokesperson insisted the new president's aides had said he was looking forward, not back, adding: "And that's what we will be doing as well."
The comments came as No 10 confirmed the UK has ordered 40 million doses of the Pfizer Covid-19 vaccine – after the firm said early data showed it to be 90 per cent effective – with 10 million available by the end of 2020.
However, the spokesperson urged caution about the apparent good news, saying: "The results are promising and, while we're optimistic of a breakthrough, we must remember that there are no guarantees."
Mr Johnson is also on a collision course with the president-elect over the international law-busting Internal Market Bill, which threatens to undermine the Good Friday Agreement.
But No 10 insisted there would be no U-turn, despite the risk that it will doom the UK to a no-deal Brexit – and despite a looming heavy defeat in the House of Lords later on Monday.
"MPs backed the Internal Market Bill by 340 votes to 263 in September and our position remains that the clauses are a vital safety net," the spokesperson insisted.
"We have been clear that, as a responsible government, we cannot allow the peace process or the UK's internal markets to inadvertently be compromised by unintended consequences of the [Northern Ireland] protocol."
And, as the Brexit talks resumed, No 10 again highlighted the "significant gaps" that remain between the UK and EU positions in the negotiations.
"The PM would like us to do a deal, and that's what we have been working to achieve, and we will carry on working to find solutions that fully respect the UK's sovereignty," the spokesperson said.
"But, equally, people should get ready for 1 January with arrangements which are more like Australia's [a no-deal Brexit]."
Register for free to continue reading
Registration is a free and easy way to support our truly independent journalism
By registering, you will also enjoy limited access to Premium articles, exclusive newsletters, commenting, and virtual events with our leading journalists
Already have an account? sign in
Join our new commenting forum
Join thought-provoking conversations, follow other Independent readers and see their replies