Big Society charity winds up after claims it misused up to £2.5m in funding
Lottery and public-sector grants were awarded despite lack of track record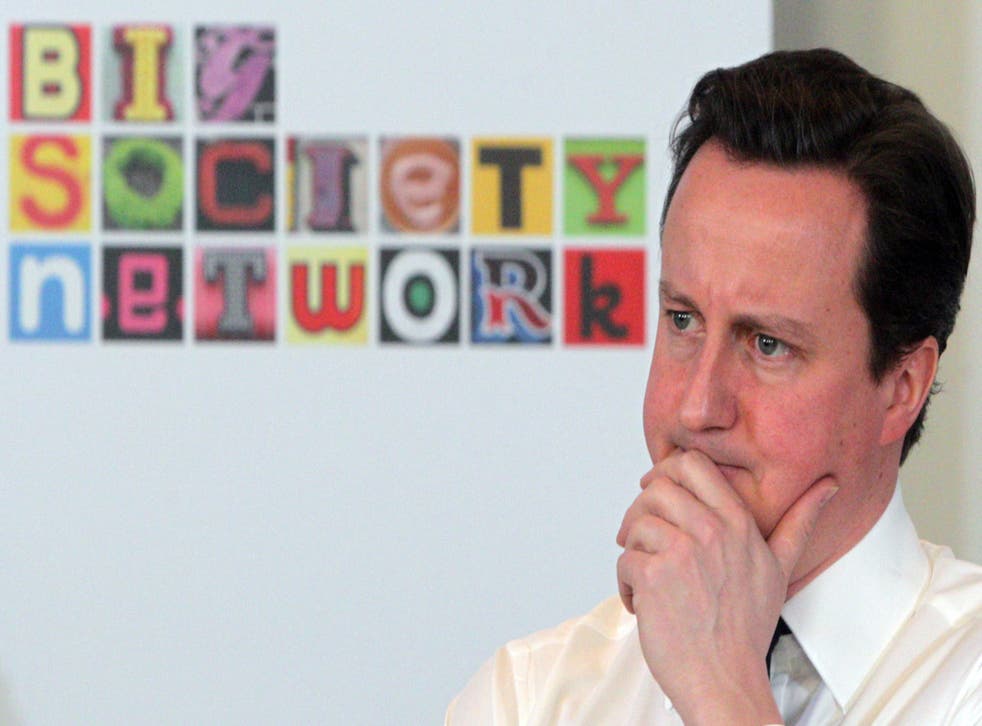 A controversial charity that received over £2.5m of lottery and government grants is to be wound up amid allegations that it misused funding and made inappropriate payments to its directors.
The Society Foundation Network, which ran the Big Society Network, is being probed by the Charity Commission following several failed projects.
The Network was also investigated by the National Audit Office over allegations that Government money was incorrectly allocated. The charity denies all the allegations.
Yesterday The Independent revealed that one project run by the organisation had made a series of claims on a for nearly £1m of lottery funding that are now being disputed by other charitable organisations it referred to.
The Charity Commission said that the trustees of the organisation had contacted it to tell them that they planned to voluntarily wind it down.
It said its "operational compliance" case into the terms and conditions of a grant awarded to the charity and other accountancy issues were still on-going and the trustees were co-operating.
All staff are understood to have already been laid off and its website has been replaced with a statement attacking the "ill-founded recent media criticism" against it.
In a statement the Charity Commission said: "The trustees have informed the Commission that they intend to wind the charity up. This is a decision for the trustees to take and there is a process that they must properly follow in accordance with our guidelines."
Companies House records show that an application has been made to strike off the incorporated company of the same name. If it succeeds, the charity will not have to file its 2014 accounts.
The Big Society Network was launched by David Cameron in 2010 and was given at least £2.5m of National Lottery funding and public-sector grants despite having no track record of charitable activity.
An examination of its projects revealed a marked discrepancy between the charity's aims and what it achieved.
A project called "Your Square Mile" intended to encourage and enable local people to improve their community was awarded £830,000 by the Big Lottery Fund – despite officials assessing the application as "weak" in three out of the six criteria. In February 2012 the project had attracted just 64 signed-up groups compared with the million predicted.
In April 2012, another project called Get In was awarded a grant of £299,800 from the Cabinet Office despite officials concluding it was unlikely to meet its stated objectives. They were told to change their selection criteria and approve the grant. The project was never even launched.
Another project aimed to build on the Olympic Games by encouraging people to excel in athletic, educational or creative challenges was awarded £997,960 in April 2013 by the Big Lottery Fund.
It claimed it would sign up 120,000 people but was wound up within months.
Join our new commenting forum
Join thought-provoking conversations, follow other Independent readers and see their replies