Big Society is a sham that's hurting the small charities sector, says report
Charities that once worked alongside government officials now answer to private companies that have taken over functions once run by the state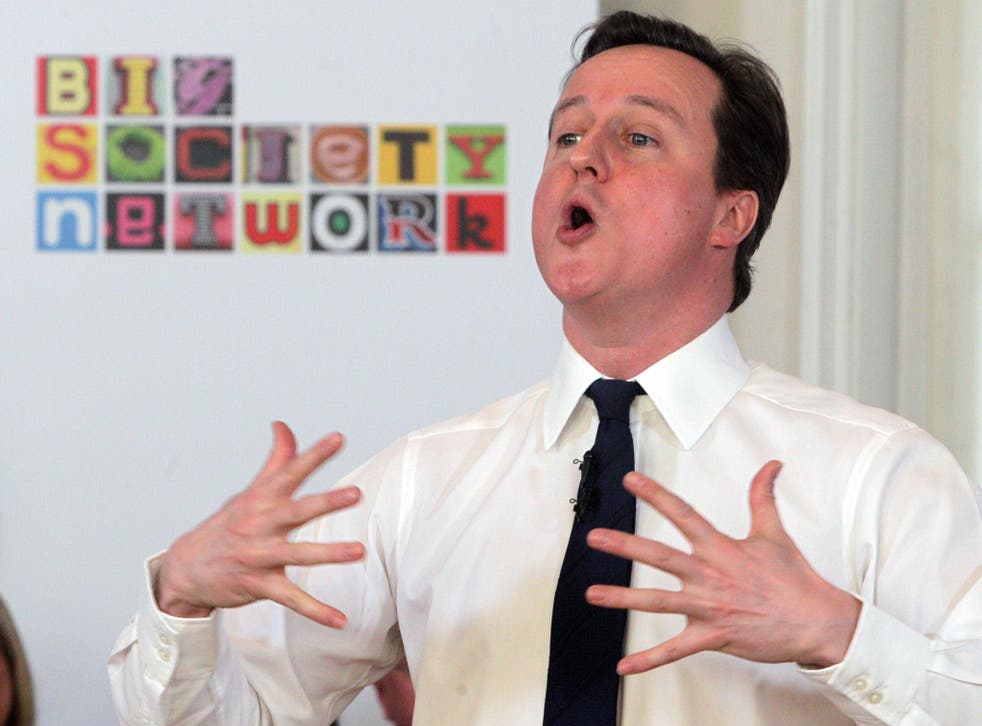 The Big Society that David Cameron once described as his "passion" is a "sham", which is hurting small charities increasingly having to work with powerful corporations in running services, campaigners have said.
Two new reports paint a grim picture of the fate of local voluntary groups in the market being created by the contracting out of public services. Where charities once worked alongside government officials, many now have to answer to private companies that have taken over functions once run by the state.
The National Coalition of Independent Action claims two studies found the farming out of public services is effectively turning some charities into sub-contractors for private firms.
Its founder Andy Benson argued the policy of encouraging competition had made charities "more self-interested and less likely to work collectively". He claimed volunteers were less willing to speak up where they encounter mismanagement, in case they lose a contract. In one instance, a voluntary sector worker who criticised a council for not following its own policy on domestic violence was told by a council official: "Do you want funding for next year? Then I suggest you shut up."
Mr Benson said: "Despite protestations by the Government that it is interested in small-scale activity, which is the essence of the Big Society, the small amounts of money that could make all the difference are drying up at a hugely alarming rate. The Big Society is a sham. It's a slogan."
A Cabinet Office spokesman said: "Over the past few years we have supported a bigger, stronger society. More people are volunteering. Charities have more powers and say over public services, and we are seeing more community organisers. On top of this, more than £600m has been set aside for Big Society Capital, the first social investment fund of its kind in the world."
Join our new commenting forum
Join thought-provoking conversations, follow other Independent readers and see their replies