Boris Johnson agrees to be shot by water cannon to prove safety and 'wisdom' of buying controversial riot equipment for London
Mayor has purchased three water cannon from Germany – despite not having permission from Home Secretary to actually use them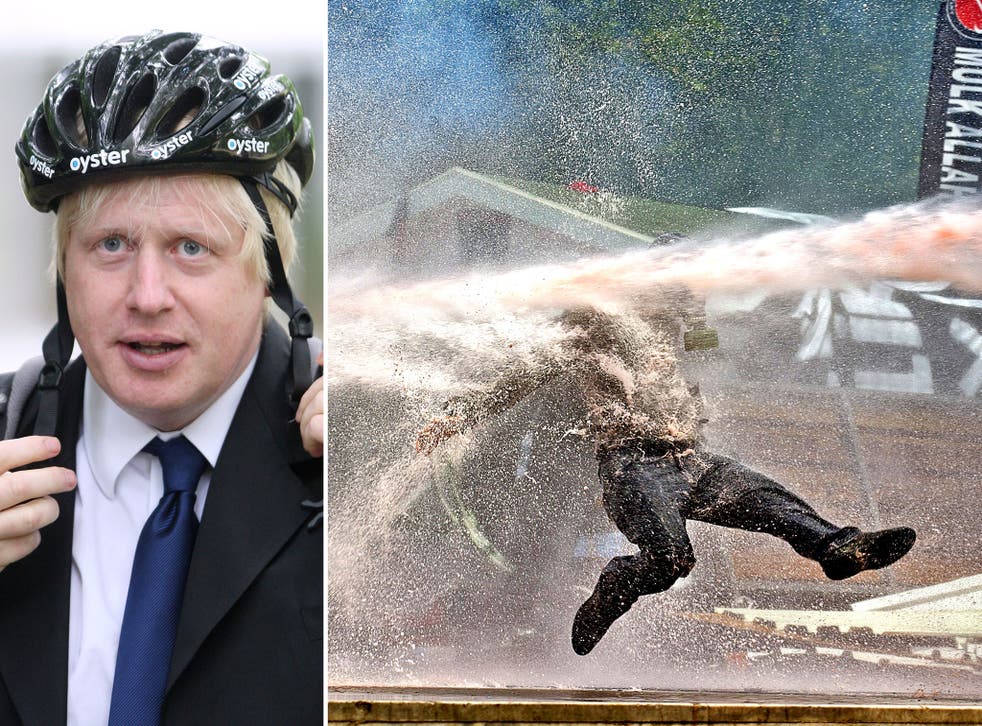 Boris Johnson has agreed to be blasted by water cannon to prove that they are safe enough to be used on the streets of London, after the Mayor challenged Theresa May's authority by ordering three without Home Office approval.
Speaking in an interview with LBC Radio's Nick Ferrari, Mr Johnson was asked by the host if he would "stand by [him] in front of them, when they arrive… to prove to Londoners the wisdom of your decision".
The Mayor initially questioned the logistics of such a test – "what do we wear?"... "how far away do we have to stand?" – and said he wasn't sure whether "I have done anything to deserve it".
But he finally gave in, saying: "Man or mouse. You've challenged me, so I suppose I'm going to have to do it now.
"I can see all my press people pulling their hair out over this, but never mind, it's got to be done. Thanks for that one, Ferrari."
The announcement of what he admitted could be a "great photo opportunity" came after Mr Johnson was accused of "playing politics" by ordering three water cannon from Germany in defiance of the Home Secretary.
Ms May is yet to give her verdict on whether or not the controversial riot control equipment – which has reportedly seen protesters blinded in the past – can be deployed by police in England and Wales.
Reaction to Mr Johnson's decision this morning was mixed among social media users, with one saying: "I'm glad Boris thinks water cannons are all a big joke."
Adam Jacobs wrote: "I reckon they could easily raise the £218,000 they need [to pay for the cannons from Germany] just by auctioning places to pull the trigger for this test."
When asked if it would grant permission for Mr Johnson to be blasted by water cannon as a one-off case, the Home Office declined to comment.
Register for free to continue reading
Registration is a free and easy way to support our truly independent journalism
By registering, you will also enjoy limited access to Premium articles, exclusive newsletters, commenting, and virtual events with our leading journalists
Already have an account? sign in
Register for free to continue reading
Registration is a free and easy way to support our truly independent journalism
By registering, you will also enjoy limited access to Premium articles, exclusive newsletters, commenting, and virtual events with our leading journalists
Already have an account? sign in
Join our new commenting forum
Join thought-provoking conversations, follow other Independent readers and see their replies