Government to 'push ahead' with Brexit without seeking Commons approval
Labour accuse Tories of 'sheer high-handed arrogance' over decision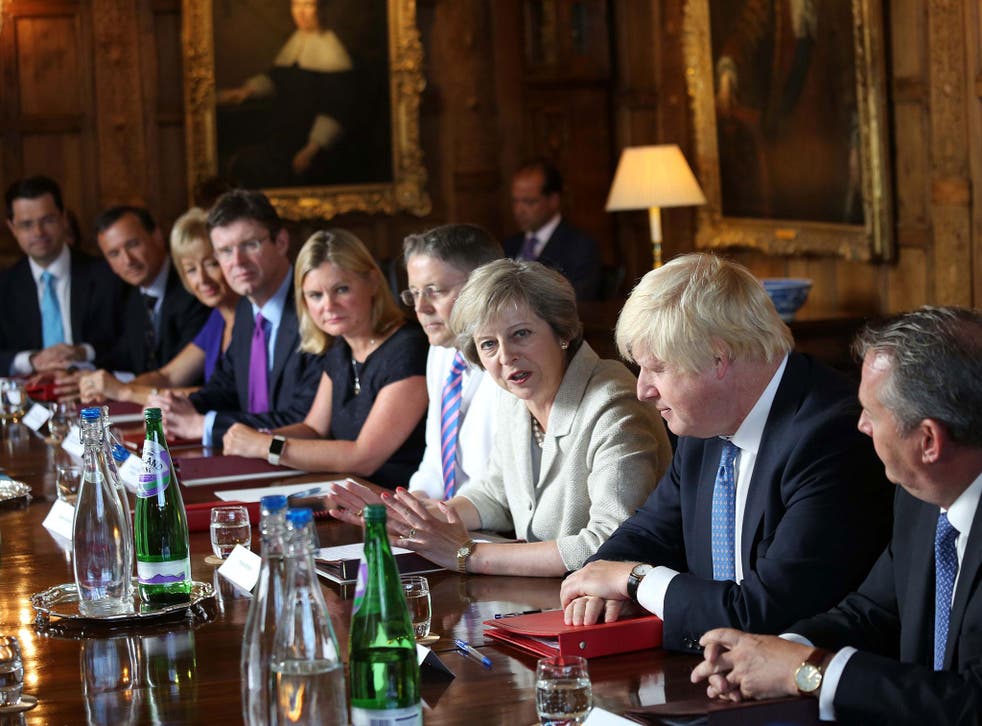 Theresa May set herself on a collision course with Parliament after confirming that the UK is heading towards Brexit without Parliament being given a vote.
After a meeting at Chequers, the Cabinet agreed they should move towards triggering official Brexit talks and that there is "no need" for their launch to be formally approved by the Commons.
Political opponents immediately condemned the move with Labour accusing the Government of "sheer high-handed arrogance".
The Cabinet also appeared to brush aside statements from EU leaders that no access to the single market would be granted if free movement of European citizens is not allowed across EU borders.
Instead, a bullish statement on behalf of Ms May and her Cabinet stated the Government would pursue a "unique" deal granting both immigration control and some access to the single market.
Ms May gathered her ministers at her official country residence Chequers to brainstorm the Government's approach to Brexit talks with the EU.
Speculation had been mounting over whether she would grant MPs a chance to vote on when Article 50 of the Lisbon Treaty, which launches formal Brexit talks, is triggered.
Until now the Prime Minister's officials remained vague on the matter, simply stating that there was no legal obligation.
But clearly confirming the Government's intentions for the first time, the Prime Minister's spokesperson said after the meeting: "There was a strong emphasis on pushing ahead to Article 50 to lead Britain successfully out of the European Union - with no need for a parliamentary vote."
Opponents have argued that a vote would be necessary to launch Article 50 and approve any Brexit plan, because when the referendum took place the public had no clear idea of what Brexit would look like.
Shadow Foreign Secretary, Emily Thornberry, said: "The country was dragged into this mess by a Tory Party acting as a law unto themselves, and now they want to trust us to get them out of it, acting in exactly the same way.
Brexit racism and the fightback

Show all 9
"It is sheer high-handed arrogance for them to say they will take all the decisions themselves, with no consultation of Parliament or the public, with the devolved administrations consulted but not listened to, and with the governments of London and Gibraltar now not even mentioned."
She said Article 50 should not be triggered until Parliament gave "approval to that plan".
Labour leadership candidate Owen Smith told The Independent that it would be "absolutely scandalous" if Parliament were not given a say on the matter.
He said that he would be prepared to table an Opposition motion in the Commons on triggering Article 50, though the result would not be binding on the Government.
He said: "I would use every means possible to ensure that there was a vote in Parliament, not least because there was a majority... right across the parties that voted for remain.
"I think there is still majority opinion in Parliament for Remain. It's vital that we have a proper debate about what we know the terms of the debate to be.
"I don't think she [Ms May] should be triggering Article 50 until we know what Brexit looks like."
The Liberal Democrats, who have clout in the House of Lords, have also signalled that they want Parliament to have a say.
Scottish First Minister Nicola Sturgeon said the Prime Minister was taking an "increasingly unacceptable and irresponsible position".
European leaders including German Chancellor Angela Merkel have repeatedly warned that the UK cannot pick and choose the EU's benefits in its new relationship with Europe.
At his first meeting with Ms May, French President Francois Hollande said: "There cannot be freedom of movement of goods, free movement of capital, free movement of services, if there isn't a free movement of people."
But after the Chequers meeting, the Prime Minister's spokesman made clear that Cabinet members are taking "a decisive view that the model we are seeking is one unique to the United Kingdom and not an off the shelf solution."
He continued: "This must mean controls on the numbers of people who come to Britain from Europe, but also a positive outcome for those who wish to trade goods and services."
Ms May sought to use the meeting to present a united front on Brexit, hoping it would compare favourably to the brutal internal struggles and leadership contest being fought by Labour. Tory ministers agreed that the opening day of their conference would be dedicated to "global Britain - showing that we are more outward looking than ever before".
It follows reports of a turf war and Cabinet splits over Brexit.
Chancellor Philip Hammond is thought to prefer a sector-by-sector approach to the single market, while winning some limits on free movement.
But International Trade Secretary Liam Fox and Brexit Secretary David Davis are said to favour pulling out of the single market altogether to allow for more control of the UK's borders.
On Wednesday morning, ex-minister Anna Soubry said British businesses would not survive without EU free movement.
Join our new commenting forum
Join thought-provoking conversations, follow other Independent readers and see their replies