Brexit: Tory revolt to end confusion over rights of EU nationals in the UK fizzles out after 'reassurances'
Last-gasp letter from Home Secretary Amber Rudd tells potential rebels that 'nothing will change for any EU citizen...without Parliament's approval'
Rob Merrick
Deputy Political Editor
Wednesday 08 February 2017 18:49 Comments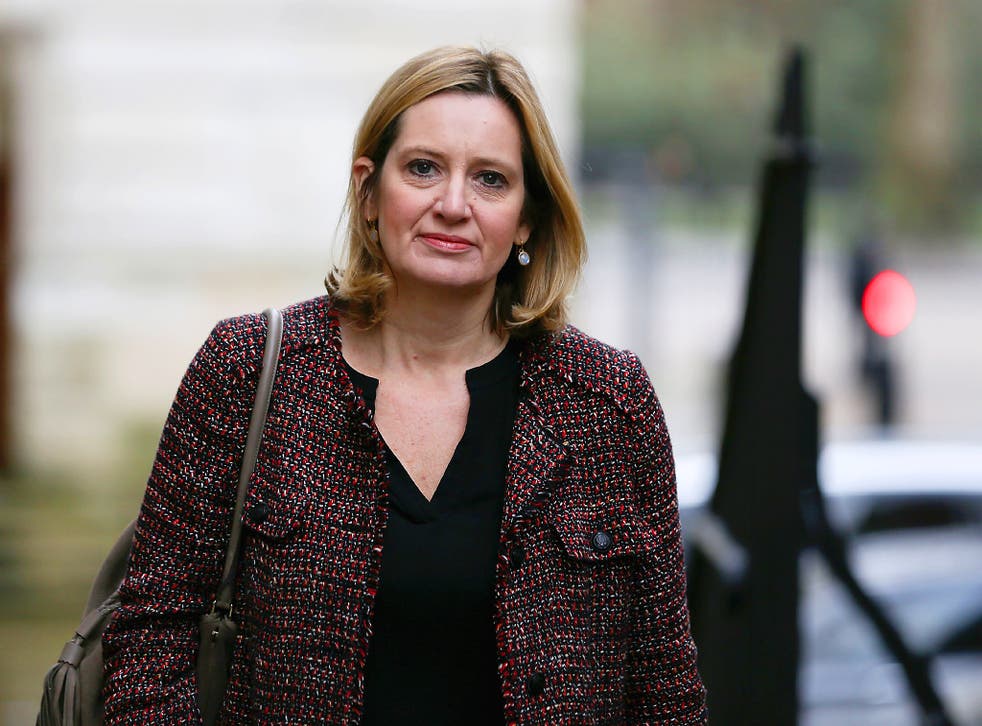 A Tory revolt to immediately guarantee the rights of nearly 3m EU nationals in Britain fizzled out after MPs were promised "nothing will change" without their consent.
Just three Conservative MPs sided with Opposition MPs in an attempted amendment to the Article 50 Bill to "protect the residence rights" of EU citizens, which meant it was easily defeated by 332 votes to 290, a majority of 42.
Some Tory MPs had threatened a rebellion, urging Theresa May to end the uncertainty now – without waiting for other EU countries to protect the rights of 1.2m British citizens in their countries.
EU nationals living here have spoken of their fear of "administrative harassment" as the Brexit process unfolds, even if they are eventually given permission to stay.
The Polish Social and Cultural Association has described the Prime Minister's stance as "immoral", warning nationals are too scared to report hate crimes because of confusion about whether they will be able to remain.
But the Tory MPs stepped back from supporting Harriet Harman's initiative when they received a last-gasp letter from Amber Rudd, the Home Secretary, insisting the decision would be in MPs' hands.
Ms Rudd stuck to the position that nothing could be achieved until other EU countries were willing to open talks, which meant "nothing can be settled until Article 50 is triggered".
But she wrote: "I'd also like to reassure colleagues that Parliament will have a clear opportunity to debate and vote on this issue in the future.
"The Great Repeal Bill will not change our immigration system. This will be done through a separate Immigration Bill and subsequent secondary legislation so nothing will change for any EU citizen, whether already resident in the UK or moving from the EU, without Parliament's approval."
One potential rebel, Sarah Wollaston, the health select committee chairwoman, said the letter had provided "clarification on priority and intent".
A second, former minister Ed Vaizey, said: "These are incredible people who provide not only world-class expertise to many businesses and science, but also a huge contribution to the communities in my constituency.
"And they are obviously devastated by what has happened, and they seek reassurance from the Government."
But, he added: "I'm also deeply reassured by the Home Secretary's letter which was circulated earlier."
During Prime Minister's Questions, Ms May insisted she would put the controversy at the top of her wish-list when the two-year Article 50 talks get underway, probably in April.
She told Ms Wollaston: "I want to be able to give, and I expect to be able to give, that reassurance, but I want to see the same reassurance for UK citizens living in the EU.
"What I can say to her is that, when I trigger Article 50, I intend to make it clear that I want this to be a priority for an early stage of the negotiations, so we can address this issue and give reassurance to the people concerned."
The Rudd letter appeared to confirm that current EU immigration law will be copied into British law, before any changes are made – after Brexit is completed.
That could stir the wrath of some Brexit-backing MPs who have demanded that an early priority is to "take control of our borders".
Register for free to continue reading
Registration is a free and easy way to support our truly independent journalism
By registering, you will also enjoy limited access to Premium articles, exclusive newsletters, commenting, and virtual events with our leading journalists
Already have an account? sign in
Join our new commenting forum
Join thought-provoking conversations, follow other Independent readers and see their replies