Brexit: David Davis running an 'utterly disorganised' department, with one in four posts unfilled
'DExEU has also been losing people at a higher rate than any civil service department other than the Cabinet Office'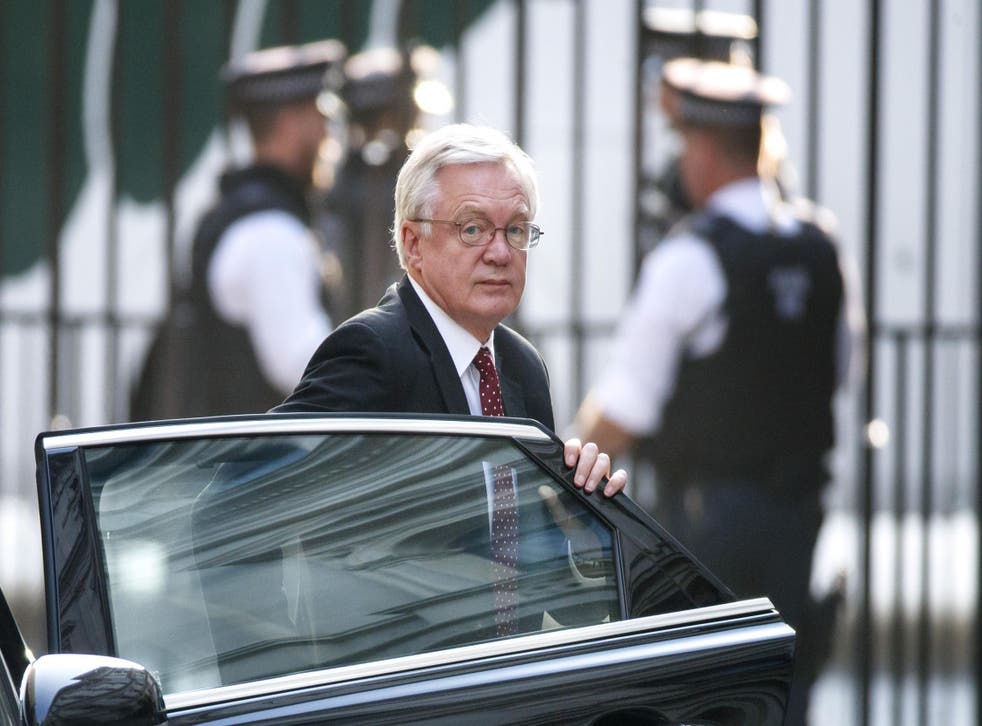 David Davis has been accused of running a Brexit department in a state of chaos, with 140 key posts unfilled as the UK enters the crucial second stage of negotiations with the EU, figures seen by The Independent show.
The vacancies led Labour to criticise the department as "utterly disorganised" and running an "underpowered" Brexit operation nine months on from triggering Article 50.
In total, there are 143 empty jobs, almost one in four of the posts at the Department for Exiting the European Union (DExEU), with economist, finance and project management jobs – as well as 81 policy roles – unfilled.
It comes after separate figures showed that the department is suffering from a high turnover of staff, with almost one in 10 moving on every three months – a turnover rate normally seen every 12 months in normally functioning Whitehall departments.
An astonishing 44 per cent of DExEU employees plan to leave within the next year, a civil service survey found, suggesting the recruitment crisis is set to worsen.
The picture has emerged as fears grow in Brussels that the Government's stance on the "end state" it seeks for a final Brexit deal is a muddle, with the Cabinet only beginning to discuss its proposals this week.
The impression of an overstretched department was underlined when secret "sectoral analyses" of Brexit's impact on the economy, drawn up by DExEU, were finally made public – and immediately branded a "shoddy mess that a 16-year old wouldn't be proud of" and a "masterclass in copy and paste".
"DExEU has funding for an additional 143 vacant roles, all full time, which we will look to take onboard over the next four months," the department said in the response to the freedom of information request, which was submitted by activist Shaun Davey.
A breakdown of the roles provided by the department showed 81 were in the policy team, 18 in private office, 10 in communications, nine in economics and statistics, eight in operational delivery, six in project management, five in finance, three in human resources, and a further three only identified as "other".
Research by the Institute for Government shows that the number of people leaving the 600-person ministry is the highest in Whitehall – other than the special case of the Cabinet Office – and is only set to accelerate.
Brexit could be delayed in 'exceptional circumstances', Theresa May admits
The Civil Service People Survey found that 44 per cent of DexEU staff plan to leave within the next year, making the task of recruitment even harder and leading to a leakage of accrued expertise. Currently, around 9 per cent of the department's staff are leaving every quarter – compared to an average in the civil service of 9 per cent a year.
Jill Rutter, programme director at the Institute for Government, told The Independent: "They've also been losing people at a higher rate than any civil service department other than the Cabinet Office.
"It obviously makes your task harder of filling up that bucket, it's like filling up a bucket with a bit of a leak."
She added: "They may be at steady state in terms of complement now, but the thing is if they're then losing lots of people, they'll be running quite a high vacancy rate.
"But even if they can fill them, finding people isn't necessarily enough because someone who's been doing the job for six to eight months is much more useful to you than someone who was just appointed."
Jenny Chapman, shadow Brexit minister, said: "In less than a year's time, the Government expects to sign a deal on Britain's withdrawal agreement with the European Union. Yet these figures demonstrate how utterly disorganised and underpowered its Brexit operation is.
"As every day goes by, we see further evidence of this Government's chaotic approach to Brexit. If Tory ministers won't take these talks seriously, then they should step out of the way and let Labour deliver the jobs-first Brexit this country needs."
A DExEU spokesperson told The Independent: "We regularly review headcount to ensure we are appropriately staffed to deal with all aspects of our preparations for leaving the EU."
Brexit: the deciders

Show all 8
Brussels has set the UK a deadline of next October to finalise an Article 50 separation deal on trade and transition, so that it can be ratified by the EU institutions when Britain automatically drops out of the bloc in March 2019.
After that, if all goes according to plan, there will be a two-year "implementation period" under existing EU rules that will see the UK make physical preparations for leaving. The European Commission's chief negotiator Michel Barnier has said that that a full free trade agreement will likely be finalised during this transition period.
Talks to finalise the nature of the transition period are set to start after the Christmas break, while full discussions about what sort of trade framework there will be have been postponed until the European Council summit in March.
Join our new commenting forum
Join thought-provoking conversations, follow other Independent readers and see their replies