Keir Starmer reveals details of Labour's plan for Brexit if they win the election
Exclusive: Sir Keir tells The Independent how his party's approach differs from Theresa May's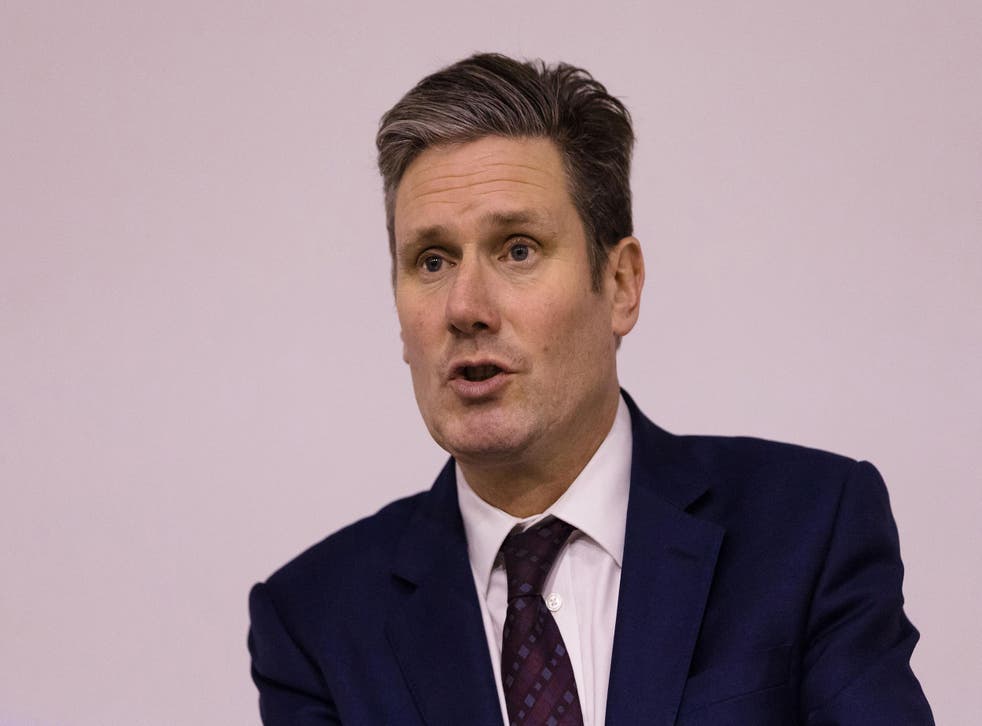 Sir Keir Starmer will take the lead in face-to-face Brexit talks with the EU's top negotiator if Labour wins the general election this week.
The role would see Sir Keir and his team sitting down in Brussels with Michel Barnier, tasked by EU chiefs to run negotiations, while taking direction from Jeremy Corbyn in London.
Labour hopes its "team approach", set out in an exclusive interview with The Independent, contrasts favourably with Theresa May's claim that she will personally head Brexit talks as her own ratings slip.
It also marks an attempt to draw attention to what Labour insiders believe is the public's poor opinion of ministers on the Conservative Brexit team – David Davis, Boris Johnson and Liam Fox.
Sir Keir revealed as well that his party would refuse a key Brussels demand for the European Court of Justice to be final guarantor for EU citizens rights after Brexit, but could accept the body having an ongoing role for trade disputes.
The Conservatives have sought to make Brexit the election's main battleground, presenting Ms May as the "strong and stable" champion who will personally secure a new deal with Europe.
But Labour strategists suspect the approach has met its limits, with voters showing as much concern for living standards and the NHS, and questions arising over Ms May's credibility following the dementia tax fiasco that precipitated the party's collapsing poll lead.
Should I vote Labour? Corbyn's biggest policies explained

Show all 9
Asked about who would conduct frontline talks, Sir Keir said: "What Jeremy has done is to indicate that he would want to keep his Brexit team, which is myself, Emily Thornberry and Barry Gardiner, to do that work, with Angela Smith our Leader in the Lords – that has been the essential quartet.
"Part of the reason for that, is that I have been, as have Barry, Angela and Emily, backwards and forwards to Brussels having discussions with our EU partners about negotiations."
He added: "Labour's approach is a team approach where we pull on all of the talent and resources that we've got in the Brexit team. Theresa May is isolated on this. In the end it's our tone and approach that is going to make the difference."
Earlier this week both Mr Corbyn and Ms May gave almost simultaneous speeches on Brexit, with the Prime Minister saying only she can deliver the right deal with Brussels, while directly targeting her rival as unpatriotic and "not up to the job".
Election constituencies: May v Corbyn
Mr Corbyn, meanwhile, put his Brexit team led by Sir Keir centre stage and directed his fire at Brexit Secretary Mr Davis, Foreign Secretary Mr Johnson and Trade Secretary Dr Fox.
Labour thinks that with Ms May's personal ratings slipping in the wake of the social care U-turn, not to mention the evaporation of her campaign's "strong and stable" mantra, the Conservative decision to focus Brexit strategy on the Prime Minister's personal qualities is wobbling.
Sir Keir said: "You can't maintain you are strong and stable and U-turn on your manifesto in the way they have. That has resonance for the Brexit negotiations.
"You can't say 'elect me to carry out the negotiations because I'm strong and stable', when you can't even hold your own campaign together for the weeks of the general election."
Claiming Ms May had needed to "constantly reset" her campaign, he went on: "Now she has had to do so again, to a different kind of approach altogether, sort of imploring people to trust her because the strong and stable mask has slipped."
He accused Ms May of having set out on the wrong foot with the EU – early on the campaign she accused Brussels of trying to swing the UK's election – while manoeuvring herself into a corner for negotiations.
Theresa May: Corbyn would be 'naked and alone' on Brexit
"She has taken lots of options off the table and really set a belligerent tone with our EU colleagues," he said.
"There is nothing wrong with being tough, we would be tough, but we've also got to get the right deal. Aggravating and agitating isn't necessary and has got us off to a very bad start.
"What we want here is tough, but 21st-century professional negotiation that is flexible and smart."
The former Director of Public Prosecutions said a week had not gone by since last autumn, in which he had not spoken with leaders in national government, ambassadors and figures at the European Commission and EU Council.
If Labour wins the election on 8 June, a raft of calls will be put in to the capitals of Europe within hours, he said.
Sir Keir went on: "We would call all of the appropriate EU negotiators very early on, to make sure there is a different tone, a different approach, and that what we are seeking is obviously not membership – that was taken off the table at the referendum – but a partnership that works for trade based on collaboration and cooperation.
"The approach the Prime Minster has taken got us off to a very bad start – the reset button needs to be pressed on day one."
One of the things Ms May has been unequivocal on is her intention to end the European Court of Justice's influence in the UK, something EU negotiators see as particularly difficult.
Should I vote Tory? May's biggest policies explained

Show all 7
In its opening demands, the European Commission called for the body not only to guarantee the Brexit deal, but also the rights of EU citizens living in Britain after withdrawal and potentially adjudicate future trade disputes.
Asked whether Labour would countenance the ECJ as guarantor for EU citizens' rights in the UK after Brexit, Sir Keir said: "I can't see how that would work.
"As a fundamental principle I can't agree a two-tier system for access to any court, whether it's the ECJ or any court.
"In our system of law, where there is a court people have equal access to it. I've seen that idea put out by the Commission, but I don't think that's a workable solution."
Tim Farron gets feisty over Brexit referendum on Andrew Neil show
But Sir Keir suggests it may be advantageous for the ECJ to have some role settling future trade disputes, as part of the new free trade agreement Britain desires with the EU.
He explained: "If you are a business and you are trading with EU companies, you need to have an answer to the question 'what do I do when things go wrong? Where do I go to resolve my dispute?'
"That is Theresa May's black hole, she has no answer.
"I'm not arguing for an unchanged role for the ECJ. I am saying where is the dispute resolution for individuals and businesses under a new agreement with the EU?"
Mark Steel: Theresa May sees the election as a distraction from thinking about Brexit
If sent in to bat for Britain, Labour's chosen negotiator will have to convince Brussels the UK should have tariff-free access to the single market while ending freedom of movement in Britain – the party's stated approach.
Despite signals from Europe that the goal may be unachievable, Sir Keir remains optimistic, observing: "We are at the beginning of negotiations, not the end."
He added: "I don't accept that we start the negotiations on the proposition that they will inevitably fail. I start on the basis that we set out what we want to achieve.
"The EU has negotiated 34 or 36 agreements involving 60 countries. I simply don't accept that we can't reach an agreement that works for us and works for the EU."
Register for free to continue reading
Registration is a free and easy way to support our truly independent journalism
By registering, you will also enjoy limited access to Premium articles, exclusive newsletters, commenting, and virtual events with our leading journalists
Already have an account? sign in
Join our new commenting forum
Join thought-provoking conversations, follow other Independent readers and see their replies