Brexit: Government spends £80m on ferries in hope of seeing off threat to medical supplies
New services provided to ease expected congestion at Kent ports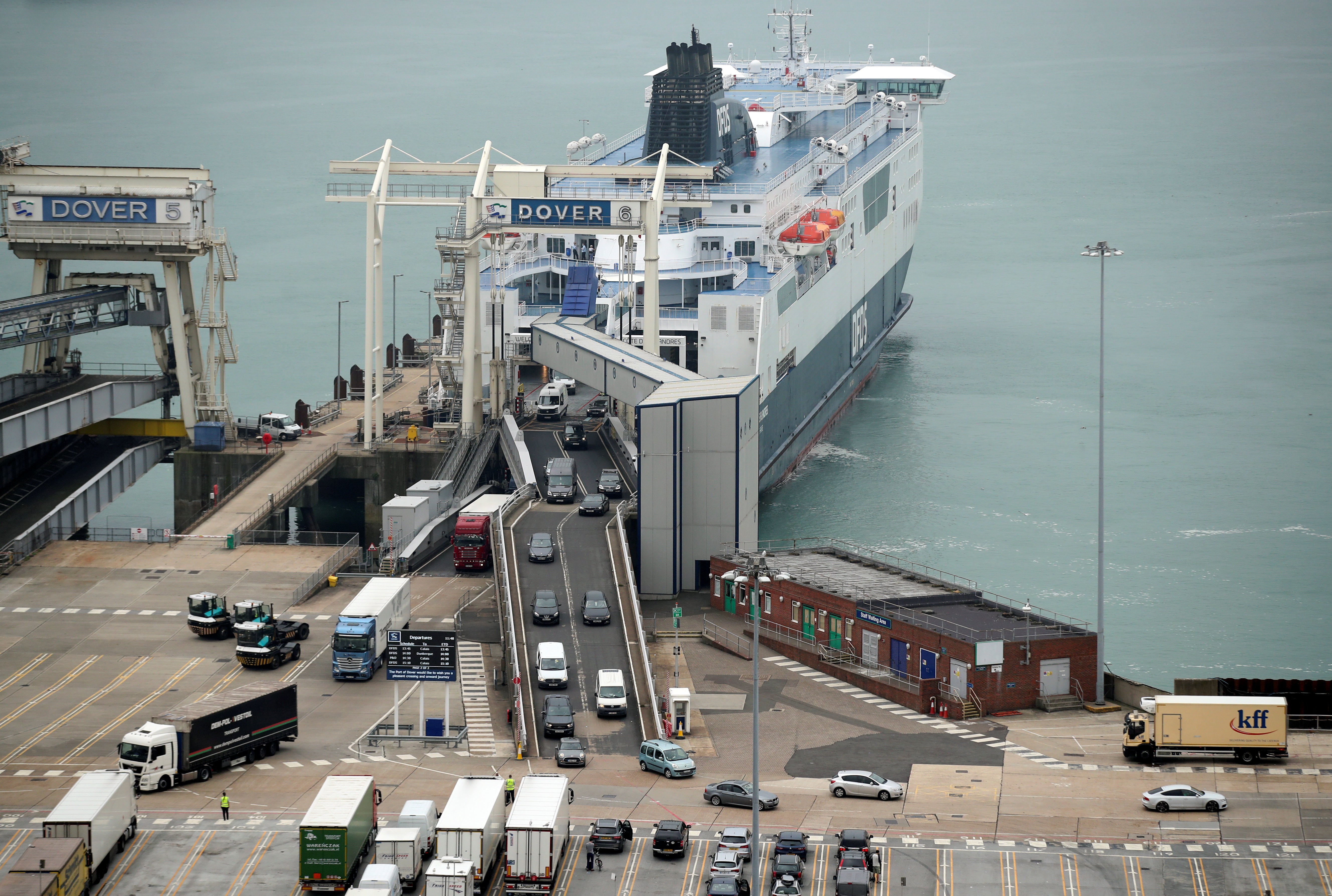 The government has been forced to spend almost £80m of taxpayers' money on hiring ferries in the hope of avoiding disruption to vital medical supplies caused by Brexit at the end of 2020.
Extra sailings will be laid on at eight less-used ports on the east and south coasts of England in a bid to divert traffic away from the Kent ports of Dover and Folkestone – which are expected to be gridlocked. 
Campaigners against a no-deal Brexit questioned whether the last-minute move would prevent shortages, and called on Boris Johnson to channel his energies on securing a trade agreement with the EU to prevent "huge" new logistical problems for medical suppliers in the New Year.
Grant Shapps, the transport secretary,  announced that contracts totalling £77.6m have been signed with Brittany Ferries, DFDS, P&O and Stena to provide extra capacity for up to six months after the UK's transition to new post-Brexit relations with the EU on 31 December.
Additional services will be provided on nine routes serving eight ports in areas less likely to experience disruption: Felixstowe, Harwich, Hull, Newhaven, Poole, Portsmouth, Teesport and Tilbury.
Mr Shapps said the spending was needed to "mitigate" the risk of disruption to medical supplies and other critical goods from the continent due to Brexit, whether or not Mr Johnson reaches a trade deal with Brussels by the end of the transition period.
A previous government attempt to secure additional ferry capacity ended in fiasco last year, when then transport secretary Chris Grayling was forced to cancel a contract with a company with no boats, paid £50m to others for terminating arrangements despite no services being provided and was sued for £33m by Eurotunnel after it was frozen out of the scheme.
But Mr Shapps insisted that the new contracts would ensure the "smooth and successful" flow of critical freight despite the disruption expected to be caused by Brexit.
He said they were negotiated under the "freight capacity framework" introduced after the earlier ferry farce, under which only experienced freight operators can bid for contracts and termination costs are limited to "a fraction of the full contract amount".  
"As the transition period comes to an end, we are putting the necessary measures in place to safeguard the smooth and successful flow of freight," said Mr Shapps. 
"Securing these contracts ensures that irrespective of the outcome of the negotiations, lifesaving medical supplies and other critical goods can continue to enter the UK from the moment we leave the EU."
But Best for Britain chief executive Naomi Smith said: "Given the government's last ferry contracts ended in a court battle, many will rightly question whether this is the best way to ensure vital medical supplies and other critical goods can be smoothly delivered to the UK after the transition period ends.
"Supply chains are already experiencing unprecedented levels of disruption due to Covid and a no-deal Brexit could create huge new logistical problems for medicine suppliers and those relying on them, particularly given how late these arrangements have been made.
"With time and money now in very short supply, the government would do well to channel its energy into securing an agreement with the EU to prevent the possibility of shortages in the new year."
And Liberal Democrat Europe spokeswoman Christine Jardine said: "The Government have blown yet another eye-watering amount of money on a project that shouldn't be necessary in the first place. "Boris Johnson's priority should always be the health and well-being of the British people. It shouldn't have to be said, let alone during a pandemic, that anything threatening that shouldn't even be entertained as government policy. "The government estimates that export companies will have more than 200 million additional forms to fill in each year as a result of leaving the EU, and trucks without the right paperwork risk being barred from boarding ferries or turned back when they reach the continent.
The UK government has delayed enforcement of new rules until July to try to ease the red tape burden – previously estimated by HM Revenue and Customs to cost as much as £15bn a year – but the EU is expected to implement new arrangements immediately on 1 January.The chief executive of the European Movement UK, Anna Bird, said: "The government has once again resorted to workarounds like chartering ferries, even after it ended in disaster last year, rather than focusing on getting a deal that would avoid chaos at our borders.    "We are running out of time and money to avoid disruptions at the border and the government should be putting all its efforts into getting us a deal with our closest trading partners. The longer they drag this out, the less time our businesses and our NHS have to prepare."
Join our commenting forum
Join thought-provoking conversations, follow other Independent readers and see their replies