Brexit: EU's top negotiator says Britain failed to stand with European allies when it voted to leave
Downing Street hits back by saying UK has played a 'leading role'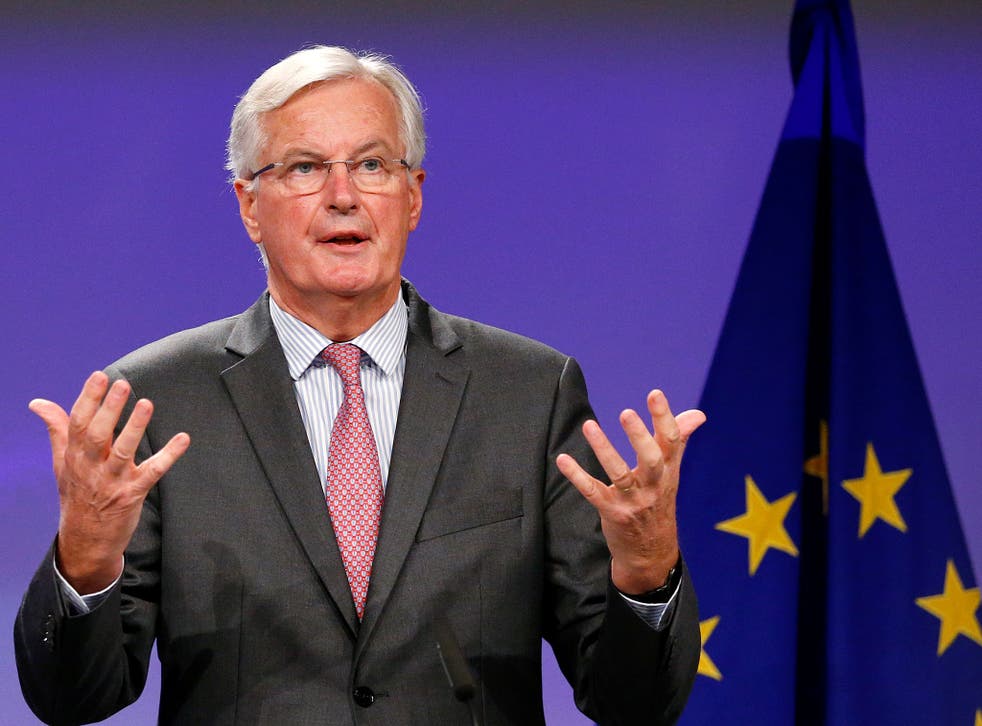 Britain failed to stand "shoulder to shoulder" with European allies reeling from a wave of terror attacks when it voted to leave the EU, Brussels's chief Brexit negotiator has said.
Michel Barnier's comment came as he warned that Britain will be cut out of decision-making on European defence as a result of Brexit.
But Downing Street hit back, pointing out that the UK had played a "leading role" in the struggle against Isis, both in terms of counter-extremism measures and in the military effort in Iraq and Syria.
Speaking to a security conference in Berlin, Mr Barnier said that the Brexit vote came "after a series of attacks on European soil, committed by young people who grew up in Europe, in our countries".
He added: "It was a decision that came six months after the French Minister of Defence issued a call for solidarity to all his European counterparts to join forces to fight the terrorism of Daesh.
"Never had the need to be together, to protect ourselves together, to act together been so strong, so manifest.
"Yet rather than stay shoulder to shoulder with the Union, the British chose to be on their own again."
In response, Theresa May's official spokesman highlighted "the leading role Britain has played and continues to play in combatting Daesh, both in terms of the online extremism which Daesh uses to spread its poisonous message, and also in terms of the fight against Daesh on the ground in Iraq and Syria – where Britain has played a leading role alongside our allies in the coalition against IS, and which has had notable military success in driving IS back."
The spokesman added: "The Prime Minister has been absolutely clear in her commitment to the ongoing security of Europe and of the European Union and her determination to continue cooperating with the EU, sharing information and standing together against IS and terrorism in all its forms."
In his speech, Mr Barnier warned that there must be "no horse-trading" with the security of Europe's citizens as a result of Brexit.
He set out the EU's hopes for a "broad, beneficial and balanced" post-Brexit security relationship, under which the UK will be able voluntarily to participate in European missions and operations, joint armaments programmes and exchanges on intelligence and cyber warfare.
But he made clear that the UK will lose "levers for wielding influence" over European security, with no right to take part in meetings of defence ministers and ambassadors, no ability to take commanding roles in EU-led operations and no membership of the European Defence Agency or law-enforcement agency Europol.
Security and defence are likely to loom larger in Brexit negotiations in 2018, once the divorce issues of borders, citizens' rights and the financial settlement are resolved and talks move on to the future relationship.
Mr Barnier said that during its membership of the EU, the UK has "not been the spearhead" of European defence, making "limited" contributions to EU-led missions and resisting plans to set up a European defence headquarters.He added: "The British have never wanted to turn the Union into a military power."
He indicated that the UK will now have to accept a more "autonomous" European approach to defence, in the light of the "strategic repositioning" of the US under President Donald Trump.
"Our aim, autonomous and united European defence, which means a Union capable of acting by itself and always supportive in its alliances," he said.
"The construction of a 'Europe of Defence' has begun.
"Obviously, we will not wait for the United Kingdom to implement it, but when the time comes we will be ready to cooperate with the United Kingdom."
UK news in pictures

Show all 50
Mr Barnier said the EU was hoping for an "ambitious partnership" with the UK on security.
"Theresa May has assured the member states several times that the UK is committed unconditionally to upholding European security," he said.
"I welcome this commitment and thank Theresa May for making it.
"History teaches us that there must be no horsetrading over the security of Europeans, that is an absolute necessity."
Join our new commenting forum
Join thought-provoking conversations, follow other Independent readers and see their replies