European Parliament chief Brexit negotiator Guy Verhofstadt says Westminster attack shows European nations need to stay united
Writing for The Independent, Guy Verhofstadt says those seeking to 'exaggerate differences between us' must fail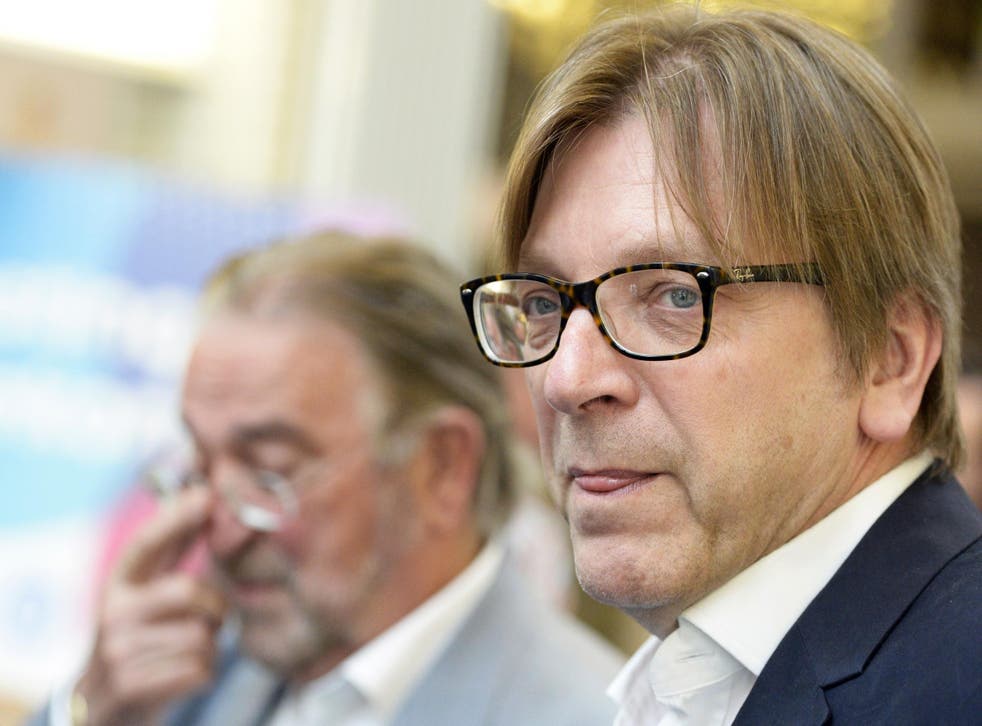 The European Parliament's chief Brexit negotiator has said the devastating terror attack at Westminster shows why it is so important that European nations remain united.
Writing exclusively for The Independent, Guy Verhofstadt said no single country could tackle the scourge of international terrorism on its own. He warned there were people in Europe and elsewhere that sought to "exaggerate differences between us in order to divide us", but said both the EU and UK should be determined they did not prevail.
With Theresa May set to trigger the Article 50 Brexit process on Wednesday, the former Belgian Prime Minister accepted that the negotiations ahead would "at times become challenging".
But he said it would be an "immediate priority" to reach an agreement guaranteeing the rights of EU citizens already living in the UK before Brexit and British citizens in Europe – including those inside the UK who wish to retain "personal links" with Europe after Britain's breakaway from the union.
Mr Verhofstadt's intervention comes after the terror attack at Westminster last Wednesday claimed five lives, injured dozens more and left the country in shock.
But with the triggering of Brexit this week putting security, economic, family and cultural ties at stake, he wrote: "Both the UK and the EU stand to lose from this process, which is why we must work to mitigate the effects of the decision that has been taken.
"The horrific terrorist attacks in London this week, on the anniversary of the Brussels attacks last year, show how important it is that European nations remain united in the face of common challenges, which no one of our countries can tackle on our own."
EU citizens in UK victims of 'political games', says Guy Verhofstadt
Mr Verhofstadt will work alongside the EU's chief negotiator Michel Barnier once Brexit talks begin. The Prime Minister, Theresa May, is writing to European Council President Donald Tusk this week notifying him of Britain's intention to quit the EU.
In his article, Mr Verhofstadt said it was important not to let those attempting to sow disunity among European nations to succeed, adding: "I am acutely aware that there are those, both within Europe and third countries, who will seek to exaggerate differences between us in order to divide us further, but they must not prevail.
"That Brexit is happening is bad enough."
Europe's chief negotiator Guy Verhofstadt: Britons should keep EU citizenship rights after Brexit
The comments follow a surge in anti-EU political parties across Europe, including Ukip and Nigel Farage in the UK.
After Ms May's Brexit letter is received, Mr Tusk and other EU leaders will wait a month before finalising the negotiating mandate given to Mr Barnier at a meeting on 29 April. Leaders in the European Parliament will also meet to set out the institution's individual position, which will be voted on at a session in Strasbourg on 5 April.
While Mr Verhofstadt said he hoped Britain would remain "a close strategic partner for the EU in the years to come", he said he had no doubt that negotiations could at times "become challenging".
But he went on to underline his desire to secure a quick deal to guarantee the rights of people living in both the EU and UK after Brexit.
He said: "I am confident the European Parliament's immediate priority will be to put in place a reciprocal agreement to safeguard the rights of EU citizens in the UK and UK citizens in the EU.
Guy Verhofstadt says European Union is in existential moment
"Regrettably, many people feel the Brexit decision has put their lives, relationships and future prospects on hold – we will seek to provide clarity as a matter of urgency."
He added: "I believe it is also important that those in the UK who wish to maintain personal links with the European Union can do so."
Mr Verhofstadt has previously said British citizens should be able to choose to keep various benefits of EU citizenship, including potentially the freedom of movement, after Brexit.
Register for free to continue reading
Registration is a free and easy way to support our truly independent journalism
By registering, you will also enjoy limited access to Premium articles, exclusive newsletters, commenting, and virtual events with our leading journalists
Already have an account? sign in
Join our new commenting forum
Join thought-provoking conversations, follow other Independent readers and see their replies