Brexit legal challenge: MPs don't actually want to vote on Article 50, government lawyer claims
The Supreme Court is hearing the Government's appeal that MPs are not entitled to vote on Article 50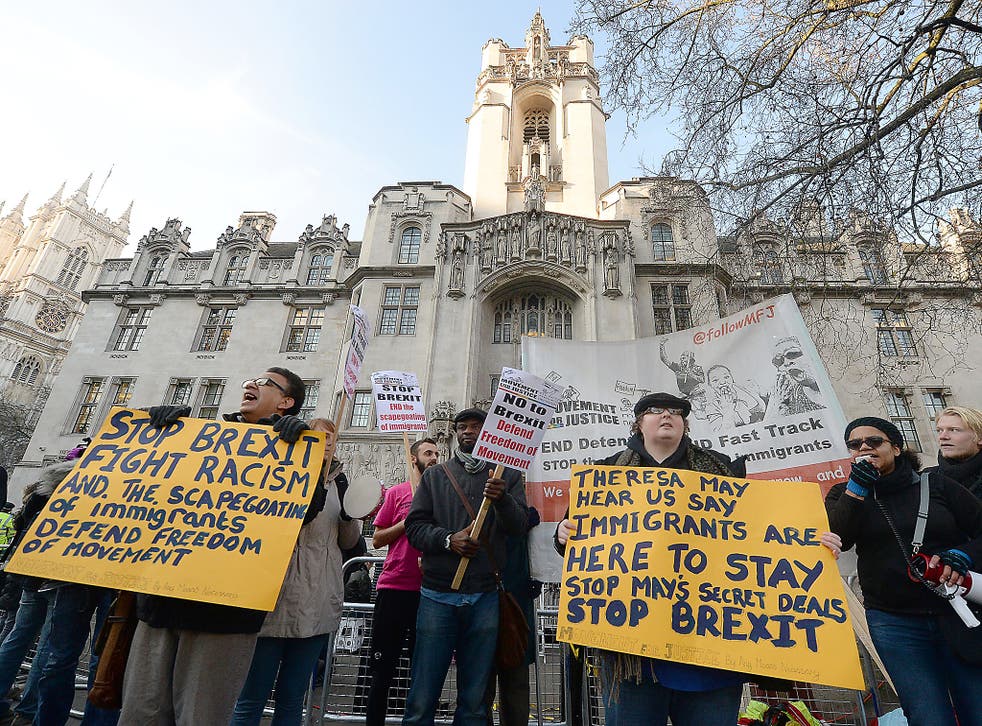 MPs don't actually want to vote on triggering Article 50, the Government's leading lawyer has said.
James Eadie QC made the claim during the Supreme Court appeal on whether Theresa May can trigger Article 50 without the issue going to parliament first.
He said: "Parliament does not seem to want the obligation the divisional [high] court has thrust upon it."
Mr Eadie cited that none of the MPs have proposed primary legislation about Brexit or Article 50 since the referendum took place in June.
The QC also argued that MPs will be involved in Brexit plans when they vote on the Great Repeal Bill, which is a broad piece of legislation which the Prime Minister says will remove EU legislation from British law. However, he conceeded that little is known about precisely what the Bill will contain, adding that such details "will give us entertainment for years" as they are debated.
The Supreme Court is hearing the Government's appeal to last month's High Court decision that Ms May does not have sufficient power to trigger Article 50 alone and instead requires MPs approval in a Westminster vote.
All 11 justices are hearing the case, which is due to last until the end of Thursday.
Mr Eadie also told the court the idea that Parliament would not be involved in triggering of Article 50 "cannot possibly be sustained" and said opposition motions were due to be debated in the House of Commons this week. Parliament would also be involved in subsequent questions of legislation.
Lord Neuberger suggested to Mr Eadie that "Parliament will be involved if it wants to be". He suggested if it wanted to debate the whole question of Article 50 notice being served under prerogative powers "that is something they can do".
Mr Eadie agreed, saying: "Parliament can look after itself."
Supreme Court Brexit Challenge

Show all 13
In concluding remarks, he told the justices: "It is said that the Government giving Article 50 notice is an affront to Parliamentary sovereignty because Parliament has created rights and only it can alter them. Our case fully respects, and offers no affront, to Parliamentary sovereignty."
"Parliament is already deeply involved, and unsurprisingly involved, in the whole process of withdrawal."
At the same time as the Supreme Court case was being held, the European Union's lead Brexit official urged the UK to "keep calm and negotiate" as he set out an 18-month deadline for talks on a deal.
Although Article 50 of the EU treaties allows two years to thrash out a deal, the European Commission's Brexit negotiator Michel Barnier said that talks must end months earlier, to allow time for the European Council, the European Parliament and the UK to approve the agreement.
If Britain formally notifies Brussels of its intention to leave by the end of March - as Theresa May has said she will - this would mean a deal was needed by October 2018.
But Mr Barnier indicated a transitional arrangement, potentially meaning the UK continuing to pay into the Brussels budget in order to secure the best single market access, could be put in place after formally breaking away from the EU.
In an apparent sign that he is unwilling to budge from the requirement for freedom of movement in return for full access to the single market, Mr Barnier said the UK will not be allowed to "cherry-pick" which EU rights and obligations it wishes to keep.
In his first briefing on his preparations for the Article 50 negotiations, Mr Barnier said: "Being a member of the European Union comes with rights and benefits. Third countries can never have the same rights and benefits since they are not subject to the same obligations."
He said he was aiming for an "orderly" Brexit, but said it was "too soon" to discuss the details of how it would happen.
"We are entering uncharted waters," said the French former foreign minister.
"The work will be legally complex, politically sensitive and will have important consequences for our economies and for our people, on both sides of the Channel."
Join our new commenting forum
Join thought-provoking conversations, follow other Independent readers and see their replies