Brexit: UK 'needs wholesale reform' so each region can get its own a la carte deal, Gordon Brown says
The ex-prime minister has suggested that the House of Lords should be abolished
Andrew Griffin
Thursday 03 November 2016 17:59 Comments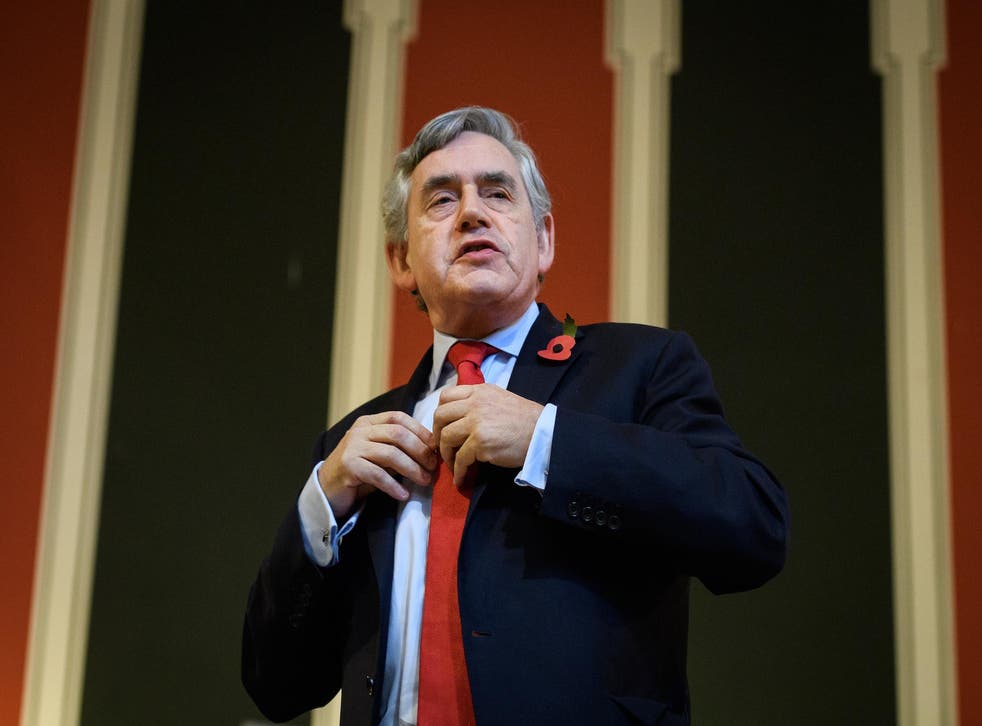 British nations should be further devolved so that they can get their own deals with the EU, Gordon Brown has said after the Brexit legal challenge.
The former prime minister has said that the country is "united in name only" and must be re-arranged so that the strains of the referendum vote can be eased.
That would include a complete scrapping of the House of Lords and it being replaced with an elected senate, he said. That could then help represent the different parts of the UK, he told the Fabian Society.
Brexit Concerns

Show all 26
Mr Brown called for a constitutional convention to be set up that would look at giving Scotland, Wales, Northern Ireland and the English regions control over areas grabbed back from Brussels, such as agriculture and fisheries, when Britain quits the bloc.
It should also look at granting the nations and regions power to deal directly with the EU to determine what links they keep with Brussels in areas like research funding for universities and the European Arrest Warrant.
The Brexit vote means further devolution to Scotland, Wales and Northern Ireland should be examined as well as a system of "co-decision making" between the UK's four nations, the former premier said.
"This would ensure that Scotland, Wales and Northern Ireland could not be forced out of the European Convention on Human Rights against their will," he added.
"We should agree that if England wishes to leave the ECHR, Scotland should have the ability either to veto that decision or to remain part of it. This would involve recognition that some policy areas should be considered neither fully devolved nor fully reserved, but in fact shared between central and devolved government."
The nations and regions should be able to sign up to international organisations that tie in with their devolved powers and they also need a new financial settlement to help cover the impact of Brexit, Mr Brown said.
High court rules Brexit needs Parliamentary approval
"I want to suggest today that there is now an overwhelming case for a UK-wide people's constitutional convention, mandated with setting a roadmap towards a more federal constitution that empowers all of the nations and regions," he added.
"The convention would focus on the areas of concern to people right across the country - jobs, the economy and standards of living - and then ask what constitutional settlement can best meet their needs and aspirations.
"We need wholesale reform because today the United Kingdom appears united in name only.
"Politically, the strains of Brexit are already showing, as different nations, regions, sectors and companies desperately seek their own opt-outs from a hard Brexit and call for their own a la carte version of Brexit."
Additional reporting by Press Association
Register for free to continue reading
Registration is a free and easy way to support our truly independent journalism
By registering, you will also enjoy limited access to Premium articles, exclusive newsletters, commenting, and virtual events with our leading journalists
Already have an account? sign in
Join our new commenting forum
Join thought-provoking conversations, follow other Independent readers and see their replies