Brexit: No renegotiation if MPs reject deal Theresa May gets, EU leader warns
MPs voted to give themselves a 'meaningful vote' on the final deal agreed by the PM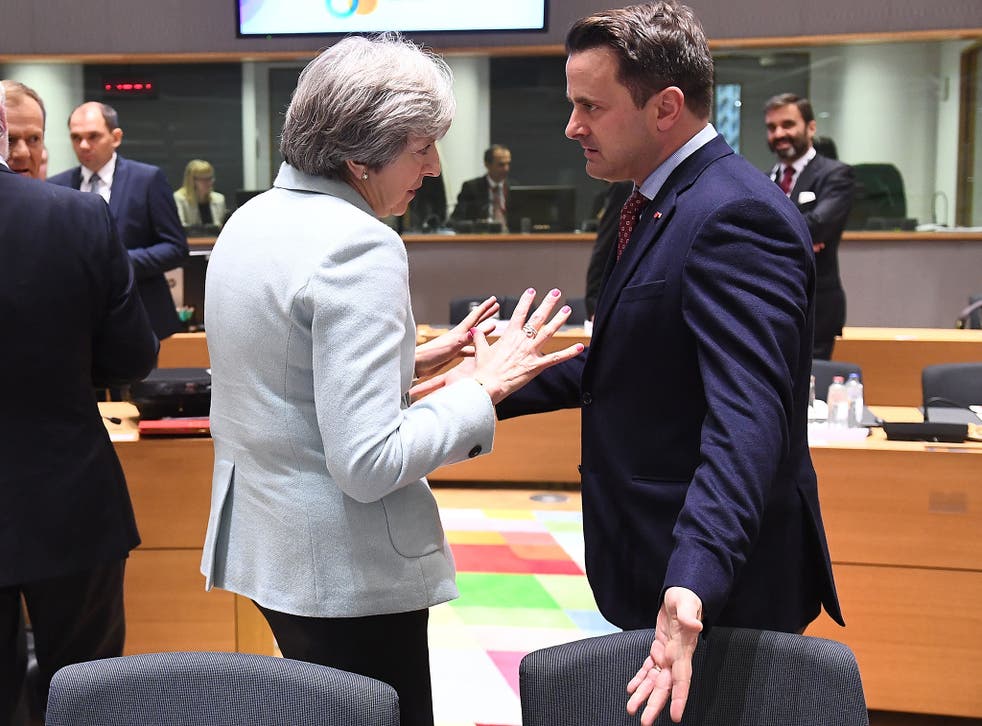 A European Union leader has warned that the UK will be unable to renegotiate a new Brexit deal if Parliament votes to reject the one struck by Theresa May next year.
The suggestion that the UK could crash out without a deal if MPs refused to back what Ms May returns with comes after the Government lost a key vote in the House of Commons that saw Tory rebels team up with Labour to ensure MPs get a vote.
Arriving at a European Council summit in Brussels on Thursday just hours after Ms May's defeat, Xavier Bettel, the prime minister of Luxembourg, said the UK would not be given the opportunity to renegotiate.
"No," he told reporters when asked. "To think Theresa May will negotiate something, we will negotiate something, and then again [Ms May] will go back to Westminster is not good for the position of the negotiations.
"Westminster should trust that Theresa May will do the best for the UK. Westminster shouldn't, even before we start negotiations to have in their heads that they don't trust the prime minister."
He added: "This is not good for Theresa May ... as soon as she negotiates something she will have to go back to London to get approval from her Parliament and this is not making her life easier."
"This doesn't change anything on the agenda, it's just going to make it more complicated for the United Kingdom government."
Also arriving at the same summit Mark Rutte, the Dutch Prime Minister, said he believed Ms May would still be able to pass the deal she negotiated.
"Yes, I do think so. I believe that in UK society and also in political circles there's widespread support for a reasonable negotiated exit of Britain from the European Union," he said.
National leaders are arriving in Brussels today for the two-day meeting, where they will start by discussing the EU's response to the migration crisis and a new bloc-wide defence pact.
On Friday, after Ms May has returned to the UK, leaders of the EU27 will discuss the progress made in Brexit negotiations and are expected to formally agree to move to the next phase of talks – following the recommendation of the European Commission and European Parliament.
On Friday leaders will also discuss plans for tighter integration of the European Union economies, with attention likely to be focused on a plan to create a fully fledged European Monetary Fund to replace the European Stability Mechanism (ESM). The ESM gives Eurozone members instant access to financial assistance when they have budget problems.
Though the Brexit element of the summit was initially expected to be straightforward, Ms May's defeat last night has added an extra element to proceedings – raising concerns in European capitals that the PM might not be able to enforce whatever deal she negotiates.
The Prime Minister is expected to speak to leaders at a working dinner on Thursday evening before flying back to the UK.
Brexit: the deciders

Show all 8
Following Ms May's triggering of Article 50 in March this year the UK has until March 2019 before it automatically leaves the bloc. This period can only be extended by a unanimous vote of the European Council – a meeting of all the EU's national leaders.
There is no legal consensus on whether Article 50 is unilaterally revocable, though Council president Donald Tusk has previously suggested in passing that negotiations could end in "no Brexit".
Join our new commenting forum
Join thought-provoking conversations, follow other Independent readers and see their replies