Britain open to terrorist drone attacks due to lax aviation rules, experts fear
Exclusive: There are fears they may target nuclear plants or attempt to bring down passenger aircraft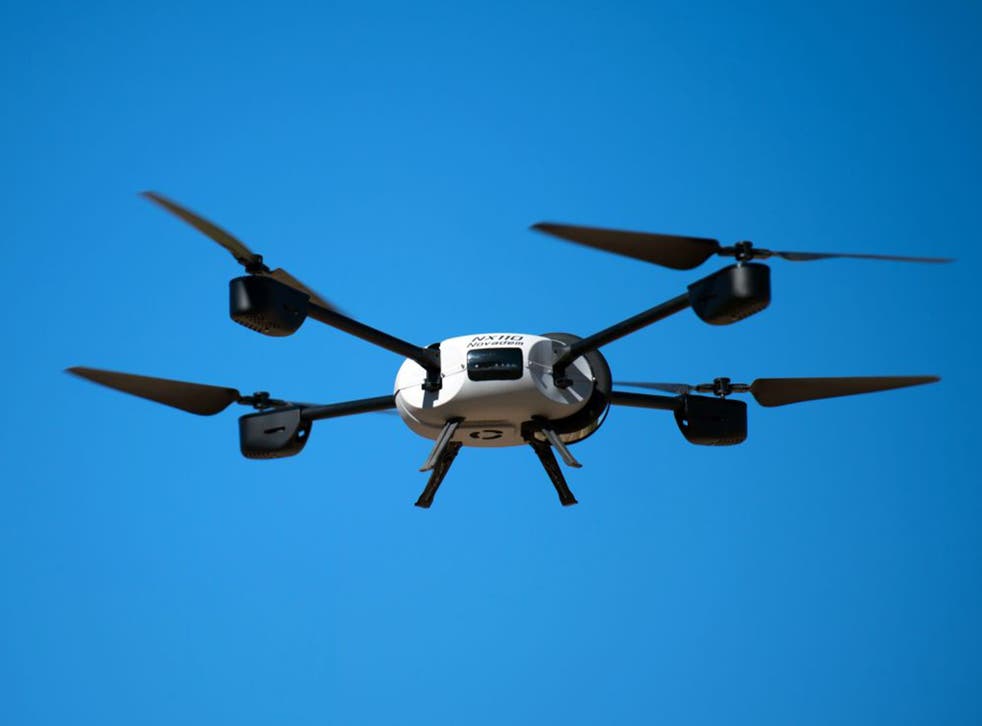 Terrorists could use swarms of drones to bring down passenger aircraft, disperse chemical or biological weapons and target a nuclear power plants in Britain because of our lax aviation rules.
The stark warning comes from former Labour security minister Lord West, who is urging tougher laws to stop jihadists taking advantage of the "march of drone technology" to pull off a low-cost, high-impact attack using drones available for just £300 on the high street.
In particular, security experts fear that terrorists could use small drones to bring down an airliner over the centre of a British city.
Lord West has tabled an amendment to the Government's Counter-Terrorism and Security Bill to create a specific offence of using a drone for "the purposes of terrorism". The respected Labour peer and former senior Royal Navy commander is also calling for the establishment of more stringent "no-fly zones" for drones over sensitive sites, including nuclear plants and airports.
Lord West, who is a member of the All Party Parliamentary Group on Drones, told the Independent: "The march of increasingly affordable and sophisticated small drone technology means that we do really need to think about how we protect ourselves.
"These drones are so cheap that terrorists will be able to buy many of them, practise and make repeated attacks. Airline pilots are worried, and the fear is that a 20kg drone from a the high street packed with 20lbs of explosive could easily bring down a jumbo over east London on its approach to Heathrow."
An unmanned drone attack would have huge symbolic value to Islamic extremists because of their use by the US and the UK in countries such as Pakistan, Afghanistan, Iraq and Syria.
Lord West's amendment, which will be debated on Monday, follows a Birmingham Policy Commission report by Prof David H Dunn and Sir David Omand, the former head of the GCHQ, which warned that drones could be used by terrorists as flying bombs to take down passenger aircraft.
In July, a drone flew within 20ft of an Airbus A320 as it landed at Heathrow Airport. The drone was not picked up on radar and its operators could not be traced in an incident that Prof Dunn said exposed a "gaping hole" in Britain's security.
The Civil Aviation Authority can prosecute people who fly drones into aircraft, crowds of buildings, but experts including the British Airline Pilots Association (Balpa), want it to be more rigorous in enforcing the rules. They have also called for drone no fly zone near airports.
Lord West said: "Small drones under 20kg are barely regulated by the CAA. As the Birmingham Policy Commission report says, existing regulation is driven by the UAV market and designed to be enabling: but there is a serious risk drones can be equipped with improvised explosive devices or used as a means of dispersing chemical or biological agents."
The warning from the Labour peer comes as concerns have been raised by drone campaigners of an alleged "culture of secrecy" in the Government's working group setting policy on drones.
Tom Watson MP, chair of the APPG, said: "Lord West has raised a very important issue that needs to be addressed. The government must now respond in full to this proposal for specific criminal offences and no-fly safe havens. The Remotely Piloted Aircraft Systems Cross Government Working Group cannot determine the risk posed by misuse of drones, or response to it, in secret."
The working group has refused requests for information from MPs, prompting a complaint to the Information Commissioner's Office. Dan Carey, a solicitor with Deighton Pierce Glynn representing the APPG on Drones, said: "Not only has the APPG's Freedom of Information request to the RPAS Cross Government Working Group been refused, but we have had to argue with the Information Commissioner to receive even a summary of the Government's reasons for refusing to disclose them. The APPG's FOIA appeal will continue, but it is clearly time for public debate, not just debate in secret."
A Home Office spokesperson said: "We will respond formally to the amendment when it is debated in the House of Lords next week."
Join our new commenting forum
Join thought-provoking conversations, follow other Independent readers and see their replies