Britain to take more refugees as Cameron bows to pressure after more than 100,000 thousand back our campaign
An announcement - possibly involving Britain accepting thousands of refugees from UNHCR camps on the border of Syria - is expected in the next 24 hours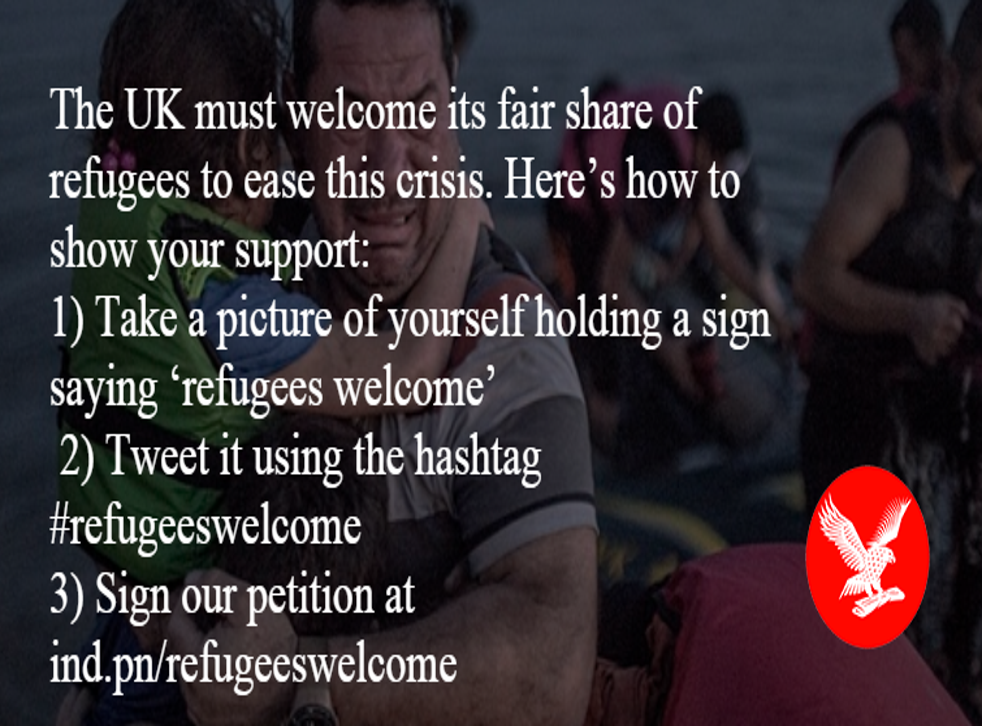 David Cameron is under intense pressure to fulfil Britain's moral obligation to provide safe haven for tens of thousands of desperate refugees struggling to reach safety in Europe.
By late on 3 September more than 126,000 people had signed a petition from The Independent demanding he abandon his refusal to accept more refugees fleeing war and persecution, after the publication of horrifying photos of a dead Syrian boy washed up on a Turkish beach pricked the national conscience.
As ordinary Britons and politicians of all parties came forward to demand the Government adopt a more humane response to the migrant crisis, Downing Street indicated that some kind of climb-down was imminent.
The refugee crisis - in pictures

Show all 70
A No 10 source told The Independent: "When we say we keeping the situation under review you can take that mean that there will be action."
An announcement - possibly involving Britain accepting thousands of refugees from UNHCR camps on the border of Syria - is expected within the next 24 hours. The details will be closely scrutinised by refugee charities which have urged the UK to welcome tens of thousands of homeless Syrians.
The Independent can also reveal that the British Red Cross is launching a major appeal for donations, after it was inundated with offers of support from members of the public desperate appalled by the images of the tiny body of Aylan Kurdi.
Mass demonstrations are planned across the country this weekend and thousands of people have posted images on social media of themselves holding a "refugees welcome" placard.
Boris Johnson said it was Britain's "moral responsibility" to take those fleeing persecution while significant number of backbench MPs came out to criticise the Government's stance. Privately some ministers said they had been lobbying behind the scenes to get the Prime Minister to change his mind.
The Government has faced criticism from other European capitals over its failure to accept Britain's "fair share" of up to 160,000 refugees who are set to be re-settled under an emergency EU scheme.
Ministers have also refused to join a UN programme for resettling the most vulnerable refugees, instead setting up its own programme that has admitted just 216 vulnerable Syrians over the past year. By contrast, Germany has accepted 35,000 Syrians through the UN programme, Canada more than 10,000, Australia 5,600 and Switzerland 3,500.
Nils Muinieks, the Council of Europe's Commissioner for Human Rights, said: "I am seriously concerned by the British Prime Minister's position that the UK should not provide protection to more refugees from the Middle East," he said "The truth is that at the moment the UK is doing much less than other European countries."
European Council president Donald Tusk, seen as an ally of Mr Cameron, upped the pressure by arguing that "all EU members" needed to take their share of refugees. Reports from Brussels suggested that, under a proposed new EU-wide new deal, any members states that refused to accept their fair share of refugees would have to make a financial contribution.

Chancellor George Osborne was sent out to say the that number of refugees Britain takes is "under review". Earlier Mr Cameron himself refused to say whether Britain would increase the number of refugees, saying that he "deeply moved" by the images of Aylan Kurdi and that Britain would fulfil its "moral responsibilities."
A significant number of Mr Cameron's own backbenchers came out to implicitly criticise his response so far. Nadhim Zahawi, a Conservative MP who sits on the Downing Street policy board, said the image of a dead three-year-old being washed up on European shores was a source of "shame".
Acting Labour leader Harriet Harman said that Britain should be willing to accommodate up to 10,000 refugees. Writing on the Independent's website Jeremy Corbyn, the frontrunner in the Labour leadership race, accused Mr Cameron of "cowardice". "The politicians who pander to prejudice by warning of being "swamped" or of the coming "swarm" offer no solutions," he wrote.
In Scotland, Nicola Sturgeon said she was in tears when she saw the picture of the drowned Syrian boy, and that she was "very angry, at the 'walk on by on the other side' approach of the UK government".
The full horror of the human tragedy unfolding on the shore of Europe prompted a groundswell of public pressure and grassroots offers of help, ranging from spare rooms from grandmothers in the West Country to volunteers taking essential humanitarian supplies to Calais.
Justin Forsyth, chief executive of Save the Children, said: "The Independent's campaign is a timely and important intervention. Britain has a proud history of welcoming refugees in the most desperate times and we need to do so again now."
Save the Children has called for Government to back its "five point plan" to avert further tragedies. It calls for a regional response to the tragedy, a major search and rescue operation by the Royal Navy, more safe and legal routes for asylum seekers into Europe, proper reception centres to sort asylum seekers from economic migrants and a major Europe-wide resettlement programme.
Join our new commenting forum
Join thought-provoking conversations, follow other Independent readers and see their replies