Brexit: UK's WTO status 'could be blocked over territorial disputes'
Exclusive: Countries with which the UK has territorial disputes – such as Argentina and Spain – could use the opportunity to force compromise on other issues, the Institute of Export has warned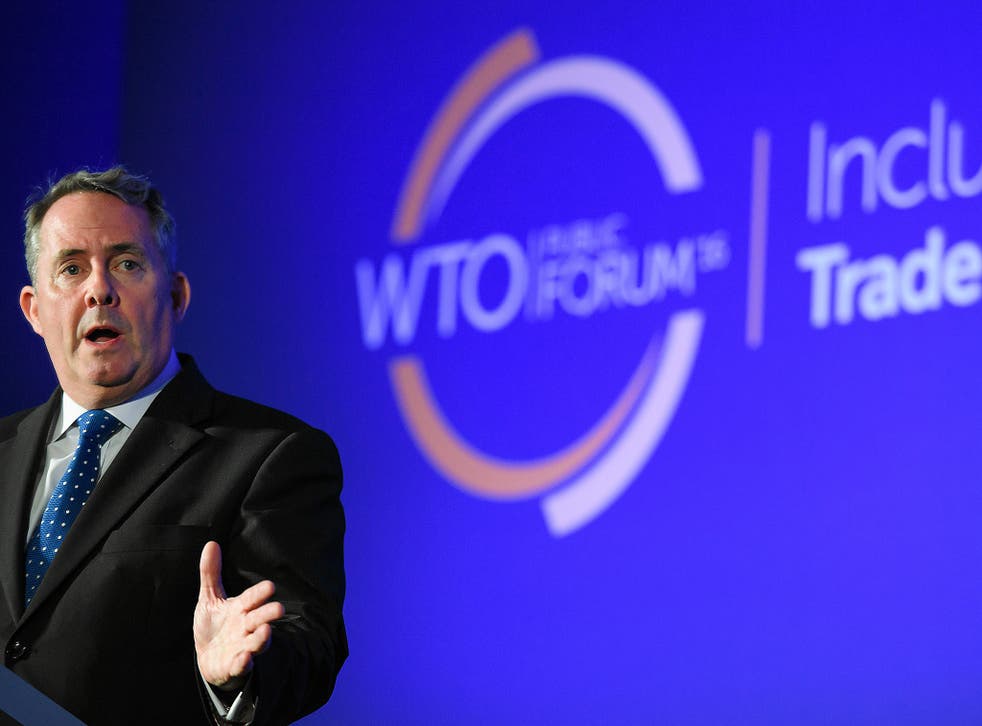 Brexit Britain's drive for a new World Trade Organisation settlement could be blocked by countries with which the UK has territorial disputes such as Argentina or Spain, experts warned today.
The UK will need unanimous agreement from all the WTO's 160-odd members for its new "schedule" to set baselines for future trade deals.
But specialists at the Institute of Export told The Independent some countries may use the opportunity to force the UK to compromise on other issues.
It came as Labour called for a "transition phase" for Britain at the WTO to give time for the UK to lock in a new settlement after Brexit.
International Trade Secretary Liam Fox announced earlier this month that he had now started the process of negotiating the UK's new WTO schedule.
Currently the terms of the UK's status at the WTO are governed by the EU's schedule. For Britain to negotiate post-Brexit deals within WTO rules, it will need its own document setting out the parameters for future agreements.
Lesley Batchelor, director general of the IOE, said Dr Fox was right to start the process of securing a new schedule now, but that it could be difficult and protracted.
She said: "The challenge is that the UK wants to replicate the agreement, the schedule, that we had as a member of the EU, with other countries.
Brexit Concerns

Show all 26
"That's fine and makes absolute sense. The only problem is that it could get blocked because we are looking for a consensus with more than 160 countries.
"It could cause us problems and that depends on how we manage the smaller countries, those with whom historically we may have had problems before. Argentina is one example where we may face an issue."
The UK clashed with Argentina over the Falkland Islands – which the South American country calls Las Malvinas – under previous President Cristina Fernandez de Kirchner, but relations have improved since Mauricio Macri took over a year ago.
The country's diplomatic officials told The Independent they want "an open and internationally connected Argentina, willing to identify business opportunities" and to cooperate with Britain and find "common ground in areas such as infrastructure and renewable energies". But as recently as October the country complained about military exercises Britain was planning in the disputed islands.
Meanwhile, each of the EU's member states will also have opportunities to stymie the UK's WTO schedule. Spain recently heightened its rhetoric over Gibraltar, even presenting the UK with a plan for joint sovereignty that was rejected by the British Overseas Territory.
Brexit Secretary fails to keep a straight face about 'always intending' to publish Brexit plans
But Ms Batchelor underlined that any country could make demands, adding: "In our strategies around the world, we haven't always thought it through when it comes to the little people, the smaller countries. This could be an opportunity for them to ensure we enter into a diplomatic relationship to say the least, or some sort of dialogue over a particular issue.
"That could have an impact in two ways. It means the process could take longer because we need to have everyone on board; and it will also mean that we may have to make concessions."
Brexiteers have often cited the option of falling back on to WTO rules if the UK is unable to secure a deal with the European Union. Ms Batchelor said Britain would be under additional pressure to get its WTO schedule in place before Brexit happens, currently set for March 2019.
If the country were to leave the EU without a deal and also without a WTO schedule in place, it would be "in limbo", she said.
Angela Merkel: Theresa May cannot 'cherry pick' Brexit terms
"Time is ticking now and as people get closer to the two-year cut-off, the deals will be less and less in our favour and more and more in favour of the people we're dealing with.
"They know we want to get things sorted out, they know our timescale. That's the trouble. We are not in a blind negotiating position, or in an even-handed one. We will have to compromise.
"This idea that any trade deal works with us being in the dominant position went out the window when we stopped using the Army as a sales force for the East India Company."
Shadow International Trade Secretary Barry Gardiner said: "There may well be individual countries who feel that they are going to be disadvantaged by [the UK's new schedule] and will want to use it for leverage on other issues.
"This is an extraordinarily complex process. If it is the route the Government is going down, it is one where we need a gradual phasing time scale to get to agreement in the WTO. It's right that they have begun this process, but we will need a transition phase after leaving the EU, whilst all of this is finally negotiated within the WTO."
Theresa May aims for 'red, white and blue Brexit'
Liberal Democrat leader Tim Farron argued that being settled at the WTO would be even more critical if the UK were to leave the single market.
He said: "If that were to happen then the double whammy to Britain's economy of being torn out of the single market and being cast lose from any say at the WTO could do huge damage to our economy.
"The time for meaningless platitudes of wanting a 'red, white and blue' Brexit is over. Instead of spending time coming up with ever more inane slogans, Theresa May's Government must spell out its plan and let people have a real say on it in a referendum."
The Government redirected The Independent to the statement made by Dr Fox earlier this month, which said: "When we leave the EU we will need UK-specific schedules.
"In order to minimise disruption to global trade as we leave the EU, over the coming period the Government will prepare the necessary draft schedules which replicate as far as possible our current obligations.
"The Government will undertake this process in dialogue with the WTO membership. This work is a necessary part of our leaving the EU. It does not prejudge the outcome of the eventual UK-EU trading arrangements."
Join our new commenting forum
Join thought-provoking conversations, follow other Independent readers and see their replies