Budget 2015: Prospect of strikes looms after public sector pay cap prompts fury from the unions
Pay rises will be limited to 1% a year four the next four years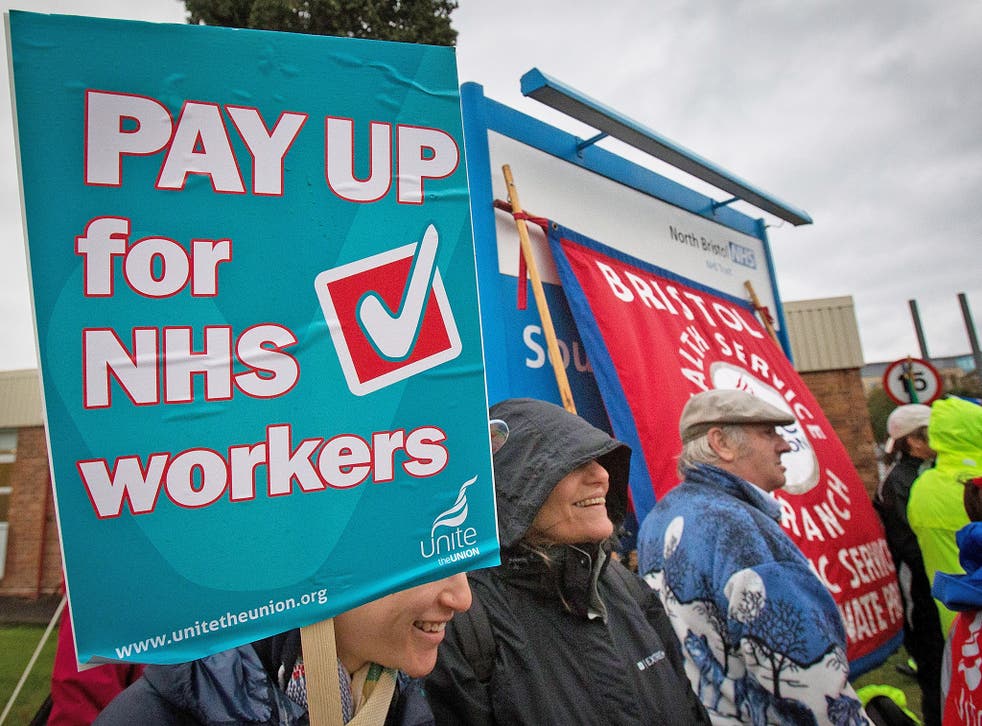 The prospect of strikes closing schools and disrupting hospital services moved a step nearer as Chancellor George Osborne announced a four-year curb on public sector pay - limiting rises to just one per cent a year.
Unions reacted with fury to the move, which is likely to amount to real terms pay cuts for public sector staff, warning that it could lead to a staffing crisis across the public sector.
Britain's biggest nurses' union the Royal College of Nursing (RCN), which has already threatened strike action if the Government attempts to cut out-of-hours pay, said the annual cap would be met with "shock".
The move could also increase pressure on the leadership of the National Union of Teachers to trigger a clause in an ongoing dispute over teachers' pay, workload and pensions, allowing them to resort to industrial action.
Mr Osborne said there was a "simple trade-off between pay and jobs in many public services".
"I know there has already been a period of pay restraint. But we said last autumn there we would need to find commensurate savings in this parliament," he said.
"So, to ensure we have public services we can afford and to protect more jobs, we will continue recent public sector pay awards with a rise of one per cent per year for the next four years."
According to budget documents released yesterday, the cap, effective from 2016/17, will save approximately £5bn by 2019/20.
It means public sector pay increases are highly unlikely to keep pace with inflation, forecast by the Office for Budget Responsibility to rise to one per cent by 2016 and continue rising towards the two per cent target over the next five years.
Dr Peter Carter, general secretary of the RCN, said that the decision would have "serious consequences" for nurses and patients.
"Nurses are already feeling the effect of what will now be a decade of severe pay restraint and subsequent reduced living standards," he said. "This decision will make the situation worse as nurses realise they are not valued."
The British Medical Association accused Mr Osborne of a "cynical disregard for NHS staff" and teachers' leaders warned the cap would exacerbate already difficult recruitment problems to the profession.
Mary Bousted, general secretary of the Association of Teachers and Lecturers, said: "The Chancellor cannot continue to hold teachers' pay behind private sector pay and expect teaching to remain an attractive profession.
"It would be a recipe for disaster to have fewer teachers when it's expected that there will be thousands more pupils in schools."
Health unions took industrial action last year over the Government's decision to ignore independent pay review bodies' recommendation of an across the board one per cent pay rise for NHS staff. Teachers also staged a series of one day strikes during the last Parliament in protest at pension and pay cuts and their workload.
Dave Prentis, general secretary of the UNISON union, warned the pay rise cap would lead many staff to leave hospitals, schools and local councils.
"Britain won't have public services fit for 21st century needs, unless wages for public servants are high enough to attract the best recruits," he said.
Nigel Edwards, chief executive of the health think-tank the Nuffield Trust said that holding down pay "indefinitely" would likely prove a "false economy" as private sector wages continued to rise.
"For most doctors and nurses whose wages will be cut in real terms, low morale and the pull of the global marketplace will make it ever harder to fill posts," he said.
The RCN has already threatened strike action if the extra pay nurses receive for working weekends and evenings is cut to enable the NHS to afford the enhanced seven-day services promised by the Government. The NHS pay review bodies are due to report to the Government shortly with proposals on how to achieve greater seven-day access.
Daniel Mortimer, chief executive of NHS Employers, said his organisation would be "urgently seeking to speak with our trade unions" after publication of the proposals, which may include reductions in out-of-hours pay.
"Our discussions will now need to be set against the context of [yesterday's] announcement from the Government of continued public sector pay restraint and we recognise that these discussions are now likely to be more difficult," he said.
Join our new commenting forum
Join thought-provoking conversations, follow other Independent readers and see their replies