Budget 2015 – housing: Osborne promises first-time buyers 25% top-up to deposits
The Budget featured a relaxation of previous Conservative austerity budgets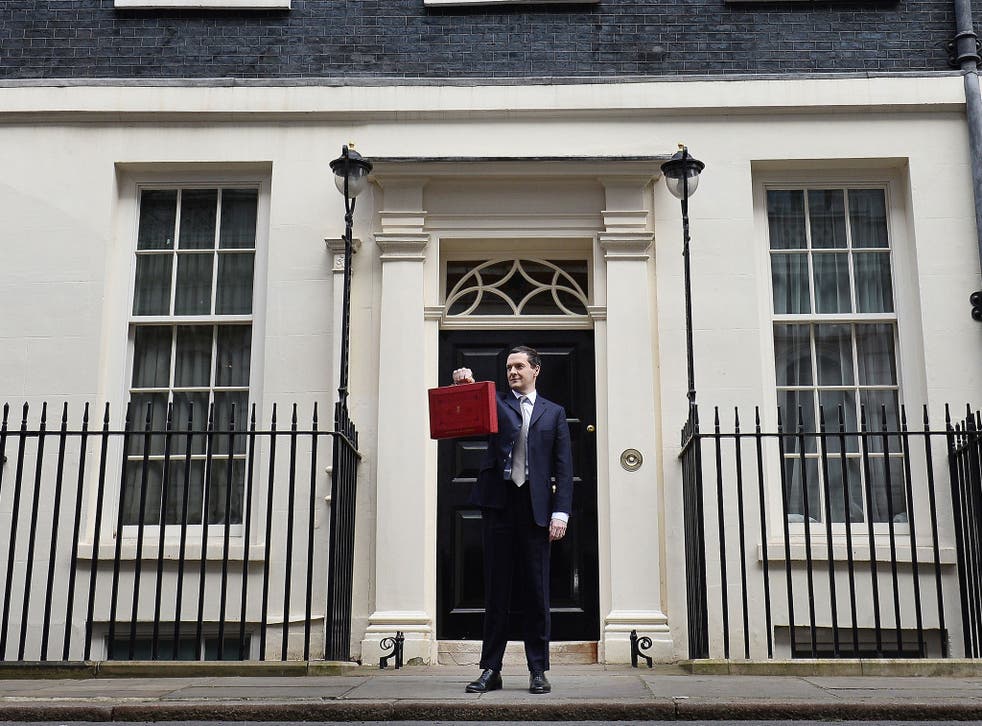 First-time home buyers saving for a deposit will be given a 25 per cent financial top up from the Government, George Osborne announced today, in a give-away election budget designed to outflank Labour.
He also announced a series of eye catching give-aways targeted at key voters.
These include:
• New Help to Buy ISAs where the Government will give people saving for a deposit £50 for every £200 they save up to a maximum of £12,000.
• Abolishing tax on income from savings for millions of people. Under the plan the first £1,000 of interest on savings will be tax-free.
• Cutting duty of beer by a penny a pint and freezing petrol duties for a further year.
• Increasing the personal tax free allowance to £11,000 year by 2015 – benefiting 27 million people and taking four million out of income tax altogether.
• Increasing the rate at which the 40p tax rate kicks in by above inflation for the first time which he said was a "down payment" on a Tory election pledge to increase it to £50,000.
Budget 2015: George Osborne unveils pre-election package

Show all 7
Delivering his last pre-election Budget, Mr Osborne also revealed improved growth projections pencilled in by the independent Office for Budget Responsibility.
He said that borrowing is set to be £5 billion lower than expected over the next three years while the level of national debt is also expected to start falling earlier than previously thought.
Meanwhile he cut his plan to run a £23 billion surplus for 2019/20 to £7bn – in a move designed to counter Labour's charge that the Tories would cut spending back to levels not seen since the 1930s.
The Chancellor revealed that the OBR expects gross domestic product (GDP) to grow by 2.5 per cent this year, up from a previous estimate, at the time of last December's Autumn Statement, of 2.4 per cent.
Meanwhile, underlying borrowing, which stood at £97.5 billion in 2013/14, is expected to fall to £90.2 billion for the current fiscal year to the end of this month - down from a previously expected £91.3 billion.
For 2015/16, it is expected to be £75.3 billion, down from £75.9 billion, while in 2016/17 the deficit is pencilled in at £39.4 billion, down from £40.9 billion.
The figure for 2017/18 is expected at £12.8 billion, down from £14.5 billion, while in 2018/19 there is expected to be a surplus of £5.2 billion, up from £4 billion. However the previously forecast £23.1 billion surplus for 2018/19 is revised down to £7 billion.
Meanwhile, debt as a proportion of GDP is expected to fall in the next fiscal year to 80.2% after a forecast 80.4% for 2014/15.
Mr Osborne said this would mean he meets the debt target set out in his first Budget, with the current Parliament ending with Britain's national debt share falling. OBR figures had previously forecast that it would not start falling until 2016/17.
The Chancellor told MPs: "Because the national debt share is falling a year earlier than forecast at the Autumn Statement, the squeeze on public spending ends a year earlier too.
"In the final year of this decade, 2019-20, public spending will grow in line with the growth of the economy. We can do that while still running a healthy surplus to bear down on our debt.
Mr Osborne said it was a Budget that "takes Britain one more big step on the road from austerity to prosperity".
"Britain is walking tall again," he said with faster growth than any major economy.
But Labour leader Ed Miliband said there had never been such a large gap between the Chancellor's rhetoric and the reality of people's lives, labelling Mr Osborne's speech "the Budget that can't be believed".
"Never has the rhetoric from the chancellor and people's lives been wider," he said.
"It's a recovery for the few from a government of the few."
He condemned Mr Osborne for failing to mention investment in the NHS or public services.
And he told MPs: "This is a Budget people won't believe from a Government that is not on their side - because of their record, because of their instinct, because of their plans for the future."
Join our new commenting forum
Join thought-provoking conversations, follow other Independent readers and see their replies