Budget explained: Key points at a glance on the economy, Brexit and housing
GDP growth downgraded and £3bn for Brexit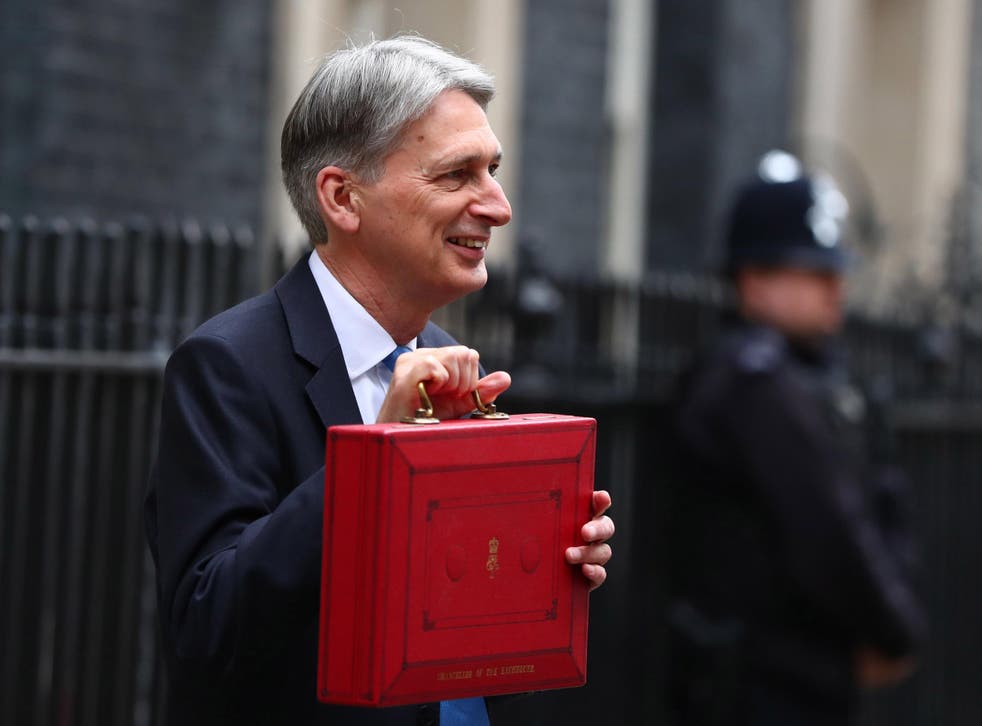 Philip Hammond has delivered his Budget for Autumn 2017, revealing economic growth forecasts have been downgraded amid economic uncertainty following the Brexit vote.
But the Chancellor also had good news for some, including first-time buyers, with an announcement that stamp duty on houses costing £300,000 or less will be scrapped.
Here are the key measures announced:
Taxation
The income tax-free personal allowance is to rise to £11,850 and the higher rate threshold to £46,350 in April 2018.
That compares with the current personal allowance of £11,500 and higher rate threshold of £45,000.
The changes will leave the typical basic rate taxpayer £1,075 a year better off compared to 2010, the Government said.
The National Living Wage is also due to rise in April 2018 by 4.4 per cent, from £7.50 an hour to £7.83.
The Chancellor is setting aside £3bn over the next two years for Brexit preparations and stands ready to allocate further sums if and when needed, he said.
The major spending pledge for the EU withdrawal process comes after Mr Hammond confirmed the Government had already spent £700m on Brexit preparations.
"No one should doubt our resolve," he said.
Mr Hammond previously faced criticism for refusing to release large amounts of money to prepare for a no-deal Brexit until the last possible moment.
Budget 2017: All you need to know
But speaking today, he said the £3bn would be used to prepare for "every possible outcome".
Extra cash is expected to go to the environment and transport departments, as well as the Home Office to fund changes to immigration and customs procedures, among others.
The Office for Budget Responsibility (OBR) expects debt to peak this year and then gradually fall as a share of Gross Domestic Product (GDP) – a key indicator of the strength of the UK economy, calculated as a measure of the market value of all goods and services.
Mr Hammond said this was a "turning point in our recovery".
Annual borrowing this year will hit £49.9bn, £8.4bn less than previously forecast. It is expected to fall to £25.6bn in 2022-23.
However, there was less positive news about the state of the economy. The growth forecast for 2017 has been downgraded from 2 per cent to 1.5 per cent. GDP has also been downgraded to 1.4 per cent, 1.3 per cent and 1.5 per cent in subsequent years before rising to 1.6 per cent in 2021-22.
Tobacco duty will rise at inflation plus 2 per cent, with an additional 1 per cent duty on hand-rolling tobacco this year, Mr Hammond announced.
Legislation to increase duty on high-strength low-quality alcohol will be drafted from 2019, but duties on other ciders, wines, spirits and on beer have been frozen.
The Government will introduce a new duty band for still cider and perry from 6.9 per cent to 7.5 per cent strength to target white ciders. But legislation will be brought forward next year to allow producers time to lower the strength of their alcohol to avoid the higher charge.
Budget 2017: Cigarette packs prices to increase by 2% thanks to Hammond tax rise
Higher duties come into effect at 6pm on Wednesday 22 November.
No changes were outlined to the gambling industry.
The Chancellor said hs Autumn 2017 Budget would aim to "support more housebuilding, raising housing supply by the end of this Parliament to its highest level since 1970".
To do that, he announced at least £44bn of capital funding, loans and guarantees over five years to support house-building and deliver 300,000 new homes a year.
Arguably his biggest move of this year's Budget was the abolition of stamp duty for all first-time buyer home purchases up to £300,000.
Budget 2017: Chancellor abolishes Stamp Duty
The scheme is expected to save 80 per cent of first-time buyers from paying stamp duty, and in expensive areas of the country such as London, the first £300,000 of the cost of a £500,000 purchase will be exempt.
While this was designed to increase home ownership among young people, many of whom have been priced out of the market, analysts warned that the proposal could have the opposite effect.
The OBR said the move is expected to boost house prices by around 0.3 per cent, with most of the increase happening in 2018.
Taxes or charges could be levied on single-use plastics to help the UK lead the way on tackling "the scourge" littering the environment, the Chancellor has signalled.
Mr Hammond said he and Environment Secretary Michael Gove would investigate how the tax system and charges on single-use plastic items could reduce waste.
He said the move would "build on the success of the existing plastic carrier bag charge", which requires shops with 250 or more staff to charge 5p per bag.
Other changes include making operators of illegal waste sites liable for landfill tax, and an extra £30m over the next four years to help the Environment Agency tackle illegal dumping and "reduce the harm caused to the environment".
However, Mr Hammond disappointed environmentalists by stopping short of announcing concrete measures on reducing use of plastics after reports at the weekend suggested he was planning to target bubble wrap and polystyrene takeaway boxes.
John Sauven, executive director of Greenpeace, said: "The Chancellor has shown more support for tackling single-use plastics that are harming our oceans. His call for evidence should be followed by swift action in the new year."
On air quality, Mr Hammond announced £220m for a new Clean Air Fund.
But Friends of the Earth accused the Chancellor of showing a "shocking disregard for the nation's health by not delivering a budget which goes far enough to clean up the UK's toxic air". In particular, they criticised Mr Hammond for not promising £1.2bn campaigners say is needed to deliver Clean Air Zones in the country's most polluted towns and cities.
An additional £76m will be spent on flood and coastal defence schemes over the next three years.
George Osborne 2016 budget at a glance

Show all 8
An extra £2.8bn has been pledged in "exceptional" one-off funding for the health service to cope with immediate pressures up to 2020, the bulk of which will be delivered in 2018/19.
This will be broken down into £350m this year, which will be available immediately "to help NHS trusts plan for winter", £1.6bn for 2018/19, and the rest in 2019/20.
It comes after the NHS England chief executive Simon Stevens asked for the £350m a week pledged by Brexit campaigners.
Budget 2017: Hammond promises NHS £350m patch for winter
The announcement also included a commitment to funding a pay rise for NHS nursing staff, but only if negotiations on wider NHS pay reform are successfully concluded.
"The NHS is under pressure right now," the Chancellor acknowledged.
Fuel
For motorists, the Chancellor confirmed the annual fuel duty rise for both petrol and diesel would be cancelled again – the eighth year in a row it has been held at 57.95p per litre.
Freezes since 2011 will have saved the average driver a cumulative £850 by April 2019, compared to what they would have paid under the pre-2010 plans, said Mr Hammond, in what will be seen as an incentive for people to drive petrol cars.
​But owners of new diesel cars will face higher taxes unless their vehicles meet the toughest emissions standards, with the money used to pay for a £220m Clean Air Fund to improve air quality.
However, Greenpeace said Mr Hammond's announcements on energy and fuel made it "one of the least green budgets ever".
Mr Sauven said: "Despite the Chancellor's pride in the UK's climate leadership, hidden away in the unannounced text of the Budget, he quietly revealed this was one of the least green budgets ever, because there will be no new money for renewables until at least 2025.
"This is the death knell for new renewable energy like tidal, wave and geothermal technology, despite the huge economic opportunities they could bring.
"Instead, his Budget focused on propping up dirty, incumbent industries of the past – from North Sea oil and gas, to polluting diesel cars.
"The Chancellor's increase to vehicle excise duty, while making the right noises, was far too weak to shift the market away from polluting diesel vehicles and reduce toxic air pollution that is harming our nation's health."
Electric vehicles are being supported through the establishment of a new £400m charging infrastructure fund, an extra £100m in plug-in-car grant, and £40m for charging R&D.
The Budget also details a £1.7bn "Transforming Cities Fund" to improve local transport connections, an additional £45m this year to tackle around 900,000 potholes across England, and extra money for trains.
Mr Hammond also confirmed plans to extend the Young Person's Railcard to those aged 30 or under which will be implemented in spring.
Budget 2017: Chancellor announces new millennial railcard and cut to long-haul flight duty
Improvements to mobile and internet connectivity on key transports routes including the Trans-Pennine route between Manchester, Leeds and York were unveiled.
Science
Investment of £500m in a range of technological initiatives ranging from artificial intelligence, to 5G and full fibre broadband.
Budget 2017: Hammond promises £500m for tech industry and a £2.5bn investment fund
There will also be financial support for driverless vehicles, with Mr Hammond saying he wanted to create "the most advanced regulatory framework for driverless cars in the world".
Regions
A new £1.7bn Transforming Cities Fund will give elected mayors the "firepower" to deliver local priorities, Mr Hammond said.
Decisions taken in this Budget also mean £2bn more for the Scottish Government, £1.2bn more for the Welsh Government and over £650m more for a Northern Ireland executive.
But London's mayor, Sadiq Khan, reacted angrily to the Chancellor's plans, describing them as the "most anti-London Budget in a generation".
He criticised the Chancellor for failing "to even mention counter-terrorism, policing and security in a year when London has been victim to four terrorist attacks".
Education (in England)
Some £40m will be made available to train maths teachers, and the number of trained computer science teachers will be tripled to 12,000.
Schools and colleges will be rewarded with £600 for every extra pupil who decides to take maths or further maths A levels or Core Maths – with over £80 million available initially.
But the Government has been accused of failing to invest in education, after today's Budget contained no extra cash for school coffers.
One union leader said that while any extra funding is welcome, it is "a drop in the ocean compared to what is needed to safeguard educational standards".
Shadow education secretary Angela Rayner said: "The Chancellor has already overseen the steepest cuts to school funding in a generation and a cap on public sector pay that has led to teachers leaving the classroom in record numbers.
"If Philip Hammond was serious about addressing the challenges in our schools he would have reversed the cuts his Government have imposed since 2015, protect their budgets in real terms, and abolish the public sector pay cap so we can retain and recruit the teachers and support staff that our schools desperately need."
Join our new commenting forum
Join thought-provoking conversations, follow other Independent readers and see their replies