Calais crisis: UK urged to take in more asylum seekers as fears grow that migrants may target Belgian ports
France calls on EU nations to tackle cause of chaos as migrants may target other ports
Henry Austin
Sunday 02 August 2015 20:55 Comments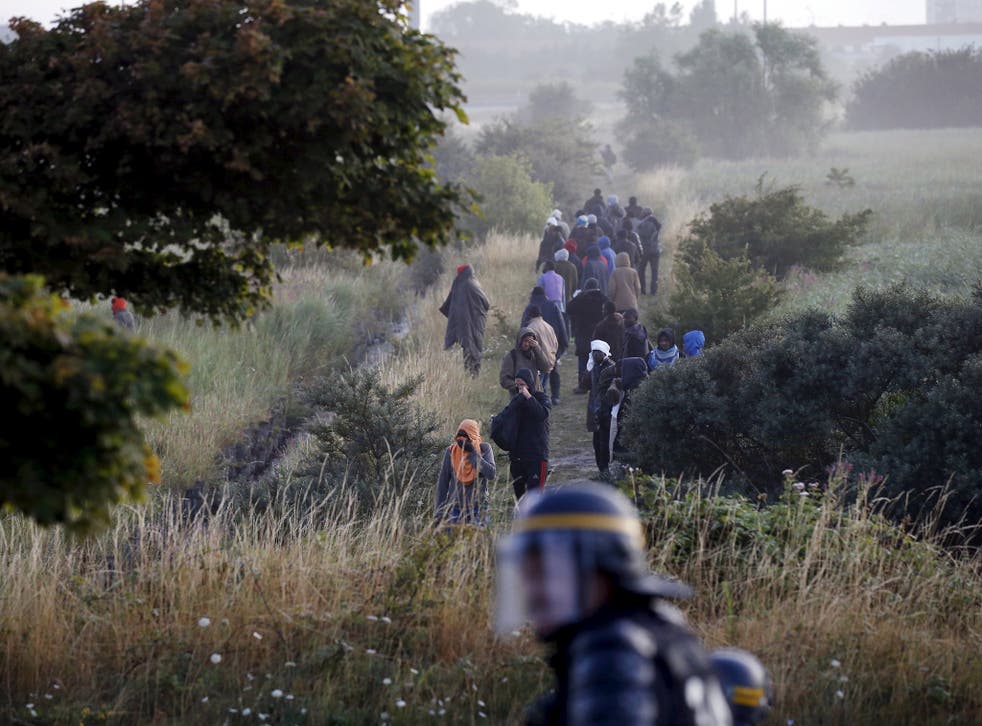 Britain has been urged to take in more asylum seekers as fears spread that heightened security in Calais could result in Belgian ports being targeted next.
After Home Secretary Theresa May and her French counterpart Bernard Cazeneuve called on other EU nations to tackle the root causes of the chaos, Sweden's migration minister criticised the UK, suggesting it "could do a lot more" to respond to the crisis.
Morgan Johansson told BBC Radio 4's World This Weekend that the situation in Calais showed "a system that is breaking down" adding the UK doesn't "want to take the responsibility that they should".
Meanwhile, Downing Street announced that the UK will fund additional private security guards, fencing and CCTV cameras to improve security at the terminal in Calais, while more French police are to be deployed to the border over the summer.
But that raised fears that the migrants would simply target other European ports such as Zeebrugge in Belgium.
There was also controversy over the cost to taxpayers of housing migrants who have arrived through the tunnel, after contractors Serco confirmed that around 100 were being accommodated in hotels in north-west England as increased numbers outstripped available places in the community.
The Home Office said that the use of hotels was "only ever acceptable as a short-term contingency measure".
Charities also branded the government "morally reprehensible" after the Immigration Minister James Brokenshire launched a new consultation to find ways of removing support from those whose claims have failed, while ensuring mechanisms are in place to protect children.
"The current system should not offer any perverse incentives for illegal migrants to lodge spurious asylum applications," he said.
Migrants can currently obtain accommodation and a £36-a-week support allowance which is removed if their application fails, although those with families continue to receive help.
In pictures: Calais crisis intensifies

Show all 20
The Refugee Council's head of advocacy, Lisa Doyle, said the charity had "grave concerns" about the proposals to remove support from "some of the most vulnerable families in the UK".
Another charity, Freedom From Torture, is also opposed to the proposals because "access to adequate welfare meant that families have chance of decent nutrition and well being", a spokeswoman said.
Professor Alexander Betts of the Refugee Studies Centre at the University of Oxford warned they could even risk breaching international human rights laws as people were forced into destitution by the benefits removal.
"There's a basic assumption within human rights law that as a government you have to provide economic rights for people who are on your territory," he said.
"There have been cases in the past of rejected asylum seekers taking governments in Europe to the European Court of Rights and being found against on the basis of destitution," he added.
In essence, Professor Betts said, the proposals could be a violation of international human rights law as it would remove "access to minimum economic rights and leave them in destitution."
Entry points: other routes to the UK
As security becomes tighter around Calais, fears have been raised that criminal syndicates and migrants will seek alternative routes into the UK. Between April 2014 and April 2015, 1,500 migrants were discovered at ports in Britain, according to Home Office figures.
In June, 68 migrants were found in truck containers arriving from Holland at Harwich, Essex, while Belgium's giant container port of Zeebrugge was the launch point for 35 Afghan Sikhs who were found in a metal container on the Tilbury docks last August.
After being locked in the box for more than 15-hours, 40-year-old Singh Kapoor was found dead. His wife and two sons survived.
Register for free to continue reading
Registration is a free and easy way to support our truly independent journalism
By registering, you will also enjoy limited access to Premium articles, exclusive newsletters, commenting, and virtual events with our leading journalists
Already have an account? sign in
Join our new commenting forum
Join thought-provoking conversations, follow other Independent readers and see their replies