Calais crisis: UN official slams the UK Government for accepting fewer refugees than neighbours
Peter Sutherland, the UN special representative on migration said any threat posed by migrants was 'exaggerated beyond belief'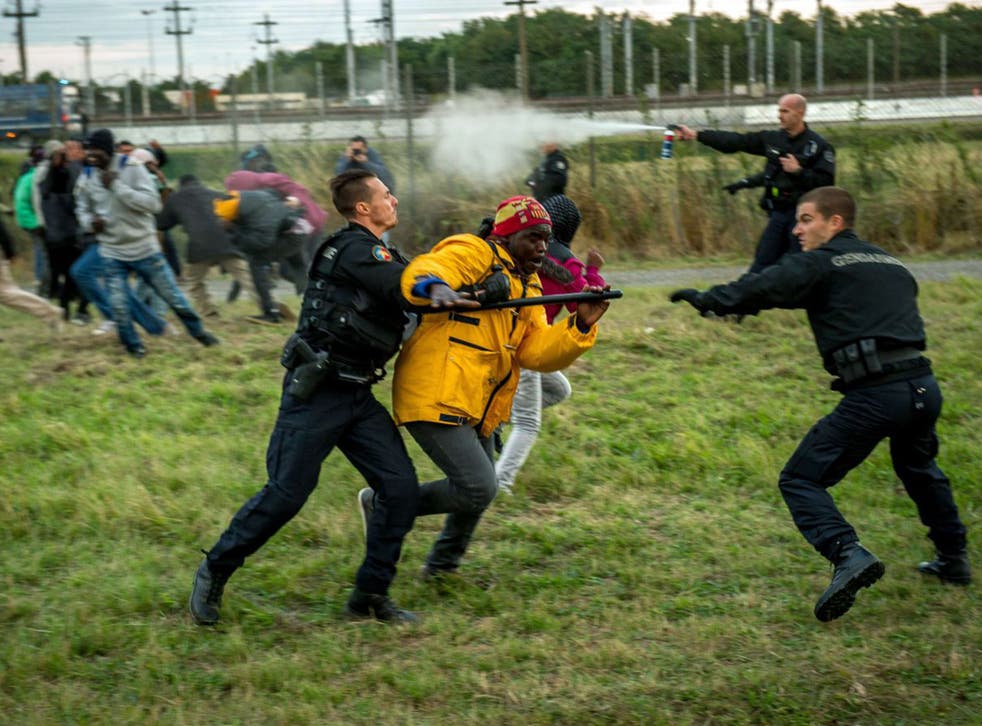 A senior United Nations official has sharply criticised the British response to the crisis in Calais, saying that the UK accepts far fewer refugees than its neighbours and any threat posed by migrants had been "exaggerated beyond belief".
Peter Sutherland, the UN special representative on migration, called for a change in policy as Prime Minister David Cameron was condemned by welfare groups and his opponents for describing migrants arriving across the Mediterranean as a "swarm".
The Channel Tunnel freight terminal was once more targeted on Wednesday night by groups of refugees trying to board trains bound for Britain. The incursions were the third night running that significant numbers had entered the site, often with fatal consequences after a young Sudanese man was killed on Tuesday - the latest of nine deaths since June.
Humanitarian groups questioned figures claiming that up to 3,000 people have "stormed" the Tunnel this week, saying that the official tally in fact represents multiple attempts by the same individuals and the numbers disrupting the site were not exceeding 500. In Kent, some 6,000 lorries last night remained in Operation Stack, awaiting passage to France after days of disruption.
Mr Sutherland said that claims in some quarters of the British media that the UK is facing an invasion of asylum seekers from Calais were calculated to "inflame tensions" over the issue.
He told Ireland's RTE Radio: "The fact remains last year the total approval in France of refugees was 68,000 - that is more than twice the figure of the UK.
"I find it quite amazing the accounts that are being given in the UK media in regard to Calais. Suggesting the UK is being flooded with asylum seekers and that this creates a real threat is absolute nonsense."
Highlighting the living conditions of the estimated 4,000 migrants in Calais, most of them crowded into a semi-official shanty town known as the "new jungle", Mr Sutherland added that the Government was "being very careful to ensure they do not come to Britain".
Mr Cameron had earlier vowed that Britain would not be a "safe haven" for illegal migrants and warned those without valid grounds for asylum would be removed. Speaking in Vietnam, the Prime Minister added: "This is very testing, I accept that, because you have got a swarm of people coming across the Mediterranean, seeking a better life, wanting to come to Britain because Britain has got jobs, it's got a growing economy, it's an incredible place to live."
In pictures: Calais crisis intensifies

Show all 20
Downing Street insisted Mr Cameron had been trying to emphasise the "scale" of migrant numbers entering Europe. But human rights groups condemned the Conservative leader's choice of language. Lisa Doyle, head of advocacy for the Refugee Council, said: "It's extremely disappointing to hear the Prime Minister using such irresponsible, dehumanising language to describe the desperate men, women and children fleeing for their lives across the Mediterranean Sea.
"This sort of rhetoric is extremely inflammatory and comes at a time when the Government should be focused on working with its European counterparts to respond calmly and compassionately to this dreadful humanitarian crisis."
Liberal Democrat leader Tim Farron said Mr Cameron was running the risk of "dehumanising some of the world's most desperate people". He added: "We are talking about human beings here, not insects. By using the Prime Minister's language we lost sight of how desperate someone has to be to cling to the bottom of a lorry or train for the chance of a better life."
A medical charity meanwhile warned of dire health problems being faced by migrants in the "new jungle" and called for a proportion of the funds being provided by Britain to secure transport hubs in Calais to be spent on humanitarian aid.
Leigh Daynes, executive director of Doctors of the World UK, which has staff working in Calais, said: "These are ordinary people – mothers, fathers, daughters and sons – living in the most horrendous conditions that no one should have to endure.
"Many are highly educated, including doctors, dentists and engineers, fleeing extreme violence and poverty and simply wanting better lives for themselves, so much so they are prepared to risk their lives for it."
The effects of the migrant arrivals and associated disruption also continued to be felt in Britain. Kent County Council said it was struggling to cope with a surge in the number of minors claiming asylum after arriving unaccompanied in Dover and Folkestone.
The local authority said the number of migrants aged under 18 in its care had almost doubled to 605 in the last three months and it had approached the Home Office for additional support.
In the meantime, organisers of the UK's most prestigious outdoor showjumping event said a suspected Sudanese migrant had been found hidden under a horsebox.
Staff at the All England Jumping Course in Hickstead, West Sussex, said the 26-year-old man had been discovered on Tuesday beneath a Belgian-registered lorry. After being checked by medical personnel he was passed to Sussex Police. ENDS
Register for free to continue reading
Registration is a free and easy way to support our truly independent journalism
By registering, you will also enjoy limited access to Premium articles, exclusive newsletters, commenting, and virtual events with our leading journalists
Already have an account? sign in
Register for free to continue reading
Registration is a free and easy way to support our truly independent journalism
By registering, you will also enjoy limited access to Premium articles, exclusive newsletters, commenting, and virtual events with our leading journalists
Already have an account? sign in
Join our new commenting forum
Join thought-provoking conversations, follow other Independent readers and see their replies