Cameron sets out vision for 'popular capitalism'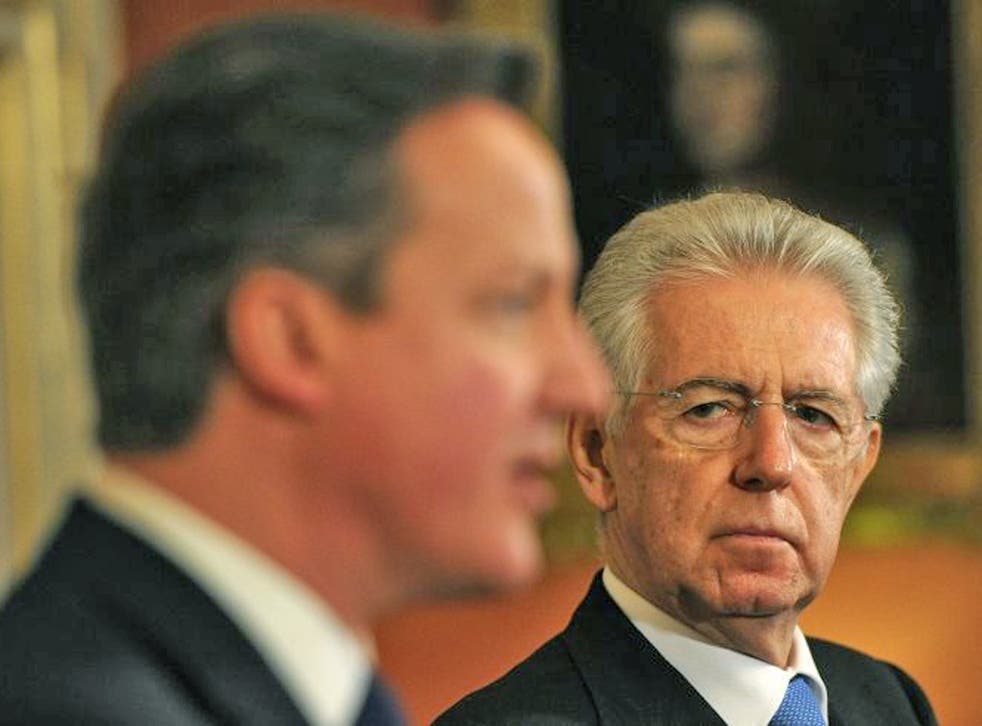 The Prime Minister set out his vision of a "socially responsible and genuinely popular capitalism" today.
In a high-profile speech in London, David Cameron defended the market and free enterprise as "the best imaginable force for improving human wealth and happiness", but said that reforms were needed to ensure that everyone has a chance to benefit from them.
Mr Cameron accepted that the financial crisis and the slow recovery from recession had shaken public confidence in the capitalist economy.
But he declared: "We won't build a better economy by turning our back on the free market. We'll do it by making sure that the market is fair as well as free."
And he added: "I want these difficult economic times to achieve more than just paying down the deficit and encouraging growth.
"I want them to lead to a socially responsible and genuinely popular capitalism. One in which the power of the market and the obligations of responsibility come together.
"One in which we improve the market by making it fair as well as free, and in which many more people get a stake in the economy and share in the rewards of success.
"That's the vision of a better, more worthwhile economy that we're building.
Mr Cameron's speech follows calls from Labour leader Ed Miliband for "responsible capitalism" which would treat "predatory" businesses differently from those which make long-term investments in the economy.
Mr Miliband this morning said he did not believe the PM was "serious about this agenda" and challenged him to act on rip-off bank charges, exorbitant train fare increases and the "rigged" energy market, telling Mr Cameron: "Let's judge you on your deeds and not your words."
Mr Cameron insisted that he had been raising concerns over the operation of the economy for some time, pointing to speeches dating back to his election as Conservative leader in 2005 when he said he would not just stand for business but stand up to business.
It was vital to "use this crisis of capitalism to improve markets, not undermine them", and Conservatives were particularly well-placed to do this, he said.
"We are the party that understands how to make capitalism work; the party that has constantly defended our open economy against the economics of socialism," said Mr Cameron.
"So where others see problems with markets as a chance to weaken them, I see problems with markets as an opportunity to improve them."
And he added: "Because we get the free market we know its failings as well as its strengths.
"No true Conservative has a naive belief that all politics has to do is step back and let capitalism rip.
"We know there is every difference in the world between a market that works and one that does not."
There was little in the way of new policy in today's speech.
Mr Cameron announced that he will table a Bill to simplify legislation relating to co-operatives as part of a drive to encourage employee and customer involvement in owning a share of businesses.
And he said he will personally launch a campaign next week to help people start up their own businesses.
Mr Cameron confirmed that Business Secretary Vince Cable will unveil detailed proposals next week for legislation on executive pay.
While the Prime Minister said "new rules" were needed to rein in excessive rewards, he made clear that he wants to deal with the issue by empowering shareholders and making corporate salary structures more transparent rather than by capping top pay.
Mr Cameron was speaking after Goldman Sachs announced an £8 billion pay and bonus bill for UK staff in 2011 - equating to £238,832 for every worker - and amid reports that largely state-owned bank RBS plans to hand its chief executive Stephen Hester a bonus of £1.5 million.
The Prime Minister said he was not opposed to high incomes where they are deserved, but insisted there must no longer be "large rewards for failure".
"There should be a proper, functioning market for talent at the top of business, and that will inevitably mean some people will earn great rewards," he said.
"But that is a world away from what we've seen in recent years, where the bonus culture - particularly in the City - has got out of control. Where the link between risk, hard work, success and reward has been broken."
Mr Cameron flatly rejected arguments that the financial crisis has shown the capitalist market system to be faulty.
Markets are the "engine of progress" which "promote morality" by linking effort to reward, he said.
"I believe that open markets and free enterprise are the best imaginable force for improving human wealth and happiness," said Mr Cameron.
"They are the engine of progress, generating the enterprise and innovation that lifts people out of poverty and gives people opportunity.
"And I would go further: where they work properly, open markets and free enterprise can actually promote morality.
"Why? Because they create a direct link between contribution and reward; between effort and outcome.
"The fundamental basis of the market is the idea of something for something - an idea we need to encourage, not condemn.
"So we should use this crisis of capitalism to improve markets, not undermine them."
Mr Cameron said that, in response to the financial crisis, the Government should identify the specific mistakes made over the past decade, put in place the right rules and institutions to correct them, and open up opportunity and enterprise so that everyone has the capacity to participate and benefit from the market economy.
He accused the former Labour administration of entering a "Faustian pact with the City" under which it tolerated market failures and a "debt-crazed economy" because it needed tax revenues from the financial sector to pay for swollen state spending.
"Far from abolishing boom and bust, the previous government gave us the biggest boom and the biggest bust, leaving everyone with a share of the debt," said Mr Cameron.
"The City, which should have been a powerhouse of competition and creativity, became instead a byword for a sort of financial wizardry that left the taxpayer with all the risk, and a fortunate few with all of the rewards.
"So instead of popular capitalism, we ended up with unpopular capitalism."
Mr Cameron said he wanted to "reconnect the principles of risk, hard work and success with reward".
He promised to celebrate entrepreneurs who take risks with their own ideas, energy and money, and support leaders who earn big incomes by building great businesses.
And he said he would "turn the tables" on the previous government's culture of regulation which strangled small companies in red tape while allowing the banks to "let rip".
He also said he wanted to widen involvement in the market economy, warning: "Capitalism will never be genuinely popular unless there are genuine opportunities for everyone to participate and benefit."
The Government will actively promote entrepreneurialism, giving a "springboard" to thousands of would-be business-owners to "follow their dreams", he said.
"I admire more than almost anything the bravery of those who turn their back on the security of a regular wage to follow their dreams and start a company," said the Prime Minister.
"If you take a risk, quit your job, create the next Google or Facebook and wind up a billionaire, then more power to your elbow.
"And if you took a punt, invested your money in that hugely risky start-up, and made a fortune, then fair play to you.
"And let's also recognise those people who take risks, who don't succeed first time but persevere.
"I'm not just open to that type of success - I actively want to see it happen."
And he said a fairer economy would require "more shareholders, more home-owners and more entrepreneurs", along with more employees who have a share in the success of the company they work for.
PA
Join our new commenting forum
Join thought-provoking conversations, follow other Independent readers and see their replies