Cameron warned his reforms will lead to rise in human rights abuses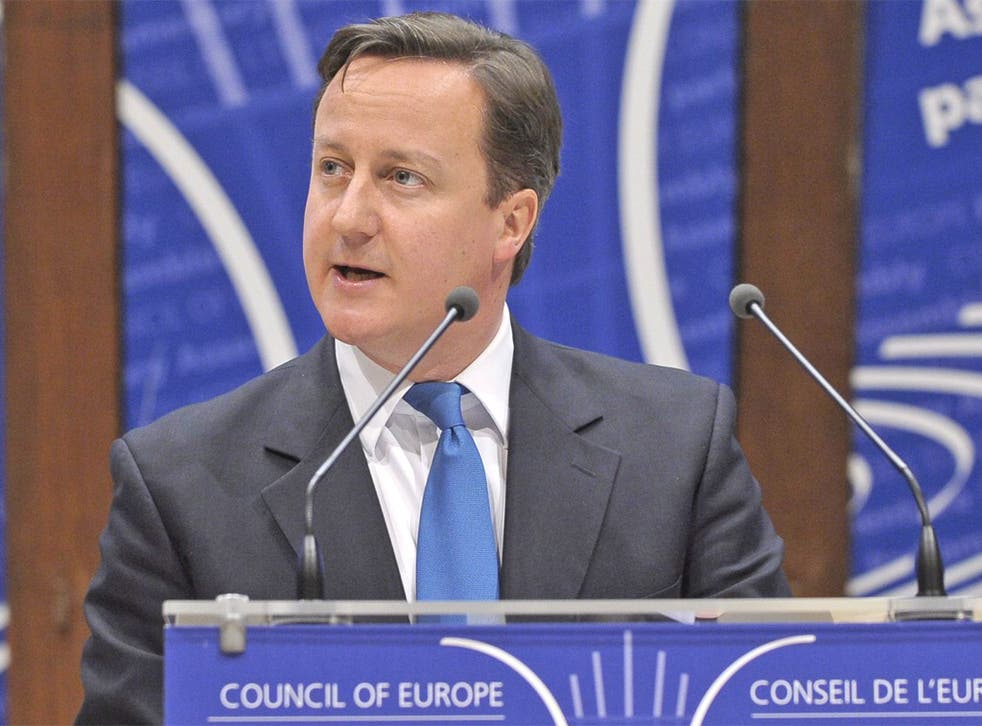 Countries such as Russia and Turkey could be encouraged to flout the rulings of the European Court of Human Rights if David Cameron succeeds in his aim of reforming of the institution, it was claimed last night.
Human rights organisations warned that the Prime Minister's demands could backfire by undermining the basic protections the court offers to citizens of Central and Eastern Europe.
Speaking in Strasbourg yesterday to the Council of Europe, of which the court is part, Mr Cameron argued that anger over some of its decisions were having a "corrosive effect" on support for human rights. His proposals to streamline its operation to prevent it becoming bogged down in trivial cases included a call for long-running applications to the court to be automatically thrown out after a set period.
The plans, which follow a row last week when the court blocked the deportation of the extremist preacher Abu Qatada to Jordan, have pleased Tory MPs and sections of the press. But they have dismayed the court's president, Sir Nicolas Bratza, who protested in an article in The Independent this week that "senior British politicians" had betrayed their ignorance of the court's history and legal position.
One minister also admitted yesterday that the tabloid-driven onslaught on the court risked undermining Mr Cameron's attempts to win support for his reform blueprint in other European capitals. The Prime Minister is aiming to reach the outline of a deal among the Council's 47 members before Britain hands over the six-month chairmanship of the Council to Albania in May.
Benjamin Ward, deputy director for Europe and Central Asia at Human Rights Watch, warned: "Criticism of the court by UK government ministers, or failure to correct misleading reporting about it in the British media, emboldens other governments, such as Russia and Turkey, that would prefer to ignore its rulings."
Tara Lyle, a policy adviser at Amnesty International UK, said Mr Cameron's commitment to upholding human rights was welcome but was "undermined by UK proposals that would make it harder for individuals to seek redress for human rights violations".
Mr Cameron warned that the court risked undermining its own reputation by "going over national decisions where it does not need to". He admitted that some British criticism of the court's application of the European Convention on Human Rights was based on "misinterpretation". But he insisted there was "credible democratic anxiety" that the decisions of national parliaments on issues such as the Court's ruling that prisoners should be given the vote were not being given enough weight.
Mr Cameron said it was "not surprising that people start asking questions about whether the current arrangements are sensible" when Britain could not deport terror suspects despite painstaking efforts to ensure they would not face torture after their return.
View from Europe: How strong is support for reform?
Germany
The section of Berlin Wall outside the ECHR is a symbol of the respect held for the institution by most politicians and judges in Germany. One of the few parties to regularly object to ECHR rulings is the Neo-Nazi National Democratic Party.
France
David Cameron's calls for radical reform of the Commission and Court of Human Rights are unlikely to be popular in France. No mainstream French MP wants to be linked with what will be seen as a Second Front in the Tories' Eurosceptic agenda.
Spain
Few of Spain's politicians have ever made the ECHR, which has largely upheld verdicts made by Spanish justice, the target of their criticisms. But not all decisions are popular in Madrid – witness the dismay when the ECHR said Spain was too hard in sentencing Basque separatist leader Arnaldo Otegi to a year in prison.
Italy
As with most other European institutions, the ECHR rarely figures on the radar of Italians. Even the populist and anti-immigrant Northern League has yet to take on the Strasbourg court with any vigour.
Join our new commenting forum
Join thought-provoking conversations, follow other Independent readers and see their replies